Qatar Airways has canceled its first order for the Airbus (OTCPK:EADSF) A320neo, following months of delays after problems surfaced shortly before service entry. Additionally, the engines were having problems during operations in high temperature environments such as Qatar. The carrier has a clause in the contract allowing to cancel orders when deadlines or targets are being missed.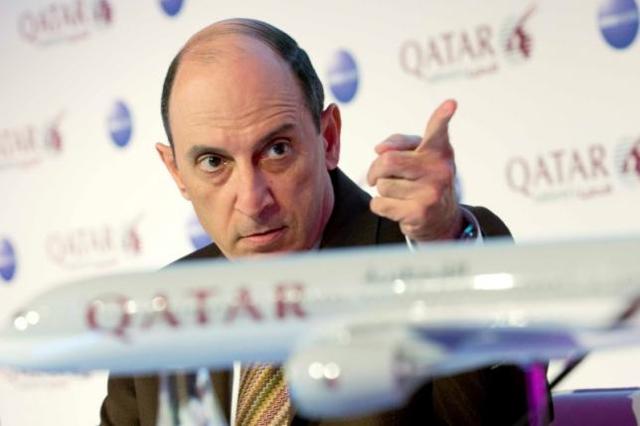 In one of my articles Engine Drama On A320neo Might Help The Boeing 737MAX I already noted that the issues could give Boeing some leverage in pitching the Boeing (NYSE:BA) 737MAX to potential customers. I also noted that I do not expect the current issues to create waves.
Given Qatar Airways' and CEO Al Baker's history of thorough inspection before accepting airframes, walking away from the early order was something that could be expected and I expect them to refuse deliveries and cancel orders for other airframes as well if need be.
Qatar Airways ordered a total of 50 Airbus A320neo aircraft, 36 Airbus A320neo and 14 Airbus A321neo aircraft. The deal is valued at $6.4bn at list prices, so likely has a market value of $3bn.
Switching to Boeing
In April it was rumored that Qatar would be canceling 4 to 6 orders for the Airbus A320neo and place 5 or 6 orders with Boeing. This seemed unlikely to me and Al Baker later also confirmed that if they would switch to Boeing, it would be a bigger order.
Under normal circumstances airlines receive sizable compensation or discounts on follow-up orders. Akbar Al Baker mentioned that it is not about compensation and that some of the fixes might flow into next year, the readiness of the airframe to Qatar's standards would slip while the airline does need the aircraft to support growth in the coming months.
What is worrisome to Airbus is the fact that Qatar Airways not only is concerned about the Pratt & Whitney (NYSE:UTX) geared turbofans, but is having some concerns about the aircraft's hydraulic systems as well.
This makes just swapping engine supplier, which would push deliveries back 6 to 8 months, a bit less likely and feeds the thought that Qatar Airways might be close to dropping the A320neo in favor of the Boeing 737.
Al Baker has proved himself a difficult party to deal with in the past when he refused to take delivery of the Airbus A350 over cabin details.
The cancellation of the Airbus A320neo can be explained in two ways:
Due to shortcomings of some of the individual aircraft/slots destined for Qatar Airways, the airlines is refusing delivery of individual aircraft that do not meet the requirements.
Qatar Airways has lost faith in the Airbus A320neo product as a whole. The next step would be canceling the entire order or 50 aircraft.
What Qatar Airways will eventually do is unknown. One thing that is certain is that if there ever was a chance for Boeing to sell narrow body aircraft to Qatar Airways, then this is the moment. Airbus is unable to meet the required delivery schedule to allow for Qatar's 5% annual growth target, while Boeing could deliver in time.
A transition to Boeing would start with Qatar dropping the entire order and placing approximately 50 orders for the Boeing 737NG. Boeing does have slots available for the Boeing 737NG, while it will take years for the Boeing 737MAX to be available to Qatar Airways. The airline is likely to order the Boeing 737NG and convert them to 737MAX orders as opportunities arise.
Conclusion
In the end I could see it happening that Qatar takes delivery of the Airbus A320neo anyway and walks away with a sizable compensation. In 2012 the airline refused to take delivery of the Boeing 787, today it is operating a fleet of 29 Boeing 787-8s. Additionally, a transition to the Boeing 737NG and 737MAX means that Qatar would end up with 3 families of narrow body aircraft in the fleet. This would increase crew and maintenance costs and decrease flexibility. Only if the costs of such transition are less than the missed revenue due to delays in deliveries, Qatar will seriously consider opting for the Boeing 737.
Al Baker's words about considering Boeing aircraft to support the short term growth do not mean that an order is certain, but from recent rhetoric it has become clear that Qatar Airways grew tired of the delays and the relationship between Airbus and Qatar Airways currently is a strained one. If there ever was a chance for Boeing to win 737 orders from Qatar this would be the moment.
Despite Qatar threatening to the drop the entire Airbus order, I still do not expect this to have any long term consequences for Airbus or create waves leading to other airlines dropping their Airbus A320neo orders.
If you would like to receive updates for my upcoming articles, please click the "Follow" text at the top of this page next to my profile.
Disclosure: I am/we are long BA.
I wrote this article myself, and it expresses my own opinions. I am not receiving compensation for it (other than from Seeking Alpha). I have no business relationship with any company whose stock is mentioned in this article.
Editor's Note: This article discusses one or more securities that do not trade on a major U.S. exchange. Please be aware of the risks associated with these stocks.