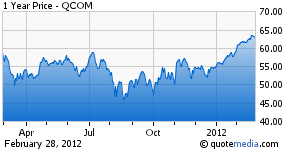 Any time that I see a stock such as Qualcomm (NASDAQ:QCOM) that is trading at its 52-week high, I get nervous. And I don't mean the type of nervous that you get 10 minutes before an interview. I mean the type that you feel when you hear the airplane captain over the intercom saying "please fasten your seat belts, we're about to hit some turbulence." I am not suggesting that any stock trading at its high should expect turbulence, but rather, I'm saying that for investors (those in or out) should have a constant reminder of the altitude when making any buying or selling decisions.
As much as I have been fighting for chip giant Qualcomm to get respect, at this point, I can no longer say that it has not received it. The fact of the matter is, if a stock is trading at its 52-week high as Qualcomm is, it is safe to say that it is not being ignored on Wall Street. Yet, I am not going to be naïve and pretend that its association with tech giant Apple (NASDAQ:AAPL) does not have something to do with it. Be that as it may, I don't think Qualcomm's rival, Intel (NASDAQ:INTC) cared much that its success in the mid to late 90s was due to Microsoft (NASDAQ:MSFT) and the PC boom.
Can It Continue to Grow?
When looking at Qualcomm's operations, two things come to mind - first, the company is focused on tackling new markets and secondly, it has a very attractive business model, one that has caused some angst for the competition such as the aforementioned Intel as well as Texas Instruments (NYSE:TXN). As noted, the company has the advantage of being one of the top suppliers of MSM chips for Apple's iPhone and a beneficiary of the growing popularity of smart phones, which are projected to grow by 43% this year. But many analysts remain unimpressed.
I think it is fair at this point to be somewhat skeptical considering the company's current valuation, but I think considering the growth potential of the entire devices market it is more than fair to give the company the benefit of the doubt - not to mention that Qualcomm is due to see increased business from the vacated mobile baseband business market by Texas Instruments. This is an event that I firmly believe will allow Qualcomm to now service the needs of a company such as Nokia (NYSE:NOK).
Recently, Canaccord Genuity technology analyst Mike Walkley reiterated his buy rating on the company while setting a $75 price target. While upping his price target, Mike noted that 20%-25% of the company's sales and EPS come from China and pointed out the following:
"With 3G subs making up only 13.7% of China's roughly 988M total subscribers, we believe 3G growth trends will remain strong, and Qualcomm is well positioned to benefit from increased QTL royalties and growing sales for its integrated S4-series chipsets."
Noting Chinese company Huawei's announcement to purchase roughly $6 billion in chipsets from Qualcomm, Broadcom (BRCM) and Avago (NASDAQ:AVGO) from 2012-2014, and ZTE Corporation's (ZTE) announcement to purchase $4 billion in chipsets from Qualcomm during the same period, Mr. Walkley added, "We believe this indicates Qualcomm's strong position in the China 3G market, and we anticipate more positive announcements during the Mobile World Congress Conference we are attending next week."
If the above is not convincing enough, I'm not sure what is. Investors have to also be impressed with what the company has been able to do recently in the U.S. In its latest quarter, the company released its Q1 2012 earnings results and proved once again why it belongs among the group of the elite companies on the market. Qualcomm reported earnings per share of 97 cents which is up 18% from the year-ago period - well above analyst expectations of 90 cents. The company said that its revenue for fiscal Q1 climbed 40% to $4.68 billion, ahead of the $4.56 billion that analysts anticipated. Not to be outdone, in terms of its Q2 outlook, the company projects $4.6 billion to $5 billion in revenue. These figures would represent an increase in the range of a 19% to 29% gain from a year ago, as well as an increase of 6% to 13% in earnings per share.
Summary
Clearly, all of the above should answer the question that, indeed the company can grow - not only domestically, but also in international markets as well. As the stock is trading at its 52 week high, investors want to know what a good point of entry is considering that its P/E is now at 24. That's indeed a difficult question to answer since I don't normally advocate buying any stock at its 52 week high, but seeing how the company continues to exceed growth expectations in a growing industry, targeting $77 and possibly $80 makes this yet a good point of entry.