Good morning, and welcome to the June 9 edition of Seeking Alpha's Eye on Tech newsletter.
Apple revamps App Store policies to drive subscriptions, confirms plans for App Store search ads; Google reportedly also plans a subscription revamp - Apple (NASDAQ:AAPL) plans to take just a 15% cut of App Store subscription revenue following the first year of a subscription, down from a current 30%. It also plans to expand subscription support to all app categories, and to provide numerous pricing options and tiers. Meanwhile, Recode reports Google (GOOG, GOOGL) will lower its subscription cut to 15% from the start of a subscription.
Also: Apple has confirmed (as previously indicated by Bloomberg) it will begin showing app ads against App Store search results. Google already shows app ads within both Google Play and Google Search results, and Facebook (NASDAQ:FB) has created a massive business out of ads that (relying on Facebook's user and app-install data) urge users to either download or resume using an app.
The upshot: Both Apple and Google realize the struggles of small and mid-sized developers to get noticed and generate meaningful revenue are a major problem for their respective mobile ecosystems. By making subscriptions more appealing, they're trying to provide an alternative to in-app purchases, which often see limited traction outside of games, and paid downloads, which are often a tough sell and can be hard to derive recurring revenue from after an initial purchase (typically less than $5) is made. They might also be trying to win over companies (such as Spotify) that have tried to limit the number of subscriptions they have to give Apple/Google a cut on.
Others have observed productivity apps (not previously available on the App Store via subscriptions) could be a major beneficiary of Apple's policy changes. Microsoft (NASDAQ:MSFT), Adobe (NASDAQ:ADBE), Autodesk (NASDAQ:ADSK), and others have been aggressively migrating their enterprise app user bases to subscriptions providing access to a mixture of PC, cloud, and mobile apps. Others selling productivity apps on a subscription basis include Citrix (NASDAQ:CTXS), Atlassian (NASDAQ:TEAM), Slack (SLACK), and LogMeIn (NASDAQ:LOGM).
Qualcomm launches a connected car reference platform - Qualcomm's (NASDAQ:QCOM) 3G/4G modems have made their way into many cars, and the company also provides Snapdragon processors tailored for the automotive market. It's now providing a connectivity reference platform for automakers and auto suppliers that features its modems, GPS and dead reckoning location chips, Wi-Fi, Bluetooth, and AM/FM radios, and support for in-vehicle networking technologies.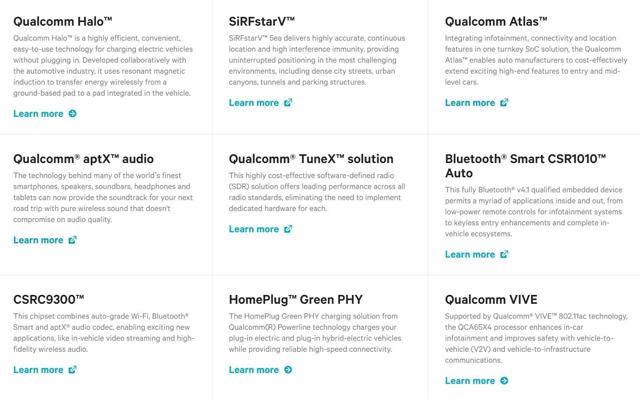 Some of Qualcomm's automotive offerings
The breadth of Qualcomm's connected car offerings, underpinned by its widely-used modems, could help it stand out - the company has had a lot of success at getting phone reference platforms adopted by mobile OEMs. Intel (NASDAQ:INTC) is also going after the automotive connectivity market, as is Cypress Semi (NASDAQ:CY), which is set to buy Broadcom's (NASDAQ:AVGO) wireless IoT chip business. Qualcomm launched new a wearables processor and IoT Wi-Fi radio last week as it looks for ways to lower its exposure to a pressured mobile chip business.
Hewlett Packard Enterprise strikes an IoT deal with GE, opens up "The Machine" to developers - On the heels of disclosing it's providing the hardware used by Dropbox (DROPB) to migrate from Amazon Web Services, Hewlett Packard Enterprise (NYSE:HPE) has announced it will be the preferred hardware partner for General Electric's (NYSE:GE) cloud-based Predix IoT platform - it's used to create apps that collect and analyze data from web-connected industrial hardware - and has unveiled new converged (integrated server/storage) systems for IoT data capture and analytics. GE forecast last year revenue from Predix and other software offerings would triple to $20B by 2020.
Separately, HPE has announced it's opening up "The Machine" - a next-gen computing architecture which does away with main memory and storage memory (e.g., DRAM and hard drives/SSDs) in favor of a common "universal memory," and in which this memory is connected to processors via optical links - to open-source developers to create the groundwork for the ecosystem needed for such a system to take off. Much like IBM's quantum computing efforts, The Machine is unlikely to produce significant revenue in the next few years.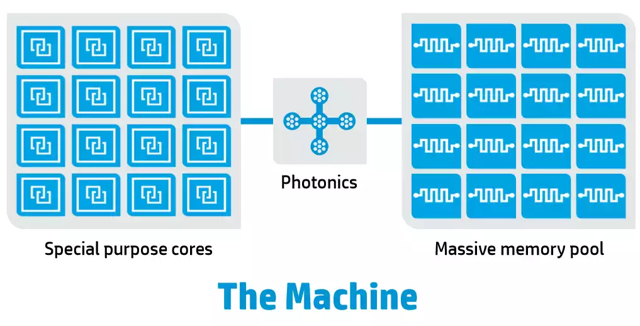 The architecture for Hewlett Packard Enterprise's "Machine." Very simple, yet very complex.
Would-be Apple Pay/Android Pay rival CurrentC appears set to bite the dust - Just as mobile carriers launched the Softcard mobile payments JV (once known as Isis, before changing its name for obvious reasons) in an attempt to keep Apple and Google from dominating NFC-based mobile payments, a slew of major bricks-and-mortar chains backed CurrentC - supporters included Wal-Mart (NYSE:WMT), Target (NYSE:TGT), CVS Health Corp. (NYSE:CVS), Kmart (NASDAQ:SHLD), Dunkin' Donuts (NASDAQ:DNKN), and Best Buy (NYSE:BBY). And like Softcard (shuttered last year), CurrentC went nowhere fast. Last month, MCX, the consortium behind CurrentC, announced major layoffs. And on Tuesday, MCX notified CurrentC beta test users their accounts are being deleted.
To be fair, Apple Pay and Android Pay haven't exactly seen explosive growth either - a December 2015 survey found only 1/5 of U.S. iPhone 6 users had used Apple Pay at least once, with 66% of them having used it to make an in-store purchase and 52% an in-app payment. Android Pay (and for that matter, Samsung Pay (OTC:SSNLF)) adoption appears to be lower still. Even with a transition to chip-based EMV payments (not quite as fast as traditional card swipes) underway, most consumers are content for now to keep relying on payment cards.
Intel ceases work on wireless charging efforts - Much like the company's Atom mobile processors, Intel's wireless charging R&D appears to be a casualty of the company's major layoffs. The decision could have some impact on Integrated Device Technology (NASDAQ:IDTI), a top player in the wireless charging chip market and an Intel wireless charging partner since 2012.
IHS estimates the wireless charging receiver market grew over 160% in 2015 to 144M units. But the lion's share of those units went into non-Intel powered Android phones. Apple is reportedly looking to integrate an over-the-air wireless charging solution within 2017 iPhones.
The closing of Micron's $3.2B purchase of Inotera is delayed - Micron (NASDAQ:MU) announced last December it's buying the 67% of Taiwanese DRAM maker Inotera it doesn't yet own for $3.2B net of cash/debt on hand. It now says the deal won't close in mid-July as previously expected, and that an update will be given later this year. No explanation for the holdup is provided; regulatory scrutiny is a plausible explanation.
Micron stock fell 3.2% following the announcement. The Inotera deal was well received by the sell side when it was first struck, with analysts arguing it'll improve Micron's margins (by allowing it to obtain Inotera's DRAM at cost) and provide manufacturing synergies.
BlackBerry launches e-mail protection software, takes steps to integrate enterprise mobility management software - While BlackBerry's (BBRY) still-declining phone business gets more attention, the company's turnaround efforts largely revolve around morphing into a provider of multi-platform enterprise mobility software tools and subscription services. It added to those efforts on Wednesday by announcing a security service for e-mail attachments (part of its WatchDox file syncing/sharing platform) and steps to jointly manage devices and apps handled by its BES12 enterprise mobility management ("EMM") software and the EMM offerings of Good Technology (acquired last fall).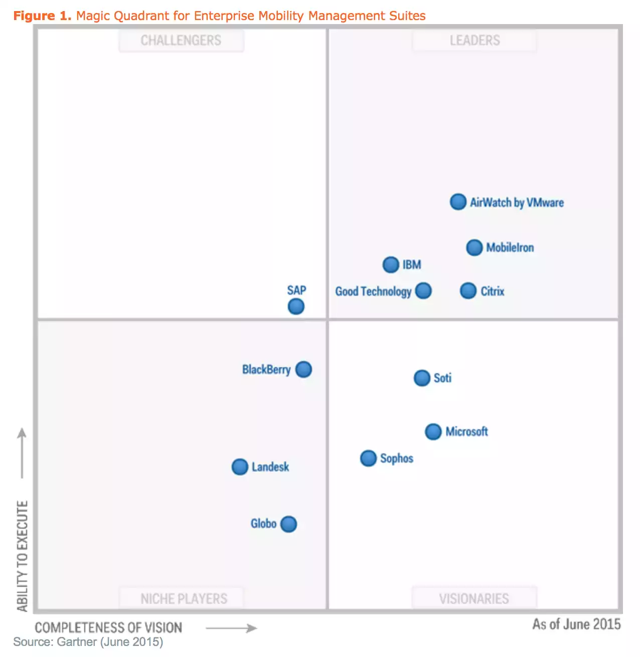 Gartner's 2015 enterprise mobility management Magic Quadrant. BlackBerry is listed as a "niche player," while recently acquired Good Technology is listed as a "leader."
It helps that CEO John Chen is quite familiar with this space - he was once the CEO of Sybase (acquired by SAP in 2010), an early player in enterprise mobility software. But there's a ton of competition: Microsoft, Citrix, VMware (NYSE:VMW), IBM Corp. (NYSE:IBM), Box (NYSE:BOX), and MobileIron (NASDAQ:MOBL) are among the companies that are notable players in EMM and/or enterprise file syncing/sharing. Software and services made up 32% of BlackBerry's February quarter revenue.
Facebook hires a CollegeHumor co-founder to be its "head of global creative strategy" - Ricky Van Veen, the co-founder of InterActiveCorp-owned CollegeHumor, will now be (in his words) "working with all types of creators and organizations to figure out how best to use the biggest network in the world to better connect people with engaging and meaningful content." It's a safe bet that a lot of his work will revolve around the Facebook Live streaming platform, which Facebook has gone as far as to pay media companies to support.
Not as clear is whether Facebook will ultimately join several other web giants in directly financing original content. If the company does head in that direction, its huge reach and content-targeting abilities would work in its favor.
Salesforce is creating a $50M VC fund for startups using its app platforms, creating an incubator - Salesforce (NYSE:CRM) is no stranger to the corporate VC world: The company had made $504.5 worth of venture investments as of January 31, and set up a $100M fund last year to invest in European startups. Its latest fund (known as the Lightning Fund) will invest in companies developing apps and components based on Salesforce's Lightning app development platform, which aims to enable enterprise apps featuring consumer-like ease of use and intuitiveness.
Salesforce is also creating a startup incubator for firms developing Lightning-based apps/components that will "provide a collaborative physical space within Salesforce offices," along with access to "Salesforce technology and mentorship." The company's "App Cloud and Other," fueled by its Heroku and Force.com cloud app platforms, rose 45% Y/Y in the April quarter to $294.5M. Rivals in this space include Microsoft, Google, and Amazon.
Nomura: U.S. downloads for top apps fell over 20% Y/Y in May, global downloads rose 3% - Nomura's figures rely on data from app-tracking firm SensorTower and cover 15 popular apps, including Facebook, WhatsApp, YouTube, Instagram, Gmail, and Netflix (NASDAQ:NFLX). They provide some context for Apple and Google's attempts to revamp their app store policies, as well as Apple's plans to join Google in selling app ads. Though still rising, mobile app usage isn't growing the way it once did, which in turn, adds to the pressure faced by smaller developers.
In spite of the download slowdown, Uber (UBER) and Snapchat (CHAT) each saw triple-digit global download growth. Airbnb (AIRB) and Pinterest (PINIT) also saw healthy growth. Pandora (NYSE:P) saw a big annual decline.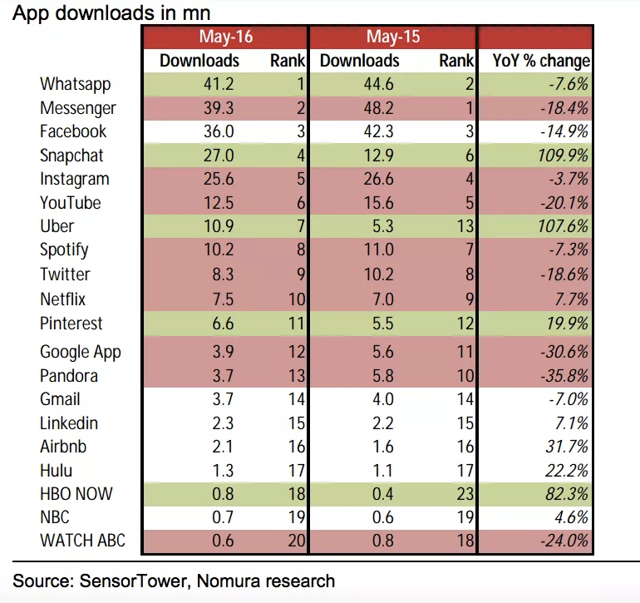 PwC: U.S. online ad revenue is set to eclipse TV ad revenue in 2017 - PwC estimates U.S. online ad revenue totaled $59.6B in 2015, and TV ad revenue $69.9B. It sees the former figure rising to $75.3B in 2017, and the latter only to $70.4B. Considering the impact of cord-cutting on TV subscriptions/ratings, it's not far-fetched to imagine TV ad revenue growth turning negative... and the dollars leaving TV often finding their way to online video.
PwC also estimates mobile ads accounted for 34.7% of online ad revenue in 2015, and will make up 49.4% in 2020. The 2020 estimate could be conservative, given mobile already makes up well over half the traffic seen by many big online content providers.
Disclosure: I/we have no positions in any stocks mentioned, and no plans to initiate any positions within the next 72 hours.
I wrote this article myself, and it expresses my own opinions. I am not receiving compensation for it. I have no business relationship with any company whose stock is mentioned in this article.