TransUnion(NYSE:TRU), one of the 3 major credit agencies along with Equifax and Experian, has been a public company since June of 2015.
In honor of that one year anniversary I wanted to dive in and learn more about the company, how they make money, what they do beyond just credit scores and reports, and if the stock is worth investing in.
Results
TRU has grown sales at a blistering pace since 2012 when it was purchased by private investors that included Goldman Sachs.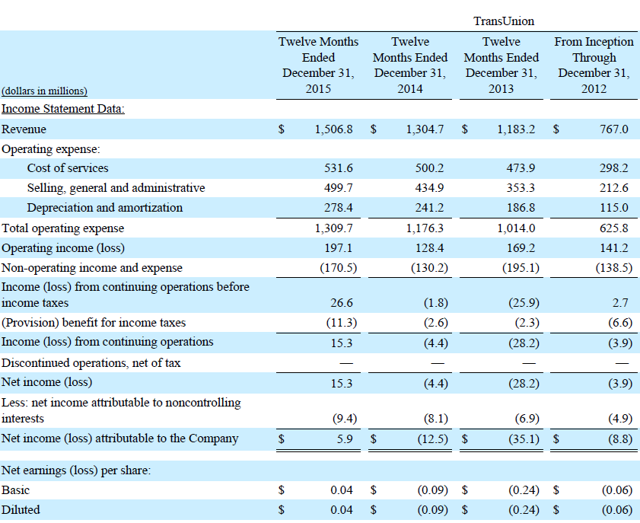 Profitability was slow coming though, although the company did eke out a tiny profit in 2015. Operating income looks like it is moving in the right direction along with some noise from non-operating expenses.
Let's dive in further and see if we can uncover what is really going on.
Debt
I hate when I stumble upon an interesting company and start my research, only to discover that the company has been marred by a recent private equity transaction that did little but heap a mountain of debt on the company while enriching the purchasing and subsequently selling shareholders.

This picture tells me that the company got another 1 billion in debt for the privilege of changing owners. Sure, the IPO proceeds were used to pay down debt but it is still 600 million higher than it used to be.
But Greg, you might say, look at the other things in that chart, assets and SE. In comparison to 2011, everything looks so much better now! Forget about the debt and have a margarita!
Are things really better for the company or did the PE guys just put lipstick on a pig?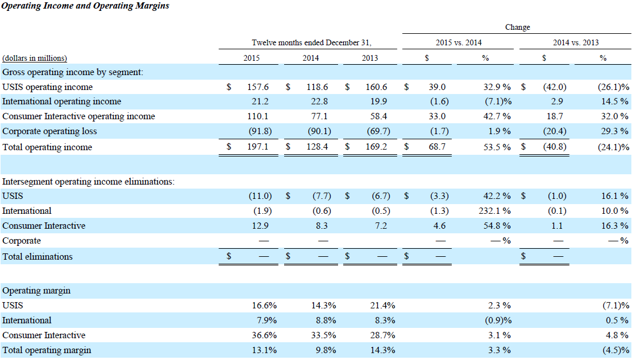 The operating data is interesting. What I see is that the most important segment of the company, USIS, has gone nowhere since 2013. Consumer Interactive has doubled though and it was likely a focus of the previous owners since it is the highest margin business segment. You can see at the bottom it is 36.6% compared to 16.6% for USIS and 7.9% for international in 2015.
From a pure balance sheet perspective things are also interesting. For companies that have acquired a lot or been manipulated in some way, I always like to back out goodwill from the assets to get a better sense of what is going on.
Remember that Goodwill is nothing, it is not a building or software, just a necessary accounting fiction.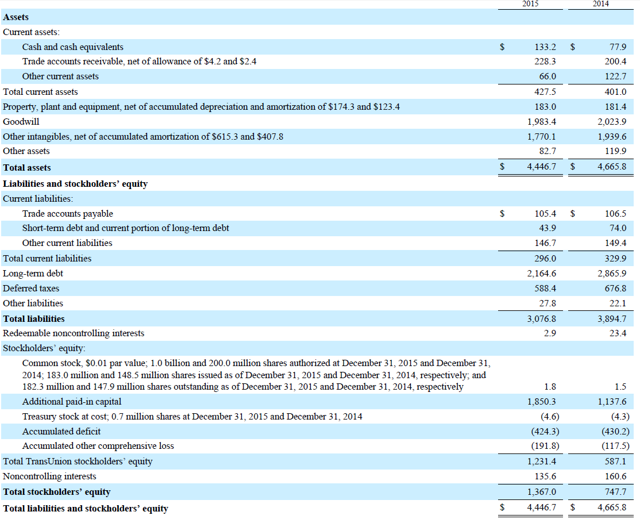 Assets not including goodwill are 2463.3 compared to liabilities of 3076.8 for a ratio of .80. Equifax(NYSE:EFX) has a ratio of .89, better but not amazing. Fair enough.
Where's The Beef(profit)?
The real problem I see with TransUnion comes when we try to answer the question of "Is the company actually making money?"
TransUnion has average gross margins of 62.4% over the past 3 years. I cannot find data going back further than this.
The most direct comparison one can use is Equifax, the other US based major credit firm in similar lines of business.
Experian is UK based and thus their information is more difficult to compare directly. Equifax had gross margins over the same time frame of 65.9%.
But here is the interesting part, TransUnion had a net profit margin of -1.2% over that same time frame while Equifax had a net profit margin of 15.2% averaged over those 3 years.


So basically, Equifax made money the past three years and TransUnion did not.
Why?
One possible explanation is higher Depreciation & Amortization charges. TransUnion had D&A costs of $298 million in 2015 versus $198 for Equifax, despite the fact that TRU is 3 times smaller than Equifax if we go by market cap.
Readers will remember that D&A are non cash expenses that can sometimes obscure things to the point that a company looks less profitable but is really generating more cash flow than the net income line would indicate.
Another interesting thing is that Equifax has an interest expense equal to about a third of what TRU has, again contrasted with the fact that Equifax is three times larger.
Int exp. is 2.4% of revenues for EFX and 8.89% for TRU. Combined with the slightly higher gross margins, you can see where we are going here.
Valuation
EFX is at 21.5 times forward earnings and TRU at 22.4. Price to sales has TRU cheaper at 3.67 versus 5.11.
EFX has grown EPS at 13.8% the last five years and TRU is projected to grow at 12.08% but considering the company is not really profitable, those projections should be taken with a large grain of salt.
EFX pays a dividend and TRU does not. EFX has a 5 year div. growth rate of 15.58%.
Recent Results
Recent results paint a much more positive picture than I have outlined talking about the past. In each of the last two quarters TRU has beat expectations on revenue and EPS and looks on pace to have the most profitable year in recent memory, although that is not saying much as you saw above.
TRU is doing all the right things and capitalizing on the big data trend. All their US segments are growing 10%+ in revenue with international lagging at 7%.
A recent upgrade of all credit agency stocks by Deutsche bank cited increasing mortgage volumes and a weaker dollar. I am in the camp that over the next few years mortgage volumes will fall as the World climbs out of negative rates and the US goes up in rates ever so slowly, even if they only do one a year.
Combined with the overheated auto sector loan sector having to come back to reality, I am skeptical about TRU's long term future earnings although this year appears to be on track to be solid.
Conclusion
While TRU is clearly in an uptrend of late, I am not yet convinced. I still think that the other two credit agencies have better operating histories, metrics, and more scale that TRU.
That being said, TRU is innovating at a rapid pace and continues to grow fast and leverage their big data in new ways.
Yet, I continue to worry that the company is having a breakout year that will not continue and the profitability metrics are still well behind competitors.
The group as a whole looks expensive but I would be more than willing to pay TRU's current price, given their growth rate, if only I had more faith.
I look forward to continued improvements in TRU so that they can get me over the cliff and convince me to hop aboard their big data train.
Disclosure: I/we have no positions in any stocks mentioned, and no plans to initiate any positions within the next 72 hours.
I wrote this article myself, and it expresses my own opinions. I am not receiving compensation for it (other than from Seeking Alpha). I have no business relationship with any company whose stock is mentioned in this article.