So far this year, uranium miner Cameco's (NYSE:CCJ) performance on the stock market has left a lot to be desired. The stock is essentially flat with almost six months of the year behind us as it has continued to struggle on account of lower uranium pricing and weak results.
In fact, after a short revival last year, uranium spot prices have slipped around 21% to $27 per pound so far in 2016. In fact, the average uranium spot price during the first quarter was $31.85 per pound as compared to $38 per pound in the prior-year period, and it is likely that prices have shifted lower during the ongoing quarter. As a result of the declining uranium price, Cameco will continue to see a decline in its top line performance as it has so far. This is shown in the chart below: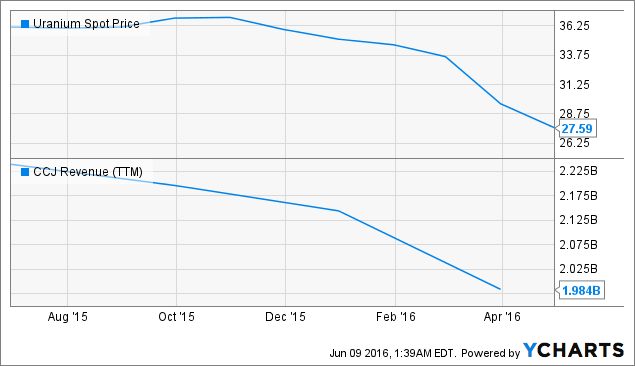 Uranium Spot Price data by YCharts
Therefore, it is quite evident that weak uranium prices are a negative for Cameco. So, the stock's direction going forward will depend largely on a recovery in uranium prices. As such, we will first take a look at the prospects of the uranium market and then see whether Cameco is improving on the operational front.
A low uranium pricing environment won't last forever
Looking ahead, uranium demand is projected to rise. The Uranium Market Outlook, published by UxC at the end of the fourth quarter of 2015, suggests that global nuclear power capacity will increase by 44% to 540.6 gigawatts in 2030 from the 376.6 gigawatts in 2015. Most of this growth, approximately 64%, is expected to come from China, while countries such as India, Korea, and Russia will account for 24% of the total capacity.
Since uranium is the primary raw material to generate nuclear energy, its demand will also increase in the future. In fact, the growth in the nuclear power capacity will push uranium demand to an estimated 268.8 million pounds through 2030, representing an increase of over 48% as compared to last year.
Now, there are a number of developments taking place that advocate a rise in uranium demand. For example, in the first quarter of the year, three new reactors were brought online, two in China and one in South Korea. Additionally, China unveiled a new five-year plan under which it will add 30 gigawatts of nuclear capacity under construction by 2020. Moreover, this new five-year plan reaffirms China's target of 58 gigawatts of nuclear generating capacity in operation by 2020.
A supply shortfall will power up prices
However, there won't be enough uranium supply to meet the end market demand. This is because demand is growing at a faster pace than supply. In fact, the total uranium production last year came in at 151.3 million pounds, slightly above 145.3 million pounds of production in 2014. This increase in uranium production was mainly due to a ramp up in activity at the Cigar Lake in Canada, which accounted for 22% of the total production. However, global production declined by 5.3 million pounds in 2015 as against 2014 levels.
Looking ahead, it is anticipated that the production from existing as well as newly-planned and potential mines will increase uranium supply by an estimated 168.7 million pounds by 2025 from 151.3 million pounds last year. This represents an increase of 11.5% in total uranium supply, which is much lower than the rate of growth in uranium demand. As a result, the uncovered demand for uranium is expected to increase by 39% to 75.1 million pounds between 2016 and 2019.
Thus, this mismatch in the demand and supply of uranium should improve prices going forward. According to Cantor Fitzgerald, uranium spot prices will rise to $50 per pound in 2016, $60 per pound in 2017, and approximately $70 per pound in 2018. Therefore, Cameco's prospects will receive a shot in the arm as uranium prices pick up pace going forward.
Cameco's focus on higher return assets will be a tailwind
Cameco is aligning itself accordingly to benefit from higher uranium prices in the long run. As such, the company is increasing production from higher return assets such as McArthur River/Key Lake, Cigar Lake, and INKAI. For instance, production from McArthur Lake, Cigar Lake and INKAI rose 7%, 633%, and 83% last quarter on a year-over-year basis. As a result of the robust production at these core assets, Cameco's uranium production for the quarter increased 37% to 7 million pounds year-over-year.
More importantly, Cameco has been able to lower its production costs despite an increase in production. For instance, its production costs for the quarter came in at $33.60 per pound, a slump of 17% from a year earlier. This was a result of a 26% drop in the company's cash costs. Thus, Cameco is making a smart move by increasing production on one hand and lowering production costs on the other since this will prove to be margin accretive in the long run. In fact, Cameco's focus on low-cost assets is already bearing fruit, as shown below: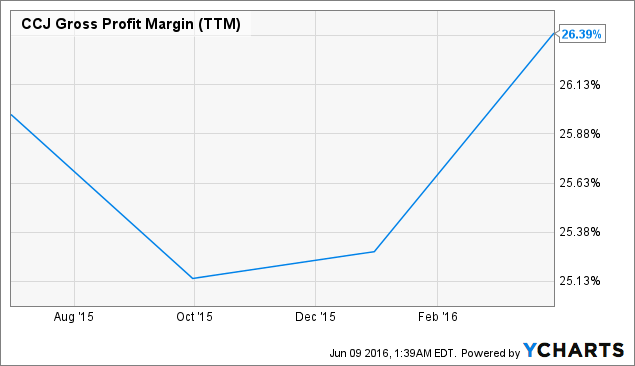 CCJ Gross Profit Margin (NYSE:TTM) data by YCharts
Therefore, encouraged by the stronger margins that Cameco is witnessing at its core assets, the company has decided to ramp up production at Cigar Lake and expects the mine to achieve annual production of 18 million pounds by 2017. This is a welcome development for investors as according to Mining.com, Cigar Lake carries the second-largest high-grade underdeveloped uranium deposit with approximately 117.5 million pounds of uranium at an average grade of 17.84%.
Conclusion
It is not surprising to see why Cameco has struggled this year. Low uranium prices have negatively impacted the company's financial performance, thereby keeping the stock under pressure. However, looking ahead, Cameco should be able to stage a recovery since the prospects of the uranium market look bright from a long-term point of view, while the company itself is making improvements to its production portfolio.
Thus, investors should use the weakness in Cameco to buy more shares as it will deliver long-term upside.
Disclosure: I/we have no positions in any stocks mentioned, and no plans to initiate any positions within the next 72 hours.
I wrote this article myself, and it expresses my own opinions. I am not receiving compensation for it (other than from Seeking Alpha). I have no business relationship with any company whose stock is mentioned in this article.