Aetna (NYSE:AET) is an American healthcare company that offers dental, pharmacy, disability and health insurance to over 23.5 million people across the U.S. The stock has been relatively flat for the past year while the rest of the health and biotech sector has been trending downwards. Aetna's healthcare division accounts for 95% of its revenue, with group insurance accounting for 4.3% and large case pensions accounting for 0.7%. Aetna is determined to lower costs while delivering a higher quality of care for its customers in order to meet its optimistic 2016 guidance. I believe Aetna has a great strategy in place and could shoot higher while the rest of the biotech market heads south.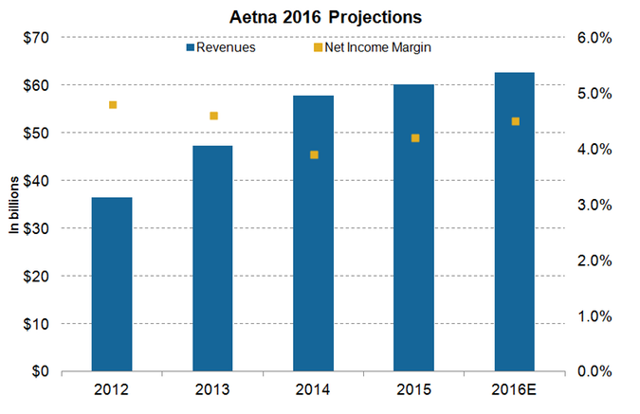 (source: Aetna earnings release)
Profit margin improvement strategy expected to drive earnings
As a part of Aetna's 2016 guidance, the company projected EPS of $7.75 for the year, not accounting share buybacks that are in place. To deliver value for shareholders, Aetna's management is determined to increase its profit margins in its ACA (Affordable Care Act) compliant group business and increase revenue in its Medicare and Medicaid business. The company plans to achieve this by increasing its profit margin despite the negative impact of inflation on medical costs going forward. The strength of its government business can be seen in the impressive year-over-year membership growth which is expected to continue to be a strong segment for Aetna going into the latter part of 2016. Aetna has also invested about 37% of its medical costs in improving consumer and provider engagement efforts. This investment is expected to drive margins for the long run, as these improved engagements are an important part of improving its subscribers' experience. Since shifting away from the fee-for-service model, Aetna has been focused on improving care for its subscribers while reducing costs. Aetna is currently investing heavily in data analytics, which is a technology that analyzes a patient's data and optimizes a clinical profile for each of its patients. While this technology is still being improved, it is expected to improve the quality of care for all its subscribers while being very cost effective. Other technologies such as WellMatch, PracticeIQ, and Health Data Management System have also been improving the user experience of healthcare providers so that costs may be optimized and ensuring physicians have access to all the information they need in order to may deliver the best quality of care possible.
Valuation and Conclusion
Aetna experienced weak net margins of just 3.8% over the last year, but the company looks poised to improve this through investing in innovative cost-effective technologies that will also improve the overall quality of healthcare that its customers receive. Thanks to these investments, we can expect a significant bump in its net profit margin, as Aetna has a very impressive ROIC (return on invested capital) of 13.7%, which will continue to deliver value to shareholders. Aetna's government business is expected to be the main tailwind for their revenue growth this year and the technology which supplements it could potentially allow Aetna to exceed its own guidance. Aetna currently trades at an 18.5 P/E with a 2.6 P/B, both of which are higher than their five-year historical averages of 12.2 and 1.8 respectively. The dividend yield is a meager 0.8%, which is lower than its historical norm which hovers around 1%. The stock is not cheap at current levels and there appears to be no margin of safety. Your best bet would be to wait for a market pullback and grab this fantastic investor-oriented company when its yield hits 1%.
Disclosure: I/we have no positions in any stocks mentioned, and no plans to initiate any positions within the next 72 hours.
I wrote this article myself, and it expresses my own opinions. I am not receiving compensation for it (other than from Seeking Alpha). I have no business relationship with any company whose stock is mentioned in this article.