If you have been following our writing over the past few months you will know that we started to get bullish on oil (NYSEARCA:USO) back in February.
We didn't reach this conclusion through our own proprietary analysis. We got there by listening to what some of the smartest investors on the planet concluded.
So far, so good on our bullish oil conclusion.
All of our investment ideas are sourced from the portfolios of the world's greatest investors. As we looked for a way to profit from the oil rebound we were really struck by how few of these great investors had moved in and aggressively bought the beaten down shale oil producers.
We found some interest in shale gas (NYSEARCA:UNG) producers but not much interest in shale oil.
When we dug into the shale oil producers to try and find out why the Superinvestors weren't owning these companies we didn't have a terribly difficult time arriving at an answer. From what we noticed, even at high oil prices these companies generate no free cash flow.
The more we read the more we realized that this shale oil boom was built more on the fact that the world's Central Bankers had created free money than anything else. $90 plus oil also helped and so did institutional funds that were willing to gobble up regular equity issuances.
Continental Resources Announces A New Shale Play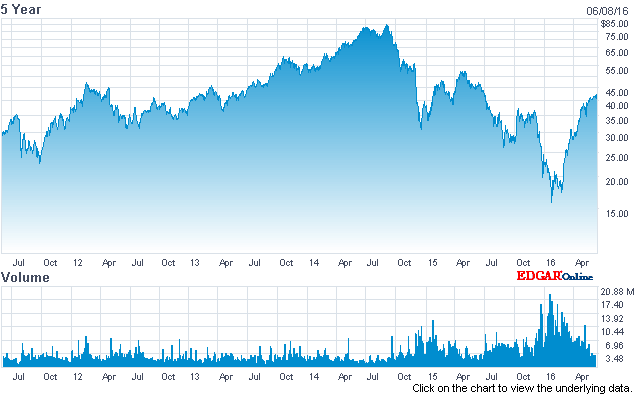 Source: Nasdaq.com
One of the poster boys for the shale wave is Continental Resources (NYSE:CLR). This company got into the Bakken early and its CEO is the well know Harold Hamm. "America's Oil Company" is its motto.
As you can see in the slide below Continental boasts about having core assets in the lowest breakeven shale plays in the country.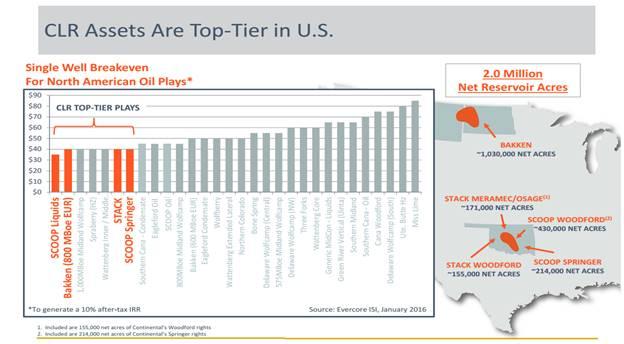 Source: Continental Resources
One of those plays is called STACK and is located in Oklahoma. Continental recently announced that it had completed a record well in the STACK play:
OKLAHOMA CITY, May 17, 2016 /PRNewswire/ -- Continental Resources, Inc. ("the Company") today announced the completion of an industry record well in the over-pressured oil window of Oklahoma's STACK play. The Verona 1-23-14XH flowed at an initial 24-hour test rate of 3,339 barrels of oil equivalent per day, comprised of 2,345 barrels of oil, or 70% of production, and 6.0 million cubic feet of 1,370-Btu natural gas (British thermal units). The Verona is producing from the Meramec reservoir through a 9,700-foot lateral at a flowing casing pressure of approximately 2,400 psi, on a 34/64-inch choke.

As of March 31, 2016 Continental had approximately 171,000 net acres of leasehold in the STACK play, 95% of which is in the over-pressured window.
According to the company presentation Continental can make a 75% return on wells drilled into a flat $45 oil and $2.25 natural gas price.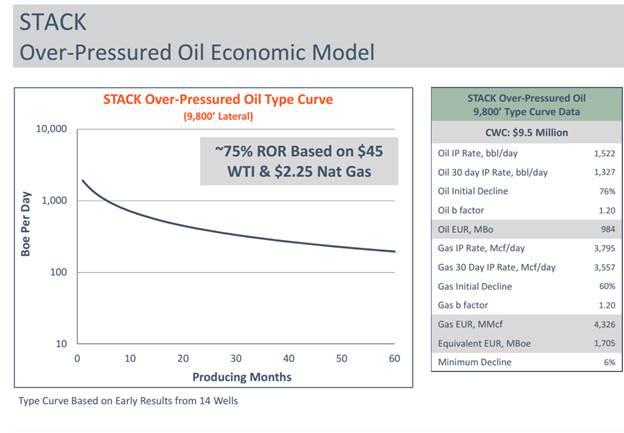 Source: Continental Resources Corporate Presentation
That sounds pretty impressive. Our opinion however is that the economics presented in a company powerpoint are questionable at best. Not just Continental, but all of them. Take a tour of the various companies in this industry and look at their corporate presentations.
Pretty much every one of them claims to have assets that are in the top tier in the industry. They all can't be right. In fact almost all of them have to be wrong.
Isn't Generating Some Free Cash Flow The Objective?
If we believed that current $50 oil prices are here to stay we wouldn't touch a shale producer with a ten foot pole. The reason that we say that is because from what we see in the financial statements of these companies they weren't anything to write home about when oil was $90 to $100 per barrel.
We went back to Continental's financial statements and pulled how much cash flow the company has generated from operations and compared it with the capital expenditures the company has made.
The table below is what we found.
| | | | | | | | |
| --- | --- | --- | --- | --- | --- | --- | --- |
| | 2010 | 2011 | 2012 | 2013 | 2014 | 2015 | Total |
| Operating Cash Flow | 653,167 | 1,067,915 | 1,632,065 | 2,563,295 | 3,355,715 | 1,415,492 | 10,687,649 |
| Capital Expenditures | 1,039,416 | 2,004,714 | 3,903,370 | 3,711,011 | 4,587,399 | 2,597,699 | 17,843,609 |
| | | | | | | | |
| Negative Free Cash Flow | 386,249 | 936,799 | 2,271,305 | 1,147,716 | 1,231,684 | 1,182,207 | 7,155,960 |
| Capex / Cash Flow | 159.13% | 187.72% | 239.17% | 144.78% | 136.70% | 183.52% | 166.96% |
From 2010 through 2015 Continental outspent the cash flow that it generated by $7.1 billion. That is a huge number by itself. When you consider that it is nearly 70% more than the company generated it looks even more incredible.
For years Continental has proudly showcased how fast it has grown.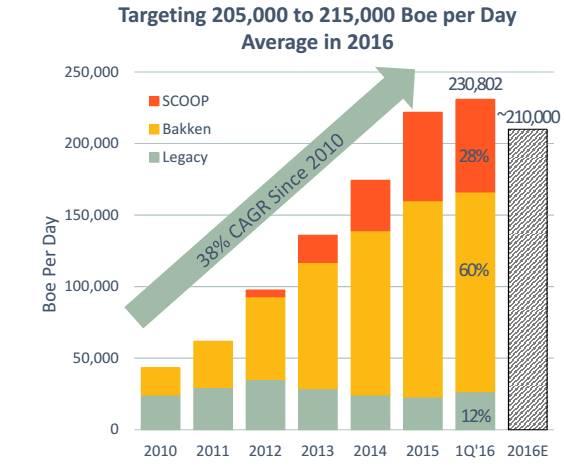 Source: Continental Corporate Presentation
How exactly is that an achievement when you spend $7 billion more than you have generated to create that growth? Borrowing money and issuing shares to drill beyond your means is not what we would define as success. Of course Continental grew fast when it outspent cash flow by 70%. Who wouldn't?
What we would be looking for in a producer is growth that is achieved while living within cash flow. We suspect that even at $80 oil Continental couldn't have achieved that. How much do you think Continental would have grown over that period of time if its capital spending was $10 billion instead of $17 billion? We reckon not very much.
In fact we'll meet you down in the comment section to discuss any shale oil producer that has been able to grow production while living within cash flow. We aren't saying it isn't possible, we are sincerely just saying that we would like to know about one or two of them. Those would be the shale oil producers that we would like to own, because those would be the ones that truly have the best assets.
Those would be the companies that can truly invest capital at high rates of return. That is what we want, a compounding machine. Not a management group adept at sucking more money from the capital markets.
There Are Actually Good Ways To Play The Oil Rebound
While we clearly aren't too fussed on shale oil producers we have found a couple of companies in the portfolio of one of our favorite Superinvestors that we like and think we understand fairly well. We will be revealing our very favorite oil play to subscribers in the next monthly issue of our Seeking Alpha Premium Service. You can check out that service here and also take a test drive of a free sample issue.
Click the follow button if you are interested in reading our regular Seeking Alpha content. If you are buying shale oil producers please focus on the financial statements rather then the corporate presentations. Those presentations are after all nothing more than marketing tools.
Good luck with your investing. Thanks for reading.
Disclosure: I/we have no positions in any stocks mentioned, and no plans to initiate any positions within the next 72 hours.
I wrote this article myself, and it expresses my own opinions. I am not receiving compensation for it (other than from Seeking Alpha). I have no business relationship with any company whose stock is mentioned in this article.