As many readers are aware, on June 3, NorthStar Realty Finance (NYSE:NRF) made the following announcement:
NorthStar Asset Management Group Inc. (NYSE:NSAM), Colony Capital, Inc. (NYSE:CLNY) and NorthStar Realty Finance Corp. today announced that they have entered into a definitive merger agreement under which the companies will combine in an all-stock merger of equals transaction to create a world-class, internally-managed, diversified real estate and investment management platform. The transaction has been unanimously approved by the Special Committees of NSAM and NRF, and the Board of Directors of Colony. The combined company will be named "Colony NorthStar, Inc.
To celebrate this momentous occasion, the market promptly sold the shares: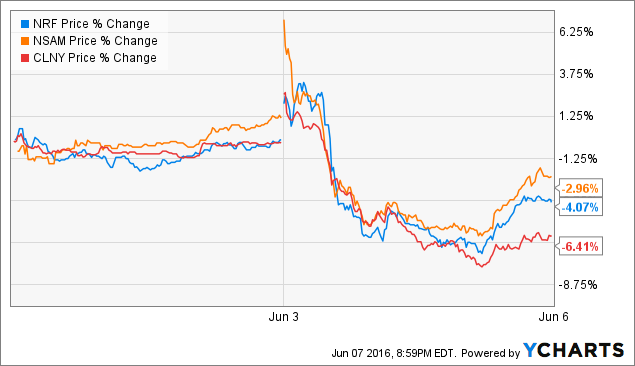 Why would the market sell off when a deal which was widely expected was announced? Here is our theory:
The deal will do nothing to help increase the value of the shares.
Seems simple, right?
Let's look at the rationale for the deal:
This strategic combination is the next logical step for NSAM and NRF, creating substantial value for shareholders and transforming the companies into a world-class, internally-managed equity REIT that includes a sizable, established institutional and retail asset management platform.
This sounds an awful lot like what we (NRF/NSAM) shareholders had before management decided to get really clever (and wealthy) and "unlock value" by splitting the firm up. The next logical step is two steps backwards.
Larger, More Diversified and Stable Investment Portfolio: Well-diversified portfolio of investments with concentration in scaled verticals across geographies, property types and capital stack positions, consisting primarily of owned real estate.
Extracting the investment bank jargon, this translates to: A bigger asset manager with a built in owned real estate portfolio (to use as a quasi investment bank/private equity platform). For NorthStar Realty shareholders, this means that a light industrial portfolio (CLNY has a 62.4% interest in their light industrial platform, or CLIP), single-family rentals (well, CLNY owns shares in Colony Starwood, representing a 14% ownership in Colony Starwood Homes as of 3/31/16) and other investments co-owned with various CLNY funds will be added to the "portfolio." Given recent asset sales by NRF, shareholders will end up with a smaller wholly owned portfolio.
Stronger Balance Sheet, Ongoing Deleveraging and Improved Liquidity: Asset monetization and sale initiatives by NRF, totaling approximately $1.5 billion in projected net proceeds, are expected to bring the total debt-to-capitalization ratio of the combined company under 50%, while continuing with an objective of upgrading the credit profile of the combined company and lowering the overall cost of capital.
As per usual, NRF will be used as a tool to support the asset manager/private fund business.
Increased Scale and Value Creation: Colony NorthStar is expected to be in the top quartile ranked by equity market capitalization, according to the MSCI U.S. REIT Index (RMZ) classification, with a broad platform that expands its ability to deploy third-party fee-bearing capital to accelerate growth and provide enhanced returns to shareholders from consistent, longer duration fee related income.
Sounds to us like the true focus of this merger is asset management, NRF is just a tool that will be used to further these ambitions. While possibly in the top quartile, the business itself is different than "traditional" equity REITs and will have a different risk profile. Good for NSAM and CLNY, not so much for NRF.
Widens Access to Multiple Sources of Capital: Unmatched access to global investors targeting real estate investment through public vehicles, private institutional and retail capital platforms.
Again, the focus is asset management. For investors wishing to own an equity REIT, doesn't sound like the focus will be on building a real estate portfolio. This is further enunciated in the conference call:
So, if we have substantial ownership, right, in these assets because in effect, we're not necessarily selling our position, but we're bringing in more equity to dilute down our position, as I was explaining, again in that CLIP Colony industrial example, then you really have alignment in that we're sharing ownership. Albeit in addition, we're collecting investment management fee.
Why have full ownership of a portfolio of strong assets when you can dilute your ownership to drive ROE, right?
As a reminder, one thing we pointed out a while ago was that NSAM wasn't underperfoming, their sector (asset managers) was underperforming. Let's take a look at that again: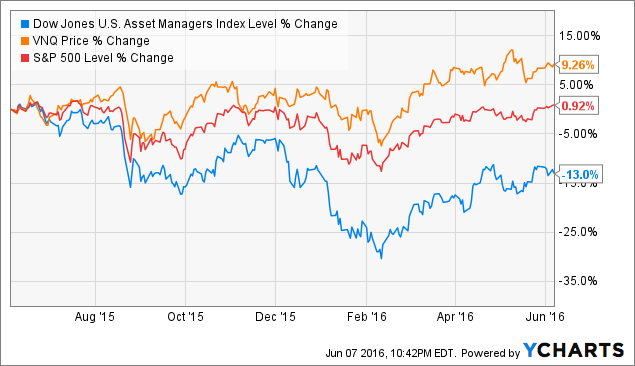 Asset managers have underperformed REITs and the broader market. The asset manager "slice" of the combined entity will be bigger however.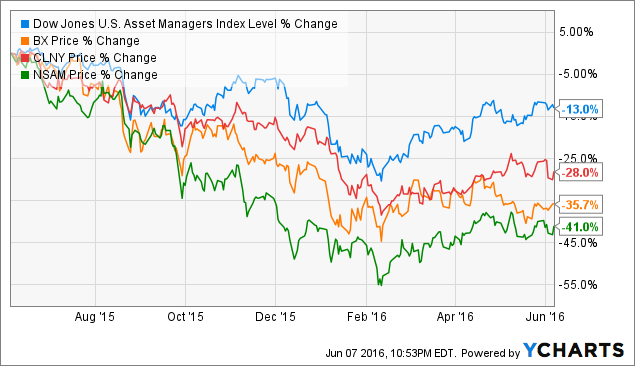 Hmmm, perhaps bigger isn't always the solution to every problem. Dare I say that Blackstone (NYSE:BX) plays in an entirely different league than these guys in terms of both assets under management and real estate.
So, it seems the following is what NRF shareholders can expect:
More asset management revenue/fee streams,
property ownership dilution to drive ROE,
continued undervaluation due to the asset management and complexity discount, and
the abundant use of really cool investment banker jargon (you know, that vertical).
Oh yeah, we don't want to forget the following:
A healthy dividend cut.
The dividend will be maintained at the Colony level of $1.08 ($1.60 adjusted for the exchange ratio). NRF shareholders were getting $1.60/sh (post the cut from $0.75 to $0.40) which was a 63% payout of CAD (which is lower than the new payout of 65%). The net result of the dividend games is Colony is unchanged, NRF is reduced approximately 25% (adjusted) and NSAM gets an increase of 170% (they were getting $0.40). The winner is... you guessed it, NSAM. The loser is... again you guessed it, NRF. We wish we were surprised.
As we stated earlier, management has revised the slide deck that was originally published on 6/3. The new slide deck emphasizes the following:
(page 3) adds CAD guidance ($1.65 midpoint) and target payout ratio (65%),
(page 12) adds the "verticals" that Colony couldn't identify on the conference call,
(page 17) adds dividend comparisons that are, for the most part, not comparable,
(page 18) adds P/E and debt/EBITDA multiple comparisons that are also not truly comparable,
(page 19) specifies that the new deal will be a unique, deep value investment opportunity (isn't the point of a merger to create a company that isn't "deep value"?),
(page 25) shows that

the companies have become deeper value since the original slide deck was done.
As we see it, the new slides were meant to give people hope that the combined company is undervalued and has a high yield. Our interpretation, however, is that, once again, NorthStar is doing the heavy lifting for the projected company. NRF asset sales will be delevering the company and the dividend cut that NRF will sustain will fund NSAM's dividend increase.
In our opinion, if you want to buy an (alternative) asset manager, you might want to consider going with one that is considered to be the best in the business (you'll get real-estate exposure too):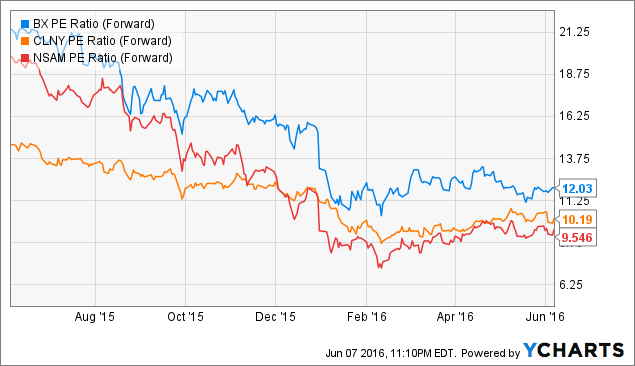 The additional 2x earnings you pay shouldn't dissuade you from buying the cream of the crop.
Bottom Line: There is a reason the shares sold off when the deal and its structure were announced. There was a reason the company put out a second slide deck. This deal is built on the back of NRF, as was NSAM's existence. The choice investors have seems to be a usury management contract with NSAM or supporting a three-way merger where a (complexity) discount can be expected. We would prefer to take our chances with the NSAM contract.
Author's Note: Brad Thomas is a Wall Street writer and that means that he is not always right with his predictions or recommendations. That also applies to his grammar. Please excuse any typos, and I assure you that he will do his best to correct any errors if they are overlooked.
Finally, this article is free, and the sole purpose for writing it is to assist with research (Thomas is the editor of a newsletter, Forbes Real Estate Investor), while also providing a forum for second-level thinking. If you have not followed him, please take 5 seconds and click his name above (top of the page).
Sources: SNL Financial and NRF Investor Deck.
Disclaimer: This article is intended to provide information to interested parties. As I have no knowledge of individual investor circumstances, goals, and/or portfolio concentration or diversification, readers are expected to complete their own due diligence before purchasing any stocks mentioned or recommended.
Disclosure: I am/we are long O, DLR, VTR, HTA , STAG, GPT, ROIC, HCN, OHI, LXP, KIM, WPC, DOC, EXR, MYCC, TCO, SKT, UBA, STWD, CONE, BRX, CLDT, HST, APTS, FPI, CORR, NHI, CCP, CTRE, WPG, KRG, SNR, LADR, PEB, BXMT, IRM.
I wrote this article myself, and it expresses my own opinions. I am not receiving compensation for it (other than from Seeking Alpha). I have no business relationship with any company whose stock is mentioned in this article.