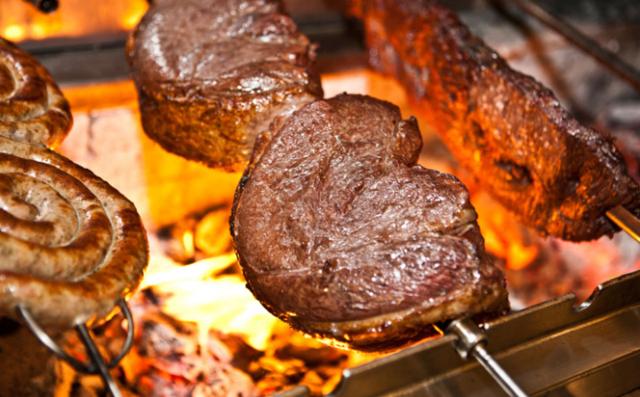 Churrascaria chain Fogo de Chao (NASDAQ:FOGO) can certainly be added to the list of recent restaurant IPOs that have gone bust. The company's shares have been cut in half since they started trading amid a rough environment for eateries and some company-specific issues. But down roughly 50%, is FOGO reaching some sort of value level? The company's Q1 report was poorly received and intensified the selling action that was already taking place but let's take a look and see if FOGO may find a base here.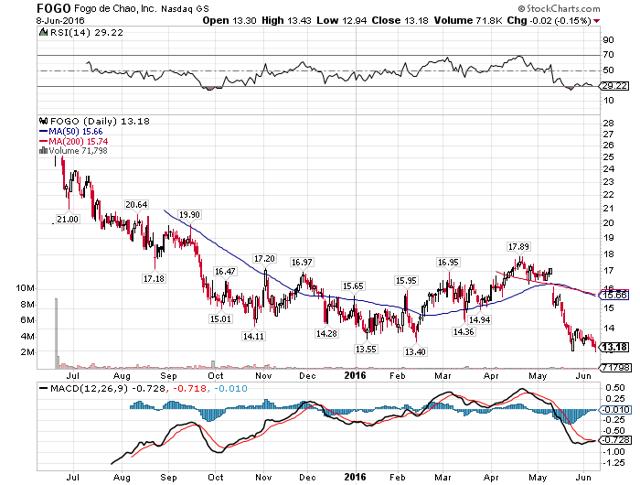 FOGO's Q1 revenue performance was actually quite strong and would have been very impressive were it not for its operations in Brazil. The US business saw total revenue almost 11% higher due to new stores that opened in the past year and a positive comp sales number of 90bps. That's nothing to get particularly excited about but given the terrific underperformance of the stock, you'd likely expect worse.
Unfortunately, the Brazil business whacked consolidated revenue as it took a huge hit from forex translation. The Brazil business was strong on an underlying basis but the forex conversion crushed that segment's revenue and wiped away much of the gain in the US business. Still, with positive comps all around and the only real problem being forex translation, FOGO's revenue picture actually looks pretty decent on an ongoing basis.
Operating margins did fall about 140bps in this year's Q1 as the company's gains made in food and beverage costs were more than offset by increases in labor and occupancy expenses. Still, FOGO's unit-level margins in the 31% area are enviable to say the least and that is a big draw for this business for investors; where else can you find a small cap restaurant chain with 30%+ unit margins?
FOGO reiterated its EPS guidance for this year of 93 to 96 cents but changed some of the components of that guidance. The company cut its revenue and comp sales guidance due to movements in the exchange rate of the real and the dollar. It also cut its capex and pre-opening expense budgets due to one less forecast company-owned store opening this year. But, importantly, it retained its unit-level margin guidance for 31% to 31.5% and that allowed it to maintain its EPS guidance for the year. To be honest, the reasons for the cuts in the various components of EPS were very understandable and in the case of forex movements, out of the control of the company. I'd like to see some hedging efforts to work through these movements in the future but the underlying business is performing very well. And with only 41 company-owned stores as of the end of the first quarter, there is a very long runway for growth in the future.
The stock is trading for 14 times this year's earnings and only 12 times next year's estimate despite the fact that it is going to grow EPS at a mid-teens rate in that time frame. It certainly seems investors have left FOGO out in the proverbial cold because of a Q1 report that wasn't gangbusters but again, the underlying business is performing very well; it is currency fluctuation that kept a lid on FOGO's earnings in Q1. Given the turmoil in Brazil I'd say the odds of a material improvement in the company's forex woes are very low anytime soon. However, as investors eschew FOGO because of the real issue, it creates a cheaper and cheaper stock that still has a long runway for unit growth and comps that are doing well in addition to that.
FOGO's high-end dining concept is one that you won't find on every street corner but it is one that each major market can support two or three of if FOGO chooses. And with just over 40 stores right now and five or six on the way this year, there is certainly room to quintuple the store count over time or more depending upon how aggressive FOGO wants to be. That, combined with the company's incredible margins at the unit level sets the stock up very nicely at its current trough valuation.
The company's unit margins likely don't have much headroom because they are already so high but as FOGO opens more stores, its back office expenses could see some significant leverage, which could produce some explosive earnings growth in excess of revenue gains. That means the growth story with FOGO has two prongs, both of which are able to produce strong growth in their own rights. The store count could go way up over the next decade or so and profit margins should move higher over time as FOGO leverages its back office costs. That's a powerful growth backdrop and at only 12 times next year's earnings, I think investors are too worried about the Brazil business and losing sight of the terrific growth story that is unfolding. The sell-off is overdone and that FOGO is a great long term buy here.
Disclosure: I am/we are long FOGO.
I wrote this article myself, and it expresses my own opinions. I am not receiving compensation for it (other than from Seeking Alpha). I have no business relationship with any company whose stock is mentioned in this article.