Amazon (NASDAQ:AMZN) produced an impressive set of earnings in its latest fiscal quarter. Gross margin got a nice unexpected bump and third party sellers returned in droves (up 3% to 47% which means they are now responsible for 47% of new units sold). Furthermore one can't underestimate the strong growth in Prime in the sense that this is "locked in" business for the future as long as customers receive the service they expect. Prime is now growing faster abroad than in the US which means there is runaway growth for this product especially in under developed countries. Just look at how strong the retention rates are in Amazon Prime at present. They are actually marginally beating Costco's (NASDAQ:COST) membership offering at present which is why these two retailers should continue to see strong growth going forward.
Amazon Prime suits regular buyers from the perspective of deals and delivery and with retention rates of well over 90% after the first and second year (see chart), things bode well in this area for the future. Investors shouldn't just take note of recurring income of sales and memberships that Amazon is bringing in here but also the recurring information it is learning about its customers. Recurring is the key word here. Prime in many ways on a subconscious level forces the customer to buy in order to get the best return on their investments. Here is where Amazon has an advantage over the likes of Costco in that Costco only has something like 3,500 different individual stocking units compared to something close to half a billion over on Amazon. Costco's model is to laser focus on the essentials and concentrate on volume and discounts which usually run smoothly due to relationships built up with suppliers over time. The model works well in the sense that Costco adopts a "certainty" or "system" type of model where customers know exactly what to expect which returns predictable profits over time.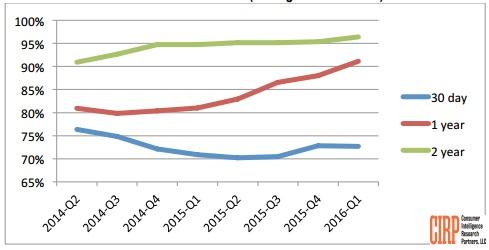 Amazon on the other hand is noted as being ruthless with some suppliers (as it has so many) especially if it is not getting the price it wants. I have seen products on Amazon selling for the same price as a local store whereas other products could be 20% cheaper. Why? Well if the supplier in question is not going all in with Amazon (in terms of discounting), Amazon will most definitely not promote you on their end. Why? well we are already seeing how fulfillment and shipping costs continue to rise meaningfully at Amazon. Therefore you can be sure that any product that goes through Amazon's marketplace will have its price right from day 1 as it's the only way to protect the company from unforeseen events like multiple shipping attempts, etc which cost profitability in the long run.
No Amazon doesn't want just your essentials. It wants your entire house spend every month - wherever you spend it and will do everything it can to get your budget. This can't be typified better than its recent foray into the restaurant sector. Miami is the latest city that will deliver food to Amazon prime members for free, which again is a great marketing ploy. Why? Well you can bet that most outfits in Miami charge to deliver food but not Amazon and for good reason. As the chart above illustrates, the company has around a 75% retention rate in its 30 day trial window. Amazon is looking for the people where consistent delivered food is the norm which will give them another reason to try out Amazon Prime. Beware. Amazon is coming to your city and is actively looking to serve you and will not stop until it finds your need which will ultimately make you hop onto its prime program.
From a technical and cycle standpoint, I would not be scaling into Amazon any time soon. The stock has had the benefit of a rising stock market since mid February plus its first quarter earnings also rallied the stock higher at the end of April. I'm looking for an intermediate top here in stocks which should see us roll over for another 6 to 8 weeks before bottoming out. February's rally in all equity markets has been very strong. We have to reset sentiment which is getting to ultra optimistic levels. Expect a dip in the short term (it will fall more than the S&P) before rising to all time highs once more..

To sum up, I'm going to be adding a few good dividend and growth stocks to the elevation portfolio over the next several weeks when I see value. It's imperative that they are not correlated and all don't have similar valuations to ensure that income is brought in every month, which, over time, will increase our share count. Follow along by pressing the "Follow" button above
Disclosure: I/we have no positions in any stocks mentioned, and no plans to initiate any positions within the next 72 hours.
I wrote this article myself, and it expresses my own opinions. I am not receiving compensation for it (other than from Seeking Alpha). I have no business relationship with any company whose stock is mentioned in this article.