The subject of cash and debt obligations has been an anxious topic for Vertex Energy (NASDAQ:VTNR) since early 2015. The drop in crude oil prices and subsequent industry pressures weren't helping the used motor oil re-refiner. So it is commendable the company has made noteworthy progress over the past seventeen months.
A year ago, bears were relishing the idea that Vertex would not be able to meet the conditions of its Goldman, Sachs & Co. credit and guaranty agreement. The company was obligated to raise at least $9.1 million by June 30, 2015, through the sale of equity. Proceeds would flow directly to Goldman as a mandatory pre-payment against the $40 million due. Should Vertex, somehow, have been able to prepay at least $15.1 million, a warrant to purchase 1,766,874 shares of the company's common stock would automatically terminate. Vertex Energy raised $25 million at the end of June 2015 and paid Goldman $15.1 million. The outstanding balance due Goldman was now $24 million.
In February, 2016, Vertex announced the sale of a base lubricating oil production plant in Nevada (its Bango facility) to Safety-Kleen Systems, a subsidiary of Clean Harbors (NYSE:CLH). Vertex used the proceeds to pay down accounts payable balances and long-term debt. When the company reported 2016 first quarter results on May 12th, the benefits were evident. The outstanding balance due Goldman has been paid down to $6.4 million. In the past twelve months, Vertex decreased its total outstanding debt by two-third from $43.5 million to $14.2 million.
Of the $14.2 million in long-term debt outstanding, $8.9 million matures in 2016. Initially, this would appear to be a concern. Vertex' first quarter revenue decreased 62% year-over-year. While the company's operating loss was considerably less than analysts expected, it was still a loss. Covering the maturities is not likely to be achieved by the generation of operating cash.

Alongside reporting quarterly results, Vertex announced a private placement of preferred stock. It raised approximately $19.3 million. With the proceeds, the company first elected to repurchase and retire $11.2 million worth of Series B preferred stock issued in 2015. Vertex is authorized for 50 million shares of preferred stock. The $25 million raised in 2015 resulted in an issuance of approximately 8.1 million shares of Series B preferred stock. The $19.3 million raised in May, 2016 resulted in an issuance of approximately 12.4 million shares. The $11.2 million will repurchase and retire 3.6 million shares and decrease the outstanding count to a range of 17 million.
After fees and expenses, the remainder of the $19.3 million, $8.1 million, will be used to further pay down debt, for working capital needs and for possible acquisitions. Considering $8.9 million of Vertex' debt matures in 2016 and the company is not yet operating at a profit, it appears a deficiency could still be a possibility. In late January, 2016, Vertex Energy provided a promissory note to Fox Encore for $5.15 million. The note represents the majority of the debt due to mature in 2016. Its due date is July 31, 2016. However, Vertex has three extension options which would extend the maturity date by six months each: until January 31, 2017, until July 31, 2017, and until January 29, 2018. Each extension option requires a 3% fee of the then outstanding principal. The fee will not be paid in cash but will be added to the outstanding principal balance. The note's interest rate is 10% annually.
Obviously, it would be prudent for Vertex to hastily pay off the promissory note. Yet, with quarterly revenue at its lowest point in over four years, the task could be challenging.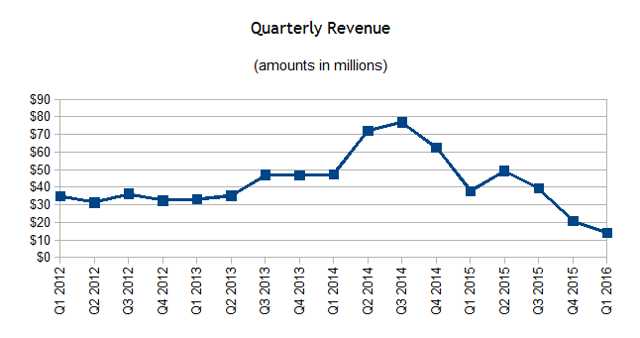 Source: Author-created from company data
There are tidbits of positivism that should materialize in the second quarter. The company's Heartland facility became fully operational in the second quarter after a fire in mid-February required shutdown. In its street collection business, Vertex was able to grow its charge for collection to $0.37 per gallon by the end of April. This compares to $0.12 at the end of 2015 and $0.27 per gallon at the end of February. The company's optimism is guarded.
The important thing to remember is that we have restructured our business to operate and grow in the current low crude price environment. As a result, we believe 2016 will look much better than 2015 and 2017 and beyond will show additional improvements.
Disclosure: I am/we are long VTNR.
I wrote this article myself, and it expresses my own opinions. I am not receiving compensation for it (other than from Seeking Alpha). I have no business relationship with any company whose stock is mentioned in this article.
Additional disclosure: I belong to an investment club that owns shares in VTNR.
Editor's Note: This article covers one or more stocks trading at less than $1 per share and/or with less than a $100 million market cap. Please be aware of the risks associated with these stocks.