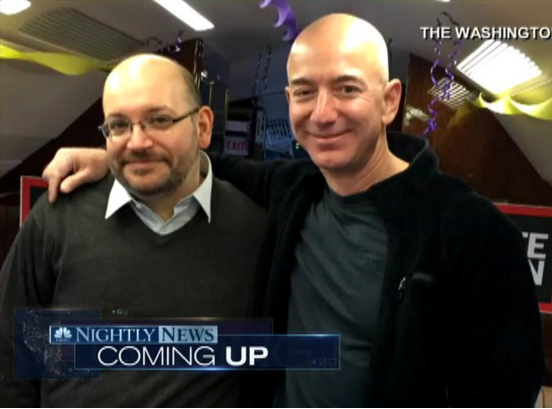 Fear A High Amazon P/E? Not Necessarily
A recent article by Seeking Alpha contributor Anchorite, comparing Amazon (NASDAQ:AMZN) to Best Buy (NYSE:BBY) - Buy Amazon At 298 P/E Or Get A 5% Dividend At 12 P/E? - reminded us of a bullish article we wrote on Amazon when its P/E was even higher.
In January (Einhorn Shorted Amazon - You Shouldn't), we argued that although hedge fund manager David Einhorn of Greenlight Capital had shorted Amazon, investors shouldn't follow his lead. On the contrary, we suggested investors consider buying Amazon, which was the top-ranked name on the Portfolio Armor website at the time, provided they hedged to limit their downside risk.
In that article, we noted Amazon's 864 P/E (trailing twelve months) and why we were still bullish on it:
The Bearish Case For Amazon

Greenlight's most recent shareholder letter, reprinted at ValueWalk, doesn't give a short thesis for Amazon; it just notes that it and Netflix were "powerful momentum plays". Presumably though, as a value investor, Einhorn is offended by Amazon's high valuation. And indeed, according to the valuation metrics below (data via Fidelity), the stock does look pricey.

P/E Amazon: 864; Industry Average: 117.
P/E (5 year avg) Amazon: 486; Industry Average: 337.
PEG (5 year proj.) Amazon: 14; Industry Average: 10.
Price/Sales Amazon: 2.8; Industry Average: 3.5.
Price/Cash Flow Amazon: 45; Industry Average: 33.

These numbers all look high, and, except for Price/Sales, they are all well above the Internet retail industry average, which look high to begin with. The metric a bearish value investor might focus on most here is the PEG ratio, since it takes growth into account, and even an investor as growth-oriented as Jim Cramer prefers stocks with PEG ratios below 2.

Why We're Bullish On Amazon

The main reason we're bullish on Amazon is that it's currently Portfolio Armor's highest-ranked name when ranked by potential return (and has been one of its highest-ranked names since August; as you can see here, it appeared in a hedged portfolio created on August 11th). Potential return, in our terminology, is a bullish estimate of how a security will perform over the next six months.
In a follow up article, after Amazon reported disappointing 4Q 2015 earnings (Advantage Einhorn?) we discussed courses of action for hedged Amazon shareholders. We concluded that they were likely best off staying the course:
In our view, and in light of Portfolio Armor's updated potential return on AMZN (16%, down from 30% pre-Q4 earnings), staying the course would seem to make the most sense now. Since the hedge doesn't expire until July, you can hold the position through the next earnings release. Given that the cap on the collar is far above our updated potential return, it probably doesn't make sense to buy-to-close the call leg now. This is also consistent with our research as part of our backtesting the hedged portfolio method. We found that, on average, the highest returns came from holding securities for six months, or until just before their hedges expired, whichever came first. Essentially, this gave the underlying securities more time to recover from declines and generate better performance.
Shares of Amazon did just that, after bottoming out in February, as the chart below shows.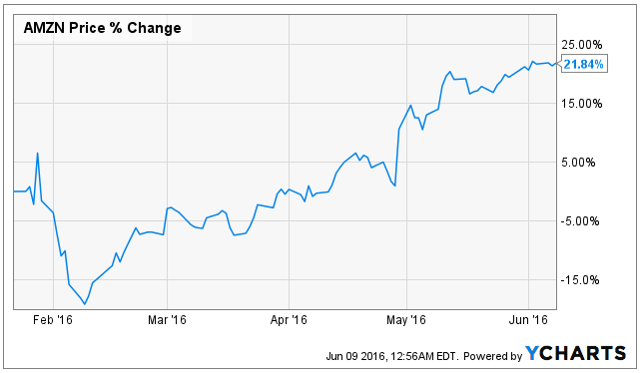 What Happens To Hedges When A Stock Goes Up
In our previous article (So You Wanted To Stay Long Valeant), we showed what happened to a hedge when a stock went down. With Amazon, we can see an example of what happens to a hedge when a stock goes up.
Status Of The January 22nd Optimal Collar Hedge
As of January 22nd's close, this was the optimal collar to hedge 100 shares of AMZN against a greater-than-15% drop by mid-July, while not capping an investor's upside at less than 30% by the end of that time period (the screen capture below is via the Portfolio Armor iOS app).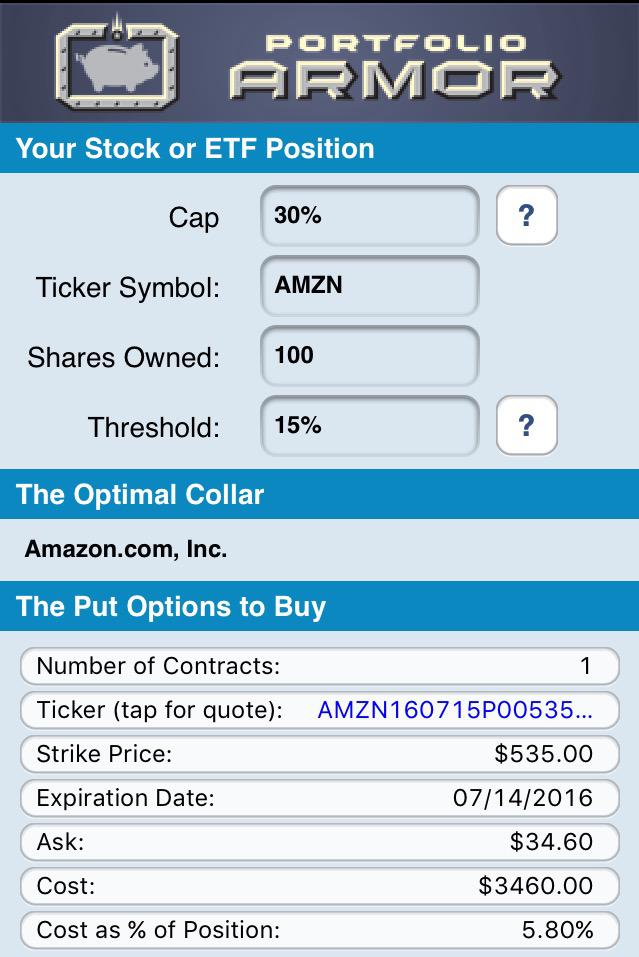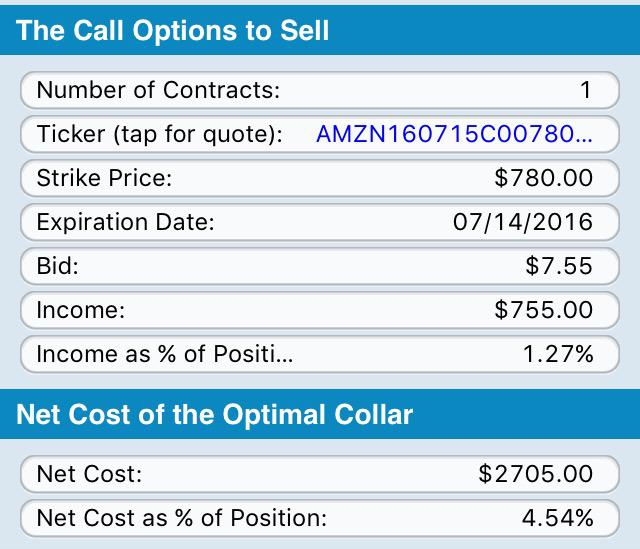 As you can see above, the cost of this hedge was $2,705 or 4.54% of position value.
Here's an updated quote on the put leg as of Wednesday's close: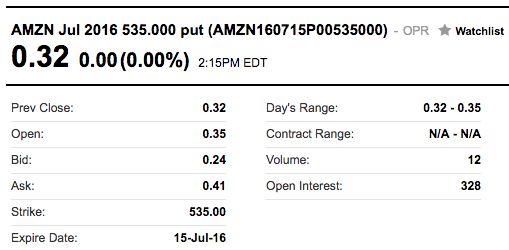 And here is an updated quote on the call leg: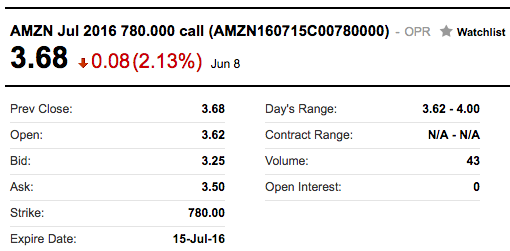 How That Hedge Reacted To Amazon's Rise
AMZN closed at $596.38 on Friday, January 22nd. A shareholder who owned 100 shares of it and hedged with the collar above then had $59,638 in AMZN stock plus $3,460 in puts, and if he wanted to buy-to-close his short call position, he would have needed to pay $755 to do that. So, his net hedged position value on January 22nd was ($59,683 + $3,460) - $755 = $62,343.
AMZN closed at $726.64 on Wednesday, June 8th, up 21.8% from its closing price on January 22nd. The investor's shares were worth $72,664 as of 6/8, his put options were worth $32, and if he wanted to close out the short call leg of his collar, it would have cost him $368. So, ($72,664 + $32) - $368 = $72,328. $72,328 represents a 16% gain from $62,343.*
Cost Of Exiting Early
So, although AMZN was up by 21.8% at the time of the calculations above, if the investor hedged with this collar wanted to exit his position on Wednesday, his gain would have been limited to 16%. Note that the difference there (5.8%) is a bit higher than the initial hedging cost (4.54%). In tests of our hedged portfolio method, we got the best results by holding hedged positions for 6 months or until just before their hedges expire, which would be next month, in this case.
Best- And Worst-Case Scenarios
The best-case scenario here is Amazon keeps going up and is up 30% or more from the January 22nd closing price by mid-July. In that case, the investor would be up about 25.5% from the January 22nd closing price, net of his hedging cost. The worst-case scenario is Amazon plummets from here, and the investor is down no more than 15% from the January 22nd closing price by mid-July. That maximum decline includes the hedging cost (i.e., not counting the hedging cost, the investor would be down about 10.5% from where he bought it in January).
An Updated Potential Return And Hedge For Amazon
Amazon's no longer our site's top-ranked stock, but our site is still bullish on it, estimating a potential return of 13.6% for it over the next several months. We were able to raise our upside cap to 14% without raising the cost of hedging, so we used that as the cap in the hedge below.
This was the optimal collar to hedge 100 shares of AMZN against a greater than 15% drop between now and late January, while not capping your upside at less than 14% by then: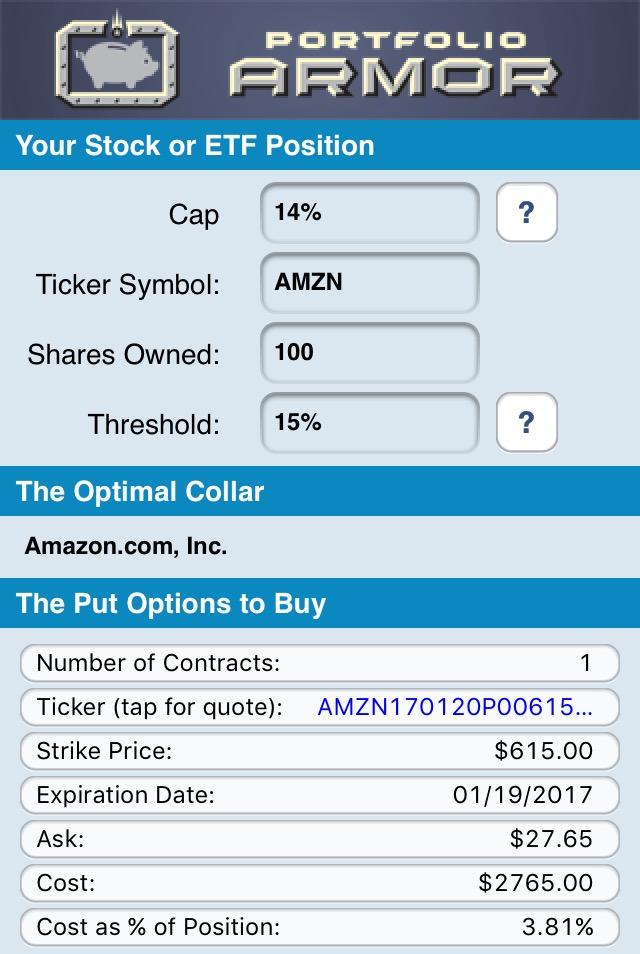 As you can see above, the cost of the put leg of this collar was $2,765 or 3.81% of position value. But if you look below, you'll see the income generated by selling the calls was a bit more: $3,140 or 4.23% of position value.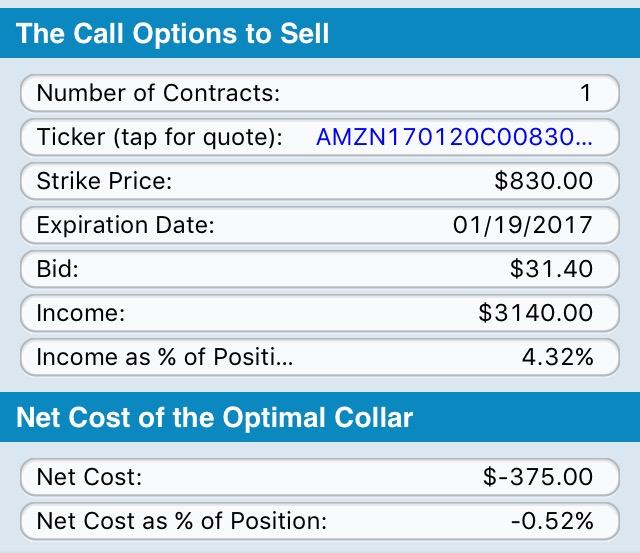 So the net cost was negative: the investor would have collected an amount equal to $375 or 0.52% of position value, when opening this hedge. Note that, to be conservative, the cost here was calculated using the ask price of the put and the bid price of the call; since, in practice, an investor can often buy puts for less and sell calls for more (at some price between the bid and ask, in both cases), an investor opening this hedge on Wednesday would likely have collected more than $375.
*An imprecision of our loss calculation method here is that the last prices of the options occurred earlier in the day than the last price of the stock. For simplicity's sake, we've used the last prices of all three here, but if you sliced this a different way - say, using the intra-day price of the stock at the time the options traded, or using the midpoint of the bid/ask spread of the options at the close - the results would have been similar.
Disclosure: I/we have no positions in any stocks mentioned, and no plans to initiate any positions within the next 72 hours.
I wrote this article myself, and it expresses my own opinions. I am not receiving compensation for it (other than from Seeking Alpha). I have no business relationship with any company whose stock is mentioned in this article.