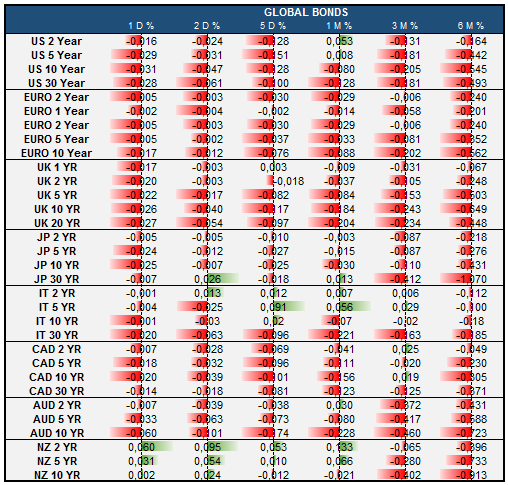 Treasuries had a modest long-end-led bid Wednesday morning into the 10-year auction and held near the day's best levels in the afternoon after positive auction results. At the close, that left yields across the curve close to Friday's post-payrolls closes after the gradual resumed gains since Fed Chair Yellen's Monday speech following the only small, temporary reversal Monday morning.
The 10-year went into the auction 1 bp stronger on the day at the lowest yield since May 13, but the $20 billion reopening still was awarded slightly through the market at 1.702% on an above-average 2.81 bid/cover and again very high investor demand. Indirect bidders took down a record 73.6% of the issue and direct bidders 7.2%, leaving primary dealers with only 19.2%. That was similar to the record high investor demand at the 2-year, 5-year, and 7-year auctions two weeks - and 16 bp - ago after the solid but more average investor demand at the 3-year auction Tuesday. More bidder details released by the Treasury Department with a lag showed that higher foreign demand, along with continued high domestic money manager demand, accounted for the elevated investor shares at that run of strong auctions two weeks ago. Of the $88 billion in 2-year, 5-year, and 7-year supply in May and April, foreign investors were awarded $23 billion in May v. $16 billion in April, investment funds $43 billion v. $45 billion, and primary dealers $18 billion v. $27 billion.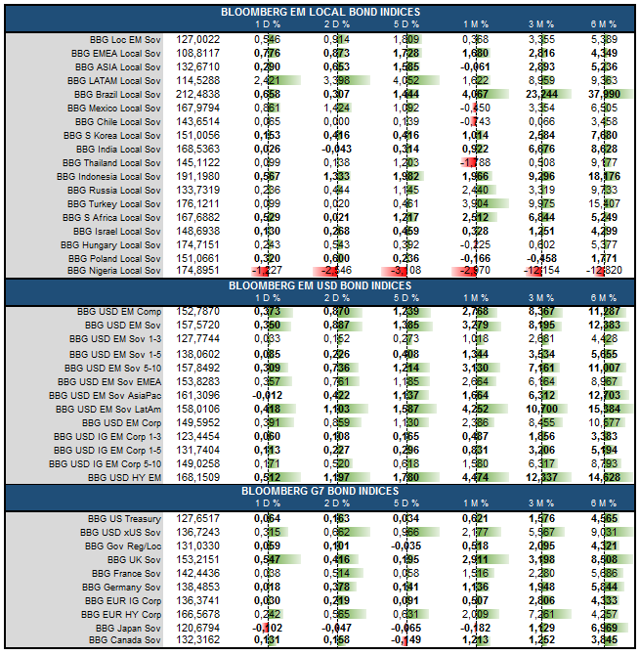 The elevated demand in the U.S. longer end seen at the auction was helped by a continuation of the sudden strength in Europe's long end as the ECB began buying corporate bonds. The German 30-year yield fell another 2 bp for an 8 bp two-day rally to 0.68%. Italy and Spain's 30-year yields fell 4 to 5 bp to 2.46% and 2.60%, catching up with larger German gains on Tuesday. The U.K. also joined in with a 3 bp rally in the 30-year Gilt to 2.09%. There seems to have been a renewed focus the past couple days on whether the ECB would run out of eligible bonds to buy at some point. Meanwhile in domestic economic news, gross job flows in the JOLTS underlying the deceleration in net payrolls growth April that worsened in May included a large slowing in the hiring rate being partly offset by a lower quit rate and a record low firing rate. The hiring rate slowed in March and April by 0.3pp to 3.5%, as fast a two-month deceleration as was seen in any two months in the recession. The Census Bureau's quarterly services survey, though, pointed to slightly better Q1 growth.
At 3:00, Treasuries were narrowly mixed, unchanged in the front end, marginally weaker in the belly, slightly stronger in the long end. The 2-year and 3-year yields were steady at 0.78% and 0.94%, 5-year and 7-year yields rose 0.5 bp to 1.23% and 1.51%, 10-year yield fell 1 bp to 1.71%, and 30-year yield fell 2 bp to 2.51%. The 5-year yield fell 2 bp to -0.33%, 10-year 2 bp to -0.09%, and 30-year 3 bp to 0.78%, leaving yields 1 to 2 bp higher. The 5-year outperformed as oil and gasoline prices ultimately gained 2% to 3% on the day after a stronger start, pullback after higher than expected weekly inventory numbers, but then renewed afternoon gains.
The Fed outlook in futures continued shifting down. October fed funds gained 0.5 bp to 0.48%, moving a bit more below 50/50 on a rate hike by September. Of the 44% chance through September, there's now 0% in June, 20% in July and 24% in September. Jan 17 gained 0.5 bp to 0.565%, pricing less than 80% chance of onehike this year. Apr 17 after gaining 1 bp to 0.62% remained the first contract with one full 25 bp hike in it. Two full hikes aren't priced until the Aug 18 contract, which is at 0.88% after gaining 0.5 bp.
(NYSEARCA:EMB),(NYSEARCA:PCY),(NASDAQ:BNDX),(NYSEARCA:ELD),(NYSEARCA:EMLC),(NYSEARCA:BWX),(NASDAQ:VWOB),(NYSEARCA:ALD),(NYSEARCA:TBT),(NYSEARCA:TLT),(NYSEARCA:TMV),(NYSEARCA:IEF),(NYSEARCA:SHY),(NYSEARCA:TBF),(NYSEARCA:EDV),(NYSEARCA:TMF),(NYSEARCA:PST),(NYSEARCA:TTT),(NASDAQ:VTIP),(NYSEARCA:ZROZ),(NYSEARCA:WIP),(NYSEARCA:ILB),(NYSEARCA:ITIP),(NYSEARCA:GTIP),(NYSEARCA:TIP),(RNIF)
Disclosure: I/we have no positions in any stocks mentioned, and no plans to initiate any positions within the next 72 hours.
I wrote this article myself, and it expresses my own opinions. I am not receiving compensation for it (other than from Seeking Alpha). I have no business relationship with any company whose stock is mentioned in this article.