Despite the arguments of the perennial bears, Tesla (NASDAQ:TSLA) stands to reap huge benefits from its energy storage business. We were told recently by some commentators here that Tesla was pulling out of the business, when in fact this was pure imagination.
Recent developments show the exact contrary is the truth. A look at the Tesla energy storage section of the website shows this. You can "build and order" for the Powerpack commercial product or "reserve" for the Powerwall residential product. The latter appears to be having that old Tesla problem, supply unable to keep up with rampant demand. That may explain the recent big orders apparently put in by Tesla on Samsung (OTC:SSNLF). Elon Musk tweeted this week that Samsung may indeed be a supplier for Tesla's energy storage business.
Big-time investor Ron Baron,who has US$300 million invested in the company, recently stated:
They can do as much sales in batteries ultimately as they can in cars.
He's right. The USA is concentrated on the enlightened policies in place in California, and many parts of the country may be late to the party. Much of the impetus will also come from overseas. Prices are expected to reduce by about 60% in the next five years, making the economic case unanswerable. This is even more so given the likelihood that in comparison electricity prices charged by utilities are likely to increase.
USA
Although regionally patchy there is no doubting the current growth in the U.S. market. Below is a graph from a report by GTM Research showing the current growth and the expected growth. It is divided up between utilities, commercial and residential:

The above graph shows how the utilities market continued to be the core of the business.
One driver will be the cessation of net metering in some States. When consumers can no longer sell back to utilities the excess electricity they have generated through solar or wind power, then it will be advantageous for them to store it themselves. The implementation of time-of-use rates will also hasten the process. The recent extension of various Federal tax credits should provide a further drive to the business.
Utilities themselves are starting to sell or lease energy storage products to their customers. They see it as a way to improve their own efficiency. Green Mountain Power in Vermont are an example of this trend recently in action.
The growth is patchy at the moment and may depend a lot on regional tariff rates. For instance, Hawaii has rates up to three times higher than some other States. So it is no coincidence that Tesla is engaged in a major energy storage project there in conjunction with Solar City (SCTY). A prime example of how synergies will grow as Musk's interests do. Hawaii is the leading state in the country for residential deployments, despite its relatively small size.
California though is the undoubted leader in the non-residential sector. According to the Energy Storage Council, the US market rose from 62 MW in 2014 to 220 MW in 2015. To show the snowball effect of this, the fourth quarter of 2015 alone saw 112 MW deployed. California alone is targeting an installed base of 1325 MW by 2020.
Australia
This country of sunshine and environmental consciousness shows the huge potential of energy storage products. This will only increase as prices reduce. Of course Tesla is not the only player, or even the dominant player. For instance California based Enphase Energy Inc recently received initial orders for 24,000 units for the country.
Australia was the first country to get the Powerwall battery, in December 2015. Most Australians live in relatively spacious houses and have high electricity consumption. Items such as air conditioning and power for pool systems drive up the usage. Increasingly households are relying completely on solar and energy storage systems for all their needs. Much electricity generation in Australia is from coal or gas fired sources, and environmentally aware Australians want to reduce their carbon footprint.
Here's a happy Australian suburban family.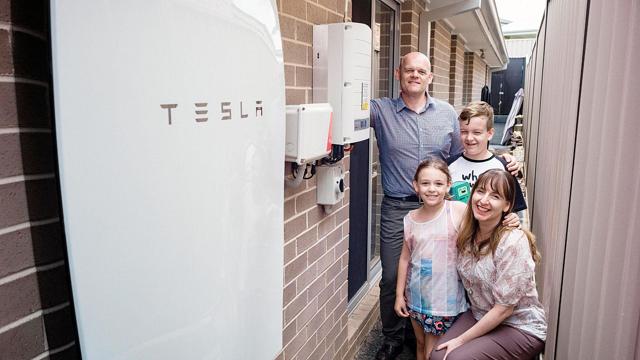 One of the biggest solar players, Natural Solar, are very bullish. Not specifically about Tesla but about energy storage systems in general.
Company boss Chris Williams stated:
2016 will prove to be a defining moment in the movement towards battery energy storage, both residentially and commercially.
They calculate that a large household in Sydney would pay an electricity bill of about A$700 (US$518) per month. An installed Powerwall system would give pay-back in 15 years, on the basis that electricity tariffs do not rise. Interestingly this is a lot shorter than a recent prediction for such systems from The Institute for Energy Research in the USA. However as it is backed by the Koch Brothers, readers can draw their own conclusions. Additionally of course, electricity prices in the USA are low compared to most countries.
Australia is likely to be the way the world is going. The Government-backed Climate Council Report recently predicted that 50% of Australian households would have solar power and energy storage systems in the future. The Government is targeting a figure of 1GW of off-grid energy storage.
All Around the World
The potential is almost limitless for energy storage systems. Different countries have different reasons as to why energy storage is set to take off.
A recent article I wrote detailed how initial reactions to Tesla's offering were looking very promising in the United Kingdom. The U.K. may not be famous for its hours of sunshine but is seen as a big market for alternative energy systems. For instance, Nissan (OTCPK:NSANY) recently launched an energy storage product there. This is based on using Nissan "Leaf" battery modules. Despite being more expensive than the Tesla Powerwall, the company is predicting sales of 100,000 units in the U.K. within five years. Perhaps tellingly, the company has no plans currently to launch the product in the USA.
In neighboring Ireland, where the wind does indeed blow, Tesla has partnered with a wind energy company.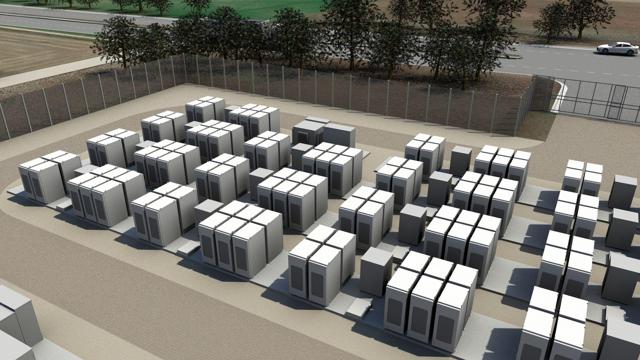 The joint venture between Gaelectric and Tesla is beginning with a 1Mw demonstration project, illustrating how Tesla can work specifically with a wind energy supplier.
Europe in general will be a huge market. This is primarily due to the fact that European Governments are putting such emphasis on alternative energy. For instance recently Portugal, Denmark and Germany have all had periods when all their energy needs were being met by alternative energy sources. These were admittedly times when demand was low and supply was high, but it is an undoubted foretaste of what is to come. Denmark, for instance, on the whole gets 40% of its electricity requirements from wind power.
An interesting but very different niche market is South Africa. Enel Green Power SpA, a subsidiary of Italy's largest utility, is offering Tesla Powerwall there with its own power inverter and photovoltaic modules. South Africa's needs are a lot different from affluent Denmark. This just goes to emphasize the many different problems and needs to which energy storage can provide solutions.
In South Africa the problem is intermittent energy blackouts and rising energy prices. Power tariffs are scheduled to rise by 9.4% this year. Enel calculate the pay-back time at 8 years, lower than other estimates than other countries. They may be accurate in a high tariff nation. The company is rolling out a similar programme in other countries in Africa such as Namibia which have the same sort of problems.
Israeli outfit SolarEdge is rolling out a similar package in South Africa. It is marketing Tesla's Powerwalls all around the country. Of course, only time will tell how successful these operations become in Africa.
As with Tesla EV's, Asia is likely to become a major plank of the business. Japan already ranks second in the world in terms of installed capacity. China is second in the world in terms of number of projects under way. India is targeting 40 GW of renewable energy capacity by 2020.
One can question Elon Musk's micro-management skills, but there is no doubting his visionary ability to spot long-term worldwide trends. Once again Tesla has put itself in position to be a major player in a major economic dynamic in many parts of the world.
Conclusion
The GigaFactory which the bears erroneously said would never happen is having its official opening soon. Energy storage systems, which bears erroneously said were being discontinued by Tesla, will be a central element to the facility.
The recent report of Samsung cells being shipped in huge quantities to Tesla is probably an indication of the demand. The original idea was for the GigaFactory to cater to 35 GWh cell production and 50 GWh module and pack production and this all fits in with the original plan.
Energy storage systems are not new and the Tesla offering is not particularly unique. However it is relatively small, easy to install and, most importantly, has the Tesla brand behind it. I pointed out in a recent article, "Tesla:Brand Loyalty Matters", how this is key. Apple (NASDAQ:AAPL) can sell products above the market price because of good design and brand loyalty.
Tesla is the same, and will enjoy equal success in both autos and energy storage systems for this reason. The GTM report forecasts that the U.S. energy storage market alone will reach 1.7 Gw by 2020, worth US$2.5 billion. Tesla is well-placed once again to be at the forefront of a booming and disrupting growth business, just as it is in electric vehicles.
Disclosure: I am/we are long TSLA.
I wrote this article myself, and it expresses my own opinions. I am not receiving compensation for it (other than from Seeking Alpha). I have no business relationship with any company whose stock is mentioned in this article.