As I write, gold and silver are more or less trading flat but the dollar is rallying somewhat (dollar index now up to 93.82) which means that we could be very close to printing a daily cycle low in the dollar. This is what I was conscious about yesterday when we didn't go all in on Silver. The dollar (NYSEARCA:UUP) could have connotations for where the precious metals complex goes over the next 3 to 6 weeks so I will be watching how the dollar trades in the next few days. One thing is for sure. The provisional bottom it found today has to hold for this to be a "normal" intermediate cycle for the dollar. As we can see, the 5 day RSI indicator reached oversold levels yesterday which are indicative on an impending daily cycle low.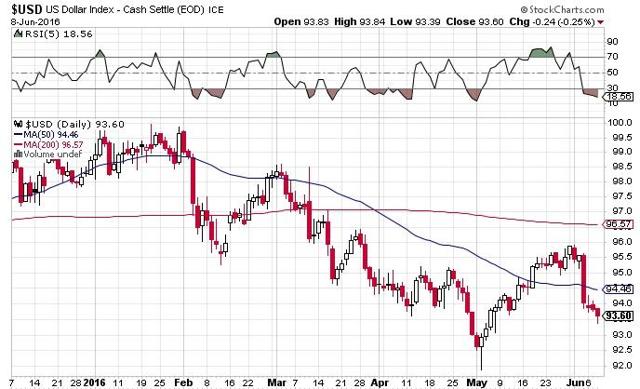 Furthermore sentiment almost reached 40 which is almost the same level it reached a month ago when it printed its own intermediate cycle low. Usually we get some bounce we sentiment reached ultra pessimistic levels. However here is why the precious metals rally may stall for a while although I still believe it will only be brief.
As the chart shows below, we bottomed at the start of May in the dollar which means we are still only 6 weeks into this intermediate cycle. Now as long as we print a daily cycle low in the dollar today, this intermediate will still be "alive" in my view and should rally for the next 10 to 12 weeks. (Intermediate cycles in the dollar can rally more than 20 weeks). This would definitely put the brakes on gold and silver rallying which is why we went in small yesterday. If the dollar rally's hard up until the BREXIT vote for example (it should do in my opinion as one of Europe's biggest economies is voting on whether to leave or not), then gold may have further to fall in the near term but sub $1,200 prices look very improbable at this stage.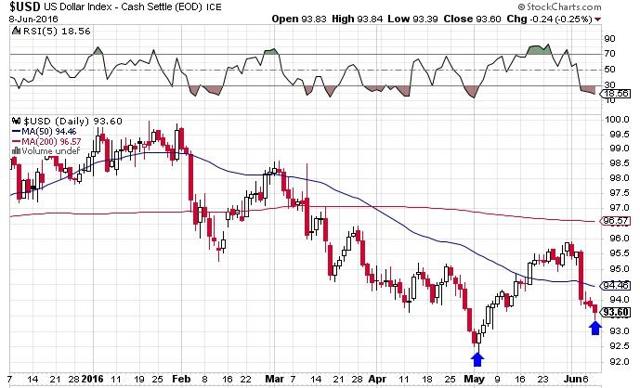 Why? Because if gold goes below last Friday's low (which is more than $40 an ounce away at this stage), it is not going to have a lot of time to print its own intermediate cycle low. Why? Because we are already on week 28 of this intermediate cycle (gold intermediate cycles can last up to 30-32 weeks) so theoretically we only would have 2 to 4 weeks of falling prices ahead of us. This is the beauty of cycles. We don't have to time a perfect entry but taking a position yesterday in silver for example was a prudent move. It hasn't stretched that much above its 200 day moving average and the bottom (even its lower) should only be a matter of weeks away.
Furthermore it is entirely possible that gold could rally (or at the very least hold its ground) against a rising dollar. The S&P500 managed it over the last month so it is entirely possible precious metals could do the same this time round. In any event we will monitor the dollar's rally to see if we can get a better entry. Any traders that went in too big over the past few days and are margin sensitive should place a stop loss to negate against it moving down sharply to $1200 levels.
To sum up, I'm going to be adding a few good dividend and growth stocks to the elevation portfolio over the next several weeks when I see value. It's imperative that they are not correlated and all don't have similar valuations to ensure that income is brought in every month, which, over time, will increase our share count. Follow along by pressing the "Follow" button above
Disclosure: I/we have no positions in any stocks mentioned, and no plans to initiate any positions within the next 72 hours.
I wrote this article myself, and it expresses my own opinions. I am not receiving compensation for it (other than from Seeking Alpha). I have no business relationship with any company whose stock is mentioned in this article.