The Reserve Bank of New Zealand surprisingly kept its powder dry today by deciding to leave interest rates on hold at 2.25 percent. With the New Zealand dollar strengthening, inflation worrying low, and the U.S. looking highly unlikely to raise its own interest rates, we sensed there was a chance that rates could be cut down to 2 percent. Whilst it didn't happen this month, we now feel almost certain that rates will be cut down to 2 percent in August. Especially with the Reserve Bank stating "further policy easing may be required to ensure that future average inflation settles near the middle of the target range".
But why August?
We feel that inflation is the key catalyst for rate cuts. A strong New Zealand dollar is not at all helpful for the country, but it isn't the end of the world in the short-term. If inflation can pull through then we imagine the Reserve Bank of New Zealand will just wait for the Federal Reserve to make its much-awaited move. Let's be honest, it is the U.S. dollar (NYSEARCA:UUP) that rules the roost. Until that strengthens it would take a series of cuts to weaken the New Zealand dollar to the level that the Reserve Bank would ideally want. Which is not something we feel they would want to do unless absolutely necessary. So our feeling is the board wanted to wait until July 18's second quarter CPI release to see how it is tracking. If CPI delivers another worrying number, then we expect that the Reserve Bank of New Zealand will be forced into taking aggressive action at its meeting in August. As you can see below, the last 18 months have been well below target.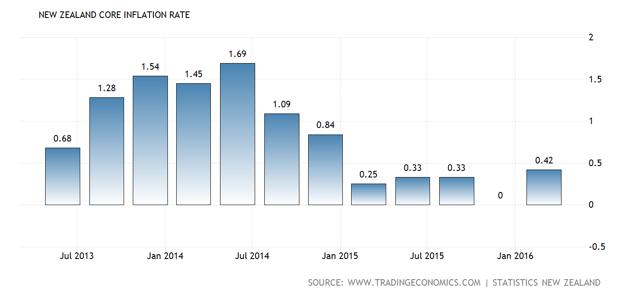 Although we understand the logic behind the decision, we are not convinced it was the right one. We don't believe that anyone is expecting inflation to come in on target in July, therefore waiting for this confirmation seems peculiar. It also didn't take a rocket scientist to predict what would happen when rates were kept on hold today.
As the chart below shows, the New Zealand dollar has rocketed to its highest level since June 11 2015 following the news. Which isn't going to be very helpful for its inflation figures for the last month on the second quarter.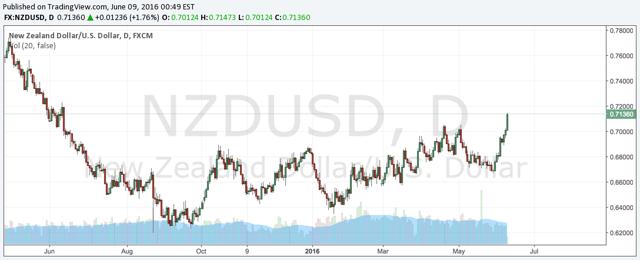 Sourced from DailyFX
But it is going to be helpful for traders. The New Zealand dollar has rallied by almost 6 percent since May 30. While we do believe it could still climb higher from here especially after clearing a key resistance level of 70.5 US cents, shorting the New Zealand dollar (NZDS) should prove to be a very rewarding trade. We expect the New Zealand dollar to drop by over 10 percent against the U.S. dollar between now and September.
Inflation simply isn't going to get anywhere near the Reserve Bank's target rate of between 1 and 3 percent, which will inevitably mean rate cuts have to happen. Whilst we are optimistic of a July rate increase by Janet Yellen and the Federal Reserve, we aren't as confident as we were before the non-farm payroll debacle. A strong non-farm payroll reading for June on July 8 could possibly give room for a hike on July 26, but we aren't truly confident at this stage.
What we are doing now.
We are shorting the New Zealand dollar against the U.S. dollar. Our target price is 64 U.S. cents and believe it will reach this level by September. The catalyst for this will be supporting data in the United States that brings rate hike talk back to the table and a rate cut from the Federal Reserve of New Zealand in August and September. We are not alone in believing that a cut is a near certainty in August, with analysts at Nomura sharing our view.
There are risks that traders should consider. The main one is that if the U.S. economy deteriorated to the point that no rate increases occurred this year, then the U.S. dollar could weaken further, forcing the New Zealand dollar to strengthen. Thankfully, we have a lot of confidence in the U.S. economy and believe the most recent non-farm payrolls was just a temporary blip.
Onwards and upwards for the U.S. dollar in our opinion, and down to 64 U.S. cents for the New Zealand dollar. A great trade not to be missed out on.
Best of luck with your trades! We'll report back with how things go, as and when the situation changes.
Disclosure: I/we have no positions in any stocks mentioned, and no plans to initiate any positions within the next 72 hours.
I wrote this article myself, and it expresses my own opinions. I am not receiving compensation for it (other than from Seeking Alpha). I have no business relationship with any company whose stock is mentioned in this article.
Additional disclosure: Short NZD/USD futures