When I wrote my first article on Tesla Motors (NASDAQ:TSLA) - in March 2014 - its share price was at $249 and there was great discussion between bulls and bears about this project. Now, the difference of opinions remains, and the price stands at $235.
Thus, Tesla share price has made no progress at all.
There are few companies in the world where there is so much information on the market and where all the drivers of the business are being discussed with so much heat and passion.
It is a case where technical analysis - always in a long-term perspective - can help the investor decision-making.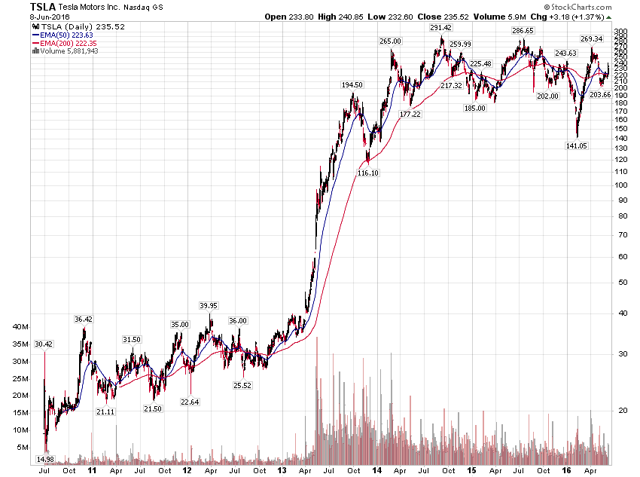 Charts courtesy of StockCharts.com
Looking at the 6-year daily chart above we have to conclude that the company was in a trading range between 2011 and mid-2013. Then, a sharp rise took place and prices increased from $40 to almost $200 in six months. Then, another trading range period emerged from early 2014 to date. We see clearly that this last area has several false inverse head and shoulders. Even the last pattern - with a possible head at $141.05 - does not meet the standard and necessary characteristics of such a formation. Besides, it also presents reduced volume.
From early 2014, the EMA(50) has been closely following the EMA(200) with stock prices up and down without any clear direction. In such a situation, we immediately find that there is no real pattern that can give us good indications for the future. The only aspect that stands out is the volatility, which can make this investment more dangerous than expected.
Therefore, it is indisputable that a long-term analysis is essential. Only then its long-term trend will be identified and a sustained investment strategy may be established.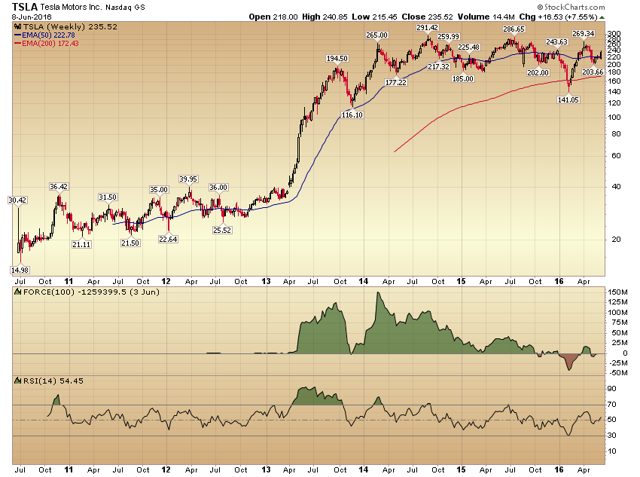 The 6-year weekly chart above allows us to identify the overall trend. In fact, the EMA(50) has been always above the EMA(200) although the difference between them has been declining. The price has been usually supported by the EMA(50) with some small exceptions with no relevance. The only exception was the 2-year lowest low of January 2016 at $141.05 which has to be taken into account because it shows the drawdown potential of the stock.
Anyway, Tesla is on a long-term uptrend. Nevertheless, as both the EMA(50) and EMA(200) are turning to horizontal lines, the company is in danger of keeping that uptrend status.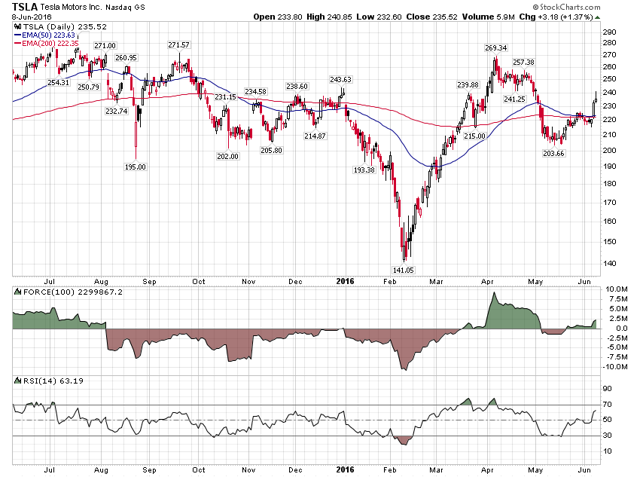 Although this 1-year daily chart does not add anything in terms of the overall trend, it serves as confirmation to what was said above and allows us to find key points to bear in mind. It seems that the price is trying to decisively break the two moving averages.
The RSI indicator is positive in this chart and in the previous one. But the Force index is struggling which is not very healthy. By monitoring this stock, we'll see if there is any strength in its price movements.
A. Warning signs of possible reversal of the current upward trend:
1. On the long-term weekly charts, if the price falls below both EMA(50) and EMA(200) and stays there with weakness; and
2. On the long-term weekly charts, if the EMA(50) is below the EMA(200) on a sustained basis.
B. Short-term key points:
1. On the daily charts, Tesla prices have necessarily to stay above the EMA(50);
2. Prices must surpass $269.34;
3. Prices should exceed $291.42 (the highest top of all time) in order to build a strong uptrend; and
4. Conversely, if prices fall below $203.66 for a relevant time period, the long-term uptrend may give rise to a new downtrend.
Disclosure: I/we have no positions in any stocks mentioned, and no plans to initiate any positions within the next 72 hours.
I wrote this article myself, and it expresses my own opinions. I am not receiving compensation for it (other than from Seeking Alpha). I have no business relationship with any company whose stock is mentioned in this article.