The crude oil price rally seems to have gained sustainable momentum this year with the commodity now trading at over $50 per barrel. When you look back to January, crude oil was down in the dumps at less than $30 a barrel. Thus, oil has made a remarkable recovery in less than six months of 2016 and it is quite likely that this recovery will continue going forward.
Now, this recovery in oil prices has rubbed off positively on certain oil stocks. For instance, integrated oil major Exxon Mobil (NYSE:XOM) has gained over 16% in 2016. However, ConocoPhillips (NYSE:COP) has not seen the same impact on its own stock price, rising just 2% this year and underperforming the S&P 500 index slightly. But, in my opinion, these are two oil stocks that investors should have in their portfolios due to their diverse strengths. Let's take a closer look.
Exxon Mobil is an integrated oil and gas company. As such, the company is able to hedge a decline in oil prices by way of its downstream segment, where its feedstock costs decline in case of lower oil prices. This diversification has allowed Exxon Mobil to remain in the green over the past year on the stock market, while Conoco has seen a sharp drop in the stock price, declining over 22%.
More importantly, I believe that the resilience of Exxon will allow it to deliver stronger upside in the long run. This is because Exxon Mobil is one of the lowest cost upstream players in the oil industry, which will allow it to record margin expansion as the end-market situation improves. In fact, in 2015, Exxon had managed to reduce its upstream unit cost to the tune of 9%, allowing the company to achieve the lowest average capital employed per barrel of proved reserves: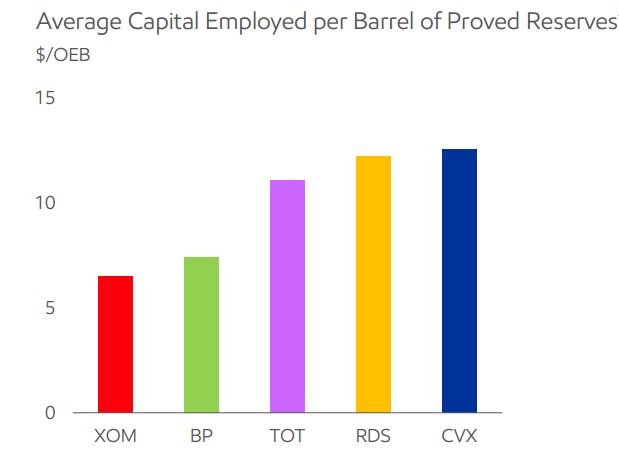 Source: Exxon Mobil
Now, Exxon has put in considerable effort to bring down its cost base for each barrel of oil that it extracts. The company has bucked up its exploration approach by focusing on high-graded areas where oil can be extracted at lower costs by way of reservoir modeling, digital surveillance, and seismic imaging. In fact, Exxon is now following a four-dimensional seismic imaging approach, which will allow it to compare "3-D seismic surveys from the same field over different points in time, and optimizing thermal recovery in heavy-oil reservoirs."
As a result of the deployment of such technology and other cost saving initiatives, Exxon has managed to arrest its bottom line drop better than peers. This is seen below: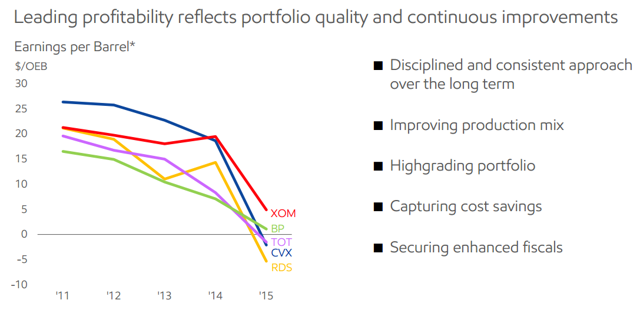 Source: Exxon Mobil
Thus, in the event of a crude oil price recovery, which is currently taking place, Exxon Mobil will be in a more advantageous position to increase its profitability as compared to rivals. This is because the company has the cheapest reserves among the big oil players, which has allowed it to keep its bottom line and margins in better shape. In fact, as seen in the chart below, Exxon's gross margin has actually increased in the past year, which indicates a stronger performance going forward as the oil price recovery continues: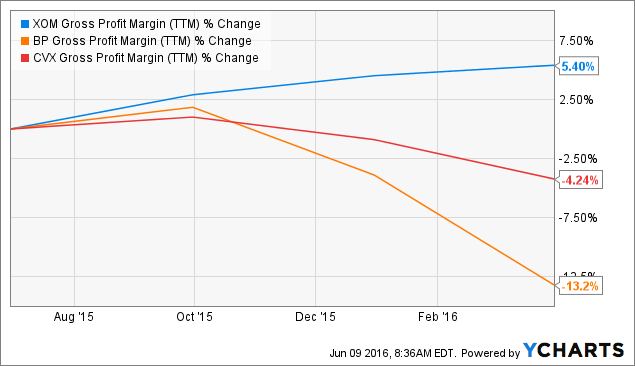 XOM Gross Profit Margin (NYSE:TTM) data by YCharts
What makes Conoco attractive?
As discussed earlier in the article, ConocoPhillips has been an underperformer as compared to Exxon. However, the rise in oil prices this year will help Conoco achieve an impressive turnaround in the future as the stock is quite sensitive to oil prices since it only has an upstream business. In fact, over the past three months, Conoco shares have shot up almost 15% while Exxon has delivered gains of 7%.
Looking ahead, there is a likelihood that Conoco will continue to outperform Exxon since the company is highly-sensitive to oil prices. In fact, Conoco's annualized net income increases by $100 million to $120 million for a $1/barrel increase in Brent prices. Considering that Conoco believes that it will be able to achieve its break-even point at $45 per barrel, the current Brent price indicates that its net income will come in at around $700 million to $840 million since Brent currently trades at $52/barrel.
The reason why the difference of only a dollar makes such a huge impact on Conoco's bottom line is because the company has achieved massive cost reductions of late. Last quarter, Conoco's drilling and completion costs had dropped in the range of 30%-35% in both the Bakken and the Eagle Ford areas as it operated just three rigs as compared to 13 rigs in the prior-year period. Looking ahead, I believe that Conoco will be able to further lower its break-even point since the company is on track to further lower costs. This is shown below:

Source: ConocoPhillips
Therefore, in light of the recovery in the crude oil price, ConocoPhillips will continue to improve its net income. In fact, more bottom line upside is possible going forward since Brent is expected to go up to $56 per barrel this year according to analyst Fawad Razaqzada.
Conclusion
In my opinion, having both ConocoPhillips and Exxon Mobil in the portfolio is a good idea. This is because Exxon, with its diversified revenue stream, will provide stability and allow investors to gradually benefit from oil prices, while Conoco will provide accelerated gains given its sensitivity to oil prices and cost reduction efforts.
Disclosure: I/we have no positions in any stocks mentioned, and no plans to initiate any positions within the next 72 hours.
I wrote this article myself, and it expresses my own opinions. I am not receiving compensation for it (other than from Seeking Alpha). I have no business relationship with any company whose stock is mentioned in this article.