We are initiating coverage on Seres Therapeutics (NASDAQ:MCRB), an emerging biopharmaceutical company with products aimed at correcting dysfunction in the human microbiome, with Buy rating (long-term hold). The company has finished patient enrollment in the phase 2 clinical trial of SER-109 for the prevention of recurrent Clostridium Difficile Infection (CDI), and the trial results are expected in the coming weeks. We expect the inflammatory bowel disease (IBD, including ulcerative colitis) pipeline to be a major revenue driver in future (as shown in the valuation model).
Investment highlights:
- Current stock price = $34.30
- 52-week stock price range = $21.12 to $52.00
- Average daily share volume = 247,850
- Market cap = $1.36B
- Outstanding common shares = 39,186,130
- Short Interest = 8.2%
- Short Interest, days to cover = 15.1
- Cash, cash equivalents, for-sale securities = $303 million (3/31/2016)
- Cash expected to last till = 2018.
- Debt = nil.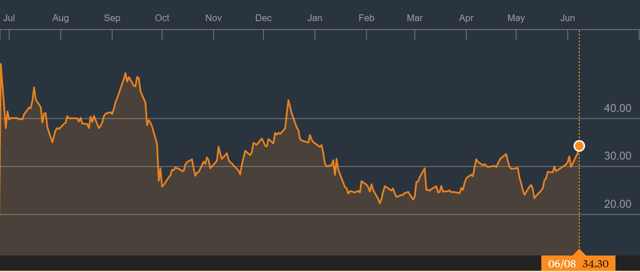 Figure 1: Seres Therapeutics common stock price chart (from Bloomberg.com)
Investment thesis:
The human body has about 10 times more microbial cells than human cells; majority of the microbes live in the colon. The bacteria living within the human body have a symbiotic relationship and perform several key functions. For example, the bacteria extract energy from food, produce vitamins like folic acid, niacin and riboflavin, regulate the immune system, regulate blood glucose levels and metabolism and protect us against disease-causing microbes. Several factors like external pathogens, antibiotic use, certain diets and inflammatory diseases alter the normal microbes in the colon, thus disrupting the human microbiome. Several common diseases like inflammatory bowel disease, septicemia after bone marrow transplant, and deadly infections like CDI have been postulated to result from dysfunction in the human microbiome. CNBC has recently covered the topic in this excellent article.
Seres Therapeutics is developing therapies aimed at correcting the dysfunction in the human microbiome. The company's first product candidate is targeting patients with multiple recurrences of CDI, a deadly infection of the colon that is the most common hospital-acquired infection in the U.S. at present. Clostridium difficile is a bacteria that is normally found in the human gut in 2-5% of population. Due to the use of certain antibiotics, the gut bacteria are altered and this otherwise harmless bacteria causes infection of the colon. In recent years, the annual incidence of this infection has been rising in the United States, largely due to overuse of antibiotics like fluoroquinolones.
CDI is currently the most common hospital-acquired infection in the United States and may affect about 640,000 to 820,000 patients every year in the U.S. The current mainstay of treatment in primary CDI is antibiotics like metronidazole and oral vancomycin. However, about 25 to 30% of patients with primary CDI have the first occurrence. About 40% of patients have a recurrence after the first occurrence of CDI and after first recurrence of the infection, about 60% of patients may still relapse (source: 10-Q). Seres Therapeutics' key product under development, SER-109, is being developed to prevent/treat patients with CDI who had three or more occurrences of the infection within one year. According to the company estimate, about 85,000 to 110,000 patients annually are candidates for the drug in the U.S. Currently, the available therapies in patients with two or more occurrences of CDI are antibiotics like rifaximin, fidaxomicin, etc.
In recent years, several studies have shown that fecal matter transplantation (FMT) from normal healthy donors into the colon of a patient with CDI may result in more than 90% cure rate, much higher than current antibiotics (source: 10-Q). FMT was first used in ancient China and has been used for more than hundred years in veterinary medicine. In 2013, FDA classified fecal matter as investigational new product and a biologic agent. In recent years, colonoscopy with FMT has been attempted in recurrent and refractory cases of CDI and found to be extremely effective. Several academic centers and private startups are developing products intended to use the therapeutic properties of bacteria from the fecal matter.
Seres Therapeutics has developed its proprietary technology to develop drugs aimed at correcting dysbiosis in the human microbiome. The company has identified a proprietary library of over 9000 microbes and strain isolates from the healthy human donors using computational approaches, which provide the building blocks for proprietary Ecobiotic drugs. These Ecobiotic drugs are compositions of commensal microbes designed to transition back to the healthy human microbiome. The company's technology uses bacterial spores in the capsules, rather than frozen fecal matter that is used in several non-standardized preparations and those from competitors like Openbiome, a privately-held company.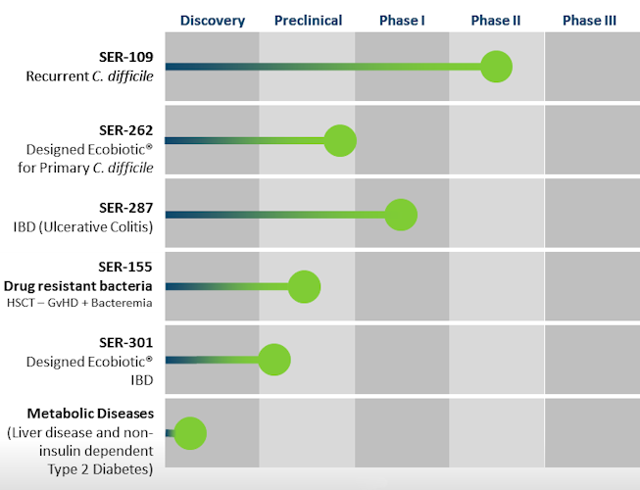 Figure 2: Seres Therapeutics: product development pipeline
In the phase 1b/ 2 clinical trial of SER-109, 30 patients with three or more recurrent episodes of CDI within a year were enrolled at 4 leading academic medical centers. A single dose of four capsules of SER-109 was administered and the patients were followed weekly for up to eight weeks. The therapy had 87% success in preventing another episode of CDI after eight weeks of follow-up. 97% patients were cured of the CDI and did not require any antibiotic treatment in the eight-week follow-up after the therapy. The results were extremely encouraging compared to the 23 to 31% expected cure rate in the recurrent CDI when treated with current standard of care antibiotics. Reduction in dysbiosis in the gut was seen starting as early as day 4 of the therapy and was durable after 6 months of follow-up. FDA has awarded breakthrough therapy and orphan drug designation to SER-109 for the prevention of recurrent CDI.
Apart from these remarkable results in the prevention of recurrent CDI, another gem in the company's development pipeline is SER- 262. The goal of the therapy is to prevent first recurrence of primary CDI after treatment with current standard-of-care antibiotics. Although still in preclinical stage, this product candidate could be a major revenue driver for the company in future, considering the wide prevalence of primary CDI. Considering >90% cure rate seen with FMT, Ecobiotic drugs from Seres Therapeutics could even replace traditional antibiotics as the primary therapy in primary CDI, which could lead to drastic reduction in recurrence rate.
The company has recently announced research and commercial collaborations with several leading academic centers to develop its microbiome therapeutics in various diseases. For example, last week it announced a research collaboration with Mayo Clinic to develop microbiome therapeutics for Primary Sclerosing Cholangitis (NASDAQ:PSC), non-alcoholic steatohepatitis (NASH), and other liver diseases. The company has a collaboration with the University of Pennsylvania to support development of microbiome therapeutics for rare genetic metabolic diseases and IBD, like Ulcerative Colitis. It also has an agreement with Memorial Sloan-Kettering Hospital to develop microbiome therapeutics for patients after bone marrow transplant and in conjunction with immuno-oncology treatments.
Intellectual property:
Seres Therapeutics holds various patents for its product candidates that extend till 2033. It holds all commercialization rights for its product candidates in the U.S. It has entered an agreement with Nestlé Health. Under this agreement, Nestlé health has obtained the rights to commercialize SER-109, SER-262, SER-287 and SER-301 in CDI and IBD outside the U.S. and in Canada. Seres Therapeutics will receive payments for achieving various developmental and commercial milestones that have a total potential for over $1.9 billion. Nestlé Health will also pay the company royalties ranging from high single to high-teens percentage of the sales.
Management:
Roger Pomerantz, M.D., the CEO and Chairman of the Board of Directors, was formerly the Worldwide Head of Licensing and Acquisitions and Senior Vice-President at Merck (NYSE:MRK). Prior to that, he was the Global Franchise Head of Infectious Diseases at Merck and the Global Head of Infectious Diseases at Johnson & Johnson (NYSE:JNJ). The rest of the management is quite experienced in the industry and their biographies can be accessed here.
Competition:
Several academic centers and private companies are attempting to develop microbiome therapies that may compete with the Ecobiotic drugs from Seres Therapeutics (link). I have already discussed Openbiome above, which is a major competitor (FMT Capsule G3). Openbiome's therapy in recurrent CDI, however, involves taking thirty large capsules in a single sitting. Capsules are also frozen and have to be used within 90 minutes of taking out from the freezer. The cost of 30 capsules is $535. Patients treated with SER-109 have to take only 4 pills as a single dose. Other non-standardized capsules filled with frozen, fecal matter from healthy donors are being used, though the clinical efficacy and safety remain questionable. FMT using colonoscopy is already being used in recurrent CDI, though the procedure is invasive and expensive. Another private company, Second Genome, is in clinical stage but with a focus on IBD. Currently, there are no FDA approved microbiome products specifically for recurrent CDI and to prevent first recurrence after primary CDI. There are no FDA regulations on how stool should be obtained from donors. Approval of Seres Therapeutics' products will standardize the human microbiome therapeutics space and I expect the company's products to gain significant market share in the planned clinical indications.
Financials and Valuation:
The company has cash and cash equivalents of $193.2M. It also has various available-for-sale investments in commercial paper, corporate bonds, securities and treasury bonds, which total $110M. The cash, cash equivalents and other investments are enough to last 2018.
The enterprise discounted cash flow valuation model can be downloaded here. In this model, we provide the valuation for the product candidates licensed by Nestlé Health in CDI and IBD (risk-adjusted for probabilities). We forecasted peak market share for SER-109 in recurrent CDI=80% (probability-80%) and similar statistics for SER-262 after first episode of CDI. We expect SER-262 to be another key revenue driver due to the high prevalence of primary CDI. We forecasted peak market penetration of 10% for SER-287 in ulcerative colitis (30% probability) and 5% peak market penetration in IBD for SER-301 (10% probability). These statistics are for both North America and Europe. Royalties from Nestlé Health were modeled as 8 to 18% range. Peak revenue for Seres Therapeutics from these 4 product candidates in the North America and Europe was forecasted = $913.9M in 2033 at patent expiry. The weighted cost of capital (WACC)=10% was used for first 5 years and then decreased to 8% in line with mature pharmaceuticals. McKinsey's NOPLAT method was used to calculate the terminal operating value. The operating value of these assets was forecasted as $812M using these inputs.
Using these inputs, our enterprise DCF model estimated the fair value per common share for these 4 product candidates (North America and Europe revenues)= $30.82. Operating tax loss carry-forwards of about $102M and fair value of employee stock options was adjusted while calculating the equity value.
The stock was trading as low as $23.37 on 5/12/16 before the run-up to its current price in anticipation of the positive results from the phase 2 trial of SER-109 in recurrent CDI. This gives us the confidence in our valuation at $30.82/share for these 4 assets. While the stock price has exceeded our estimated fair value, our model does not include the future revenue from other potential 'moonshot' indications like NASH, rare genetic metabolic diseases and immuno-oncology, as well as potential revenue from CDI and IBD treatment outside North America and Europe. The company's collaborations with major academic centers to develop products in these moonshot indications give us confidence to give a long-term Buy rating to this company. In addition, the company also has a first-mover advantage in developing human microbiome therapies in some of these clinical conditions.
Near-term catalysts: Results of the phase 2 trial of SER-109 to prevent recurrent CDI are expected within next few weeks.
Risks in Investment:
The risks in investing in this company are similar to those with any other emerging pharmaceutical company without significant operating revenues. There is no guarantee that the clinical trials of its products will succeed or the FDA will approve these products. The products may fail to be widely adapted by prescribing clinicians or adequately reimbursed by healthcare insurers. Unexpected side effects may be seen. The company may not find partners to commercialize its developmental products. Various non-standardized microbiome products and competing products from other companies might limit the market share achieved by the company's products. The stock price has seen recent run-up in anticipation of successful phase 2 results of SER 109 in recurrent CDI, and might retrace significantly even after successful results.
In conclusion, we are adding the common share of Seres Therapeutics to our model portfolio at an average price of $34.30 and plan to hold our shares long-term. A suggested allocation is 1% of the portfolio capital. The company's products will standardize the rapidly growing therapeutic area of human microbiome, and it could even be an acquisition candidate.
Note: To get more investment ideas like this as soon as they are published, click on my profile and hit the big orange "Follow" button and choose the real-time alerts option.
Supporting Documents
Disclosure: I am/we are long MCRB.
I wrote this article myself, and it expresses my own opinions. I am not receiving compensation for it (other than from Seeking Alpha). I have no business relationship with any company whose stock is mentioned in this article.
Additional disclosure: This article represents my own opinion and is not a substitute for professional investment advice. It does not represent solicitation to buy or sell any security. Investors should do their own research and consult their financial advisor before making any investment.