The nation's eighth largest retailer by annual net sales, Sam's Club, is in steady competition with fellow warehouse retailer Costco Wholesale Corporation (NASDAQ:COST). Sam's Club, a division of Wal-Mart (NYSE:WMT) accounting for 12% of Wal-Mart's revenue in 2015 (Wal-Mart's 2015 Annual Report Page 20), is often cast as a perennial loser in this showdown. Rather than chase after Costco, Sam's Club aims to succeed on its own terms.
Sam's Club CEO Rosalind Brewer noted recently Costco's success rides on the "discipline of their model" - low prices, product choices, and the "treasure-hunt shopping experience" that pairs expensive jewelries and televisions with your favorite bulk groceries. Much of the appeal, both for consumers and the company, is going in and finding a purchase you did not expect, an experience that would be hampered by a greater emphasis on e-commerce. In a recent conference call CFO Richard Galanti expressed concern about e-commerce keeping customers out of the stores and, therefore, out of the reach of in-store impulse purchases.
Part of the Costco model is little reliance on consumer-facing technology. Sam's Club, on the other hand, has double down on technology - it has invested in a mobile app for quick delivery, a Scan-and-go check out option (members scan items onto the Sam's Club app and then check out with one barcode), a refreshed website, and even touchscreen kiosks for customers to check for products online not available in the store. Finally, Sam's is looking to capitalize the weaknesses of others - beginning to deliver office supplies after the failed Staples and Office Depot merger. Fortune reported that Brewer for the past two years has focused on hiring analytics professionals for the membership team in an attempt to use data to hone in on what it is customers want and how much they value each potential change to Sam's Club strategy.
With all of this innovation Sam's had a strong 2015 in online sales, raising 27%, but overall sales still fell 2.2% from 2014. For the same period Costco's e-commerce sales rose 20% and overall sales increased by about 3%. Plenty of factors are cited for Costco's outperformance in overall sales - increased membership base, higher retention membership retention, the strength of its Kirkland private label, and, of course, the perceived advantages in product and price. To address an issue as important as price, both Cheapism and Consumer Reports studied the price differential between the two, both giving Costco the edge by a narrow margin.
Though Sam's Club is only a fraction of the full impact on Wal-Mart's total shareholder return, it is interesting to note the relatively strong performance of Costco (represented below as the peer set). At market close on June 7th, Costco had a 109.79% total shareholder return since the beginning of 2012, compared to 32.14% for Wal-Mart.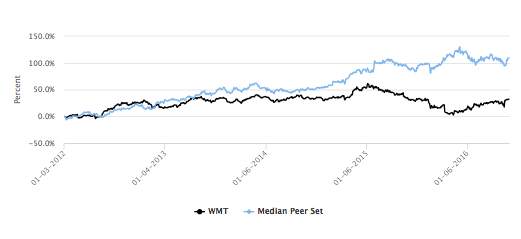 Exhibit 1: Wal-Mart Total Shareholder Return
Source: Enlight Research
Note: Peer set median represents Costco Wholesale Corporation only.
With this background and with prices generally the same what could break the stalemate of the warehouse stores competition? We are looking to the potential of China. Among the technological plays, Sam's Club also decided a couple of years ago to target the Chinese market. Of course, it has the benefit of drawing on the globalization experiences of Wal-Mart. Today, four of the top ten Sam's Club locations are in China, including the top location in the world. There are now 13 locations in China with 7 more added by the end of this year (652 total clubs). The Chinese locations are aimed at affluent Chinese, which is a helpful demographic distinction in that those shoppers are often aware of and receptive to Western-shopping tendencies. Of course it is also an enormous and growing demographic. The focus on shoppers most aware of Western culture has helped Sam's maintain a focus on packaged foods, especially of meats and fish, a practice that is not as accepted in standard Chinese retail. It is also seeing success in convincing Chinese customers to buy in bulk despite popular reservations. With this focus on affluent customers, it is worth noting that China has "severe income inequality" at a .49 Gini coefficient of income inequality (over .4 is considered "severe income inequality"). This should not have a substantial impact on the viability of Sam's Club's Chinese strategy as the United States is above the threshold also, at a .41 Gini coefficient.
Costco does not have the established corporate parent already in China that Sam's Club does but is not ignoring the market. Interestingly given Costco's technology reluctance, Costco's only foray into China is a partnership with online giant Alibaba (NYSE:BABA). In Costco's 2015 Annual Report it reported that 200 Costco items, including Kirkland brand products, were currently available to order online by Chinese consumers through Alibaba. In 2015 Costco opened ten international warehouses, but none in China (three in Mexico, three in Japan, and one each in the UK, Korea, Taiwan, and Australia). Among Asian countries, Costco then had 23 warehouses in Japan, 12 in Korea, and 11 in Taiwan. For 2016 there were no reported plans for a Chinese warehouse, but continued mild expansion in Japan and Taiwan. For scale, the company had 686 total warehouses at the end of 2015.
Both moves into China are too relatively small right now to have a substantial impact on the bottom line for these companies. With only 13 of over 650 locations in China, Sam's Club has stayed stagnant at 12% of Wal-Mart's overall sales in the last three years (Wal-Mart 2015 Annual Report page 20). In the same vein, 200 items is a tiny part of Costco's overall offerings and it will likely not build a significant consumer base without the complement of physical stores.
Where is your investment for exposure to warehouse retailers? For those long, we believe it is worth keeping a close eye on Chinese development. We doubt that Costco can build a successful online base in Chine without expanding the current strategy, as its extensive product offerings and surprise in-store finds are such a significant part of its perceived advantage in the states. If Sam's Club can continue to expand at a larger scale unopposed by Costco in China it can lock in knowledge about this different consumer base and build relationships, both with consumers and across the spectrum, to put it ahead of any competitor's later entry to the market. Both will have to scale tremendously for Chinese operations to have a significant impact on shareholder return, but the potential is there and the groundwork is being set.
Interested in seeing similar metrics done with another company and peer set? Drop us a comment, send us a private message, or check out our profile to access our free real-time monitoring platform.
Disclosure: I/we have no positions in any stocks mentioned, and no plans to initiate any positions within the next 72 hours.
I wrote this article myself, and it expresses my own opinions. I am not receiving compensation for it (other than from Seeking Alpha). I have no business relationship with any company whose stock is mentioned in this article.