Caution advised after expected rally
With crude oil trading below $30 in January, I wrote an article calling for a rally to $50, which reacted at my initial resistance levels at $34.25 and $37.80. Despite a failure to close above $50 at month end we have seen a follow through above this level, which opens up resistance at $60 but with the key level at $70.
Despite seeing this strength above $50 I would urge some restraint here and consider some profit-taking as we don't want to be a bag holder for the next decline.
The move higher is still a bounce
Despite some promising headlines such as a third consecutive weekly fall in crude inventories, this is still a technical bounce on extremely oversold conditions.
The recent activity surrounding OPEC should also tell investors that the cartel is now becoming irrelevant and there is little co-ordinated appetite to control prices. OPEC nations have committed to large spending programs in the good times and each has their own conflict of interest when it comes to making decisions on production and price.
The real driver for long-term oil prices will continue to be supply and demand. Reducing the glut of oil that built up will be key to sustainable advances in long-term prices but the real worry should be that as supply is worked out, demand may drop as growth is still an issue in the global economy and the threat of further financial shocks are possible, especially in the event of a British exit from the Eurozone.
The dollar could be a headwind
In a previous article I also highlighted the role of the strong U.S. dollar, which added to the perfect storm of conditions that saw the collapse in crude prices in late 2014-15.
The U.S. dollar has pulled back from testing the $100 level lately but if this was just a pause, then the oil bounce was too. As volatility rises ahead of the Brexit vote, safe haven demand could be a serious headwind to continued crude prices above $50.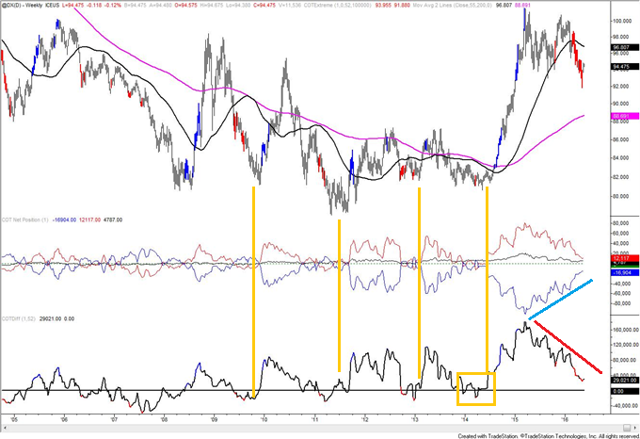 (Source: dailyfx.com, Kevin George)
The Commitment of Traders positioning in futures markets highlights a growing interest from commercials (NASDAQ:BLUE) in these levels for the U.S. dollar, whilst small speculators (black) have been selling out of longs. I've noted previous examples (orange) of speculator sell-offs which are usually a strong contrarian indicator for U.S. dollar gains.
The more we see speculators unwind and move to shorts, the more chance there is of an event appearing that sees a rush to the dollar. Will it be a Brexit? Janet Yellen has already warned of repercussions to the U.S. economy if the UK leaves the Eurozone.
Will demand slow as supply decreases?
The supply and demand story has been the key driver of oil prices in the last two years as the growing supply glut has hugely outweighed some faltering demand and caught the entire industry napping.
Despite domestic cost-cutting efforts in the oil & gas industry, which has led to rig counts plunging, there has still been increased production from countries such as Russia, and now Iran and Iraq, which has helped to keep oil prices depressed. As tensions in the Middle East have gone quiet, and with OPEC unable to manipulate price higher, the path of future gains relies on working through the supply glut.
As economic conditions continue to slow in the U.S. and Europe, there is a risk of another downturn which would undo much of the efforts to reduce supply as demand falters again and we have to be realistic about the risk/reward picture going forward.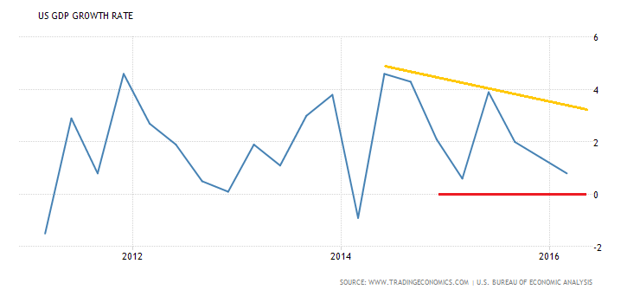 (Source: tradingeconomics.com)
Conclusion
As crude oil prices have recovered from $28 to $50, oil stocks and company balance sheets have seen some much-needed respite. However, this still looks like a corrective bounce and the long-term outlook still relies on the supply and demand picture. With some headwinds on the horizon in the form of Brexit, the U.S. dollar and the global economy, I would urge caution here and suggest some profit-taking and a desire to see some consolidation before making any new long investments.
Disclosure: I am/we are short USO.
I wrote this article myself, and it expresses my own opinions. I am not receiving compensation for it (other than from Seeking Alpha). I have no business relationship with any company whose stock is mentioned in this article.