"Every beginning holds its own magic"
This sentence might be a little bit too poetically, but nevertheless it fits excellent to the current situation within the cloud industry. As of today there are several players that are trying to get a slice from the pie. Amazon (NASDAQ:AMZN), IBM (NYSE:IBM), Microsoft (NASDAQ:MSFT), Oracle (NYSE:ORCL) or Salesforce (NYSE:CRM) are just a few names.
In view of all these companies there is another important player missing. It's the Germany based multinational software corporation SAP SE (NYSE:SAP). SAP is one of the worldwide leading companies that makes enterprise software for business operations as well as customer relations. The company generated in 2015 about EUR 20.8bn of revenues and operating earnings (EBITDA) of EUR 7.64bn (Margin of 36.73%).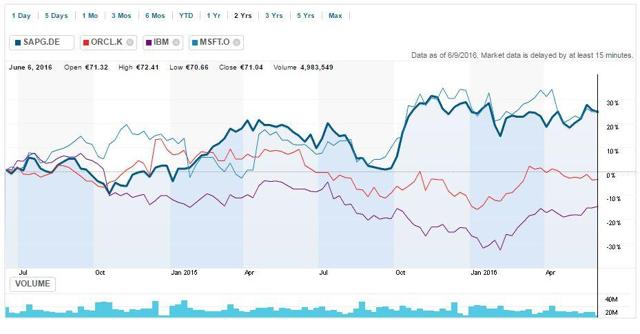 (Source: Thomson Reuters)
New silver bullet diversifies the portfolio and brings the next growth-booster
Currently I've visited the latest analyst conference of the company in the course of German CeBit, the world's largest and most international computer expo. The presentation was mainly focused on the new miracle weapon "SAP S/4 Hana", an in-memory, column oriented and relational database management system. Firstly the predecessor of "S/4 Hana" fitted hand in hand with the cloud systems of IBM and AMZN. Hence an own cloud-computing with as of today more than 3.200 clients was just the next logical step.
These numbers foreshadow a huge potential
In the first three months of the current fiscal year the cloud business grew by +33%. For comparison only: The total revenues increased by +5%. In the first quarter SAP gained more than 500 new customers for "SAP S/4 Hana". This is especially impressive due to the fact that almost 30% are completely new SAP clients. The main driver for the run on this product is the adoption of the "SAP Hana Enterprise Cloud" (HEC).
As of today the cloud business means "only" a proportion of 11% of the total revenues. Thus there are fantastic opportunities to increase this booster. An increasing average amount of revenues with existing clients on the one hand, as well as the onboarding of completely new clients on the other hand looks to me in the case of SAP like a well pursued path.
Here is the main reason, why SAP will profit much more than competitors will
In Germany we've got sometimes the somewhat sarcastic well-known saying "once a SAP client, always a SAP client". If the systems of SAP are integrated in a company's software landscape it's much more complicated and especially expensive to break up the business relationship than just give a few more bucks for an update.
Thus, the relationship between SAP and its clients is really close and SAP has, because of its excellent diversified product portfolio, a moderate bargaining power. Like already mentioned the DAX listed Company can simply use its current customer relations just to place a new product. The mentioned growth-figures just show how successful this method works and probably will work for the next years.
Disclosure: I/we have no positions in any stocks mentioned, and no plans to initiate any positions within the next 72 hours.
I wrote this article myself, and it expresses my own opinions. I am not receiving compensation for it (other than from Seeking Alpha). I have no business relationship with any company whose stock is mentioned in this article.