The World Bank expects another year of sluggish economic growth in Latin America and the Caribbean. According to the revision, domestic challenges persist among the regional largest economies. Recent inflationary rounds and the associated tighter monetary conditions are also cited in the report. Commodity prices are seen as another impediment to faster growth rates. Overall, the WB expects LatAm's output to contract 1.3% in 2016, after shrinking 0.7% in 2015. The Bank expected a 0.9% contraction back in January. Updated projections point to two straight recession years in Latin America for the first time in more than 30 years.
Despite the average expected contraction, the World Bank recognizes that there is considerable divergence among countries. Just this week, we published a report on 1Q16 GDP growth estimates for Latin America's four largest economies: Brazil, Mexico, Colombia, and Chile. In the first quarter of the year, we saw GDP contracting at a 5.4% year-on-year (YoY) pace in Brazil; and expanding 2.6%, 2.5%, and 2.0% in Mexico, Colombia, and Chile, respectively. Besides these four economies, Peru's GDP grew 4.4% in the first quarter of the year.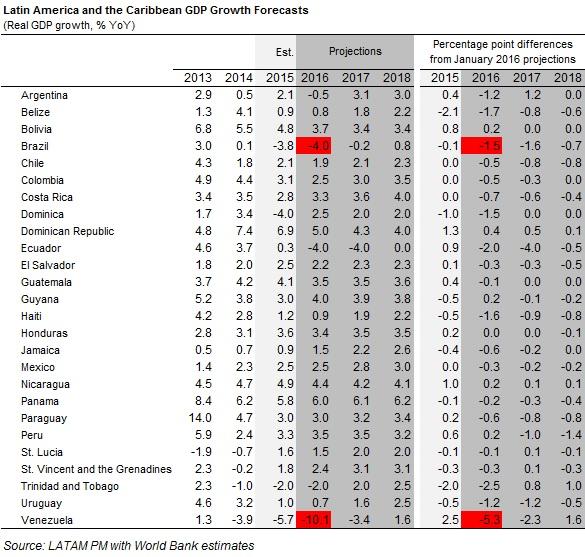 The table below shows the new regional World Bank growth forecasts. As expected, the most important revisions were observed in Venezuela and Brazil. Both countries are in deep recessions. Venezuela's GDP is expected to contract a harsh 10.1% this year (and 3.4% next year), and Brazil's economy is expected to fall 4.0% in 2016 (and 0.2% in 2017). In both cases, the World Bank stressed that recessions have not yet bottomed out and could last longer than previously expected. It also underscored that contagion risks are latent. On this particular topic, we recently published a note on Venezuela and the importance of PetroCaribe for Latin America.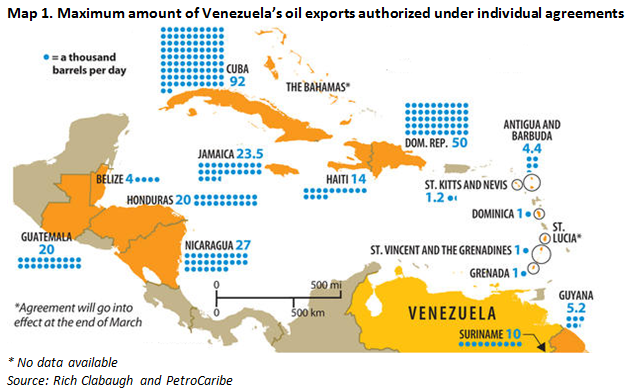 Brazil is, however, the key downward revision given the size of its economy and its weight in regional GDP-accounting for around 40% of Latin America's total output. The World Bank cut its growth forecast for the next three years. It now expects Brazil to contract 4.0% in 2016 and 0.2% in 2017(vs. the previous -2.5 and +1.4%, respectively), and it forecasts a 0.8% growth in 2018, 70 bps less than in January's projections. According to the release, political uncertainty in the country might delay the approval of key political initiatives needed to regain investors' confidence. The World Bank also mentioned that counter-cyclical fiscal and monetary policies may be harder to implement when investors focus on rising uncertainty and the potential for political tensions to block structural reforms. We wrote a note on Michel Temer's recent obstacles: persistent corruption probes, and needed congressional approval for some of his recently-announced fiscal policies, which are crucial to reduce rising public debt.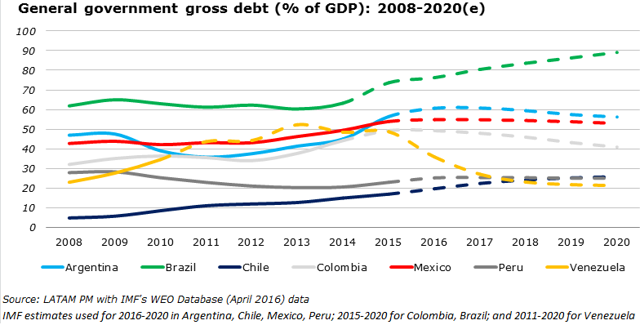 Aside from Venezuela and Brazil, the World Bank expects that Argentina's economy will to contract modestly (0.5% in 2016) as it embarks on a period of macroeconomic policy adjustments toward more sustainable growth. It is noteworthy that the bank expects 3.1% growth in 2017. The WB also expects recessions in Ecuador (-4.0% expected growth for 2016, aggravated by the earthquake), and Trinidad and Tobago (-2.0% expected growth for 2016).
In contrast, Mexico, Central America, and the Caribbean are expected to expand at moderate rates this year, boosted by growth in exports and tourism, spurred by FX depreciation. Mexico is particularly important, as it is the second largest economy in Latin America, accounting for nearly a quarter of regional output). The World Bank reduced Mexico's GDP projections for this and next year by 30 bps and 20 bps to 2.5 and 2.8%, respectively. Still, the World Bank expects stronger investment growth as the U.S. economy continues to expand and recent structural reforms in Mexico mature.
Regarding the regional "superstar" in terms of GDP per capita and economic policy tradition, Chile, the World Bank downgraded the 2016 forecast by 50 bps to 1.9%. For 2017 and 2018, the Bank expects the economy to grow 2.1 and 2.3% (vs. 2.9 and 3.1% in January, respectively). In the report, the World Bank mentioned that weak commodity prices and reduced demand growth from slowing major trading partners will continue to affect investment and exports.
LATAM PM's Take: Mexico, Central America, and the Caribbean have all benefited from economic ties to a steadily growing U.S. economy and from currency depreciation. (Still, most of these countries estimates were downwardly revised). Contrastingly, South America is the middle of a deep recession triggered by declining commodity prices, which have particularly hit hard the largest regional economy: Brazil. With Venezuela expected to contract more than 10% this year; Ecuador struggling to come back from the earthquake's effects; and Argentina being affected by normal short-term uncertainty following shock therapy, the regional balance of risks seems tilted downside. We consider that the World Bank's estimates are prudent given current information, but they could be revised further down as the year progresses. We will keep you posted, since GDP growth is the most important long-term component of Latin America's bullish ETF (NYSEARCA:ILF), which has recently benefited by recovering oil prices, but still needs real economic activity to pickup in order for the rally to be sustainable.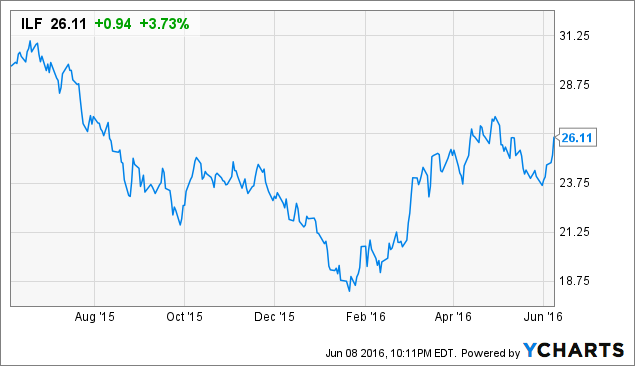 ILF data by YCharts
Disclosure: I/we have no positions in any stocks mentioned, and no plans to initiate any positions within the next 72 hours.
I wrote this article myself, and it expresses my own opinions. I am not receiving compensation for it (other than from Seeking Alpha). I have no business relationship with any company whose stock is mentioned in this article.