This is probably one of the best storage reports this year. Despite headline numbers of a build, the underlying fundamentals are now shifting as expected and the surplus will dwindle away.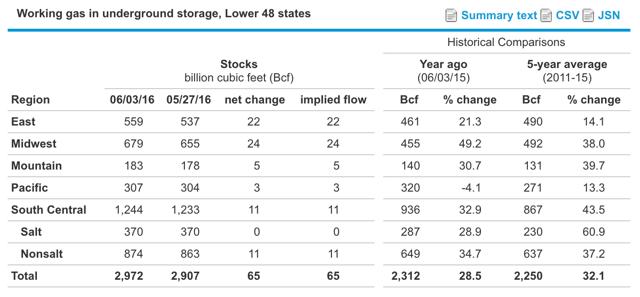 Natural gas prices have, in response, moved materially higher and broke through the $2.50/MMBtu resistance.

What a big move, to say the least. Despite prices moving higher, we were even more surprised at the injection figures. Last week's 65 bcf injection might sound like a lot on an absolute basis, but the market cares more about what the injection was on a relative basis than an absolute basis.
The +65 bcf injection compares to a +111 bcf injection last year and a +94 bcf injection for the five-year average. The surplus relative last year has now decreased and is only 28.5% higher than last year's and 32.1% higher than the five-year average. This compares to last week's storage report of 32.4% higher than last year's and 35% higher than the five-year average.
As you can see, there was a material decrease in surplus, and market participants have responded in accordance to that. Despite prices rebounding, natural gas supply continues to fall. Rig counts were lower last week, and we don't think production growth will resume anytime soon this year.
Overall, this was another very bullish storage report. It continues to highlight that the market is balancing much faster than expected. We expect more bullish storage reports ahead.
We hope you enjoy our weekly natural gas (NYSEARCA:UNG) storage reports. Be sure to check out some of our previous ones and click on the follow button above if you would like to receive our "Natural Gas Daily" articles. In addition, we also have a premium subscription platform that's tailored to long-term value-oriented investors. We provide recommendations of stock ideas and portfolio composition. Our HFI portfolio has now outperformed the SPY by 14% since inception. We look forward to you joining the HFI platform.
Disclosure: I/we have no positions in any stocks mentioned, and no plans to initiate any positions within the next 72 hours.
I wrote this article myself, and it expresses my own opinions. I am not receiving compensation for it (other than from Seeking Alpha). I have no business relationship with any company whose stock is mentioned in this article.