EIA's weekly natural gas storage report was very bullish, to say the least. We're sure market participants are paying more attention to what natural gas prices are doing than the actual report.

The injection figures were much lower than what market participants expected. With a bulk of the traders still short natural gas, the move is likely exaggerated as traders cover their positions. We noted yesterday that patience is a virtue, and that investors who are patient will reap the benefits of much higher gas prices. Well, we guess you only had to wait one day.
Some market "tourists" might comment that U.S. gas storage is still at record highs, but we would like to point out a few key variables. It's not where storage is today that matters. It's where the storage is tomorrow.
If you think you can make money in the markets by looking at historical data, and deriving either a bullish or bearish thesis from it, then we think you deserve to lose money. Natural gas is pricing in a decline in surplus throughout the summer. This year's injection figures have been substantially lower than last year's, but because of the warmest winter in history, natural gas storage didn't draw as much.
Going forward, market participants will likely need to lower their end of injection storage figures. Summer is looking mighty hot, and we suspect there could be a week of teen injection figures. This will undoubtedly be very bullish for natural gas prices. The current eight- to 14-day outlook is looking really hot.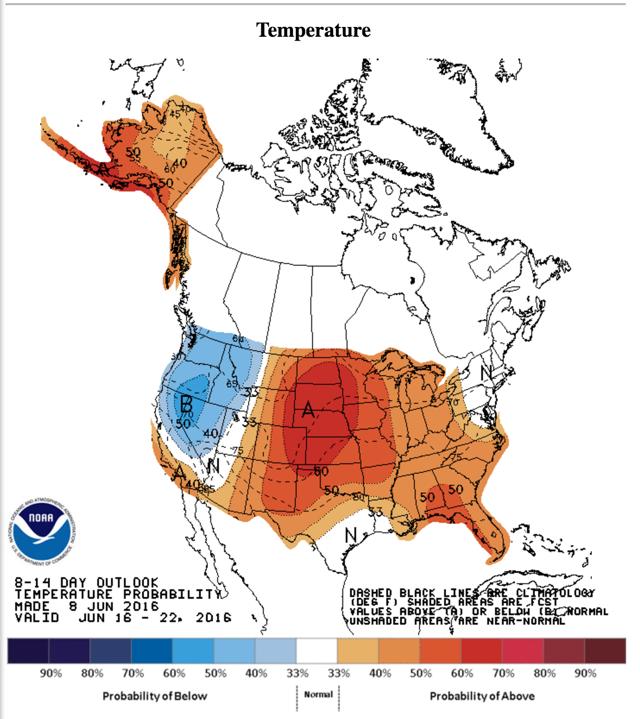 The heat is starting to spread, and the middle of June is looking really hot. Summer doesn't officially start until June 20th, so there's plenty of time for the weather to get warmer. We think the market is finally catching on to what we've been saying for a while. Just take a look at some of our natural gas dailies and you can see that we've been bullish from the start, and remain very bullish on prices.
As a result of our bullishness, we have we have positioned a large percentage of the HFI portfolio in natural gas (NYSEARCA:UNG) producers that will outperform significantly if prices continue to recover. We think the fundamentals are pointing in the right direction. As storage surplus decreases over the next several months, market participants will begin to reevaluate.
Since its launch, the HFI portfolio has outperformed the S&P 500 by 14.07% and returned 24.86% on a gross basis. For investors interested in how we are managing the portfolio, please consider signing up for our premium service. We look forward to you joining the HFI community. And as always, if you liked our natural gas daily write-up, please be sure to click follow and read our other articles as well.
Disclosure: I/we have no positions in any stocks mentioned, and no plans to initiate any positions within the next 72 hours.
I wrote this article myself, and it expresses my own opinions. I am not receiving compensation for it (other than from Seeking Alpha). I have no business relationship with any company whose stock is mentioned in this article.