Supply glut will turn into deficit eventually, if price stays low. Energy agencies are used to current sentiment and do not anticipate the re-balance before 2020. IEA put on hold its "Golden Age of Natural Gas", predicted before. As it often happens, a turning point might come suddenly sooner than expected. Recent rally made a hint that the weather factor does not last long.
Midstream Delays
Delay of Appalachian take-away projects look like a positive sign for the price:
Kinder Morgan (NYSE:KMI) is suspending further work on Northeast Energy Direct, which was proposed to connect NE PA with New England.
Williams Company (NYSE:WMB) was denied a key permit necessary to build the Constitution pipeline out of Northeast Pennsylvania.
Northeast region is the lowest cost source of natural gas in US, but with infrastructure constrains. The plenty of take-away projects in coming years is the main factor for pessimistic consensus-view. There are considerable risks for these projects:
Many producers have gone into bankruptcy and more producers are on that way, given lingering low commodity prices. Producers in their chapter 11 cases bid to get out of pipeline agreements. At least, in one case (Sabine Oil & Gas) it was successful and must have made midstream operators to desire more guarantees in their agreements.
Natural Gas producers do not seem eager to commit. BTU analytics estimated that suspending NED project achieved only about 60% of shipper commitments. If commitments up to $1/mcf are taken into account, breakeven price level in Marcellus is higher than current prices [found this idea in U.S. coal producer, Hallador Energy's (NASDAQ:HNRG) last presentation].
Breakeven
Median breakeven price, including capital intensity, for low cost Marcellus region is actually $3.25/mcf, according to a report from KLR Group, with overall U.S. median breakeven at $3.5/mcf:
The capital intensity for the median gas-dominated (less than 20% of the company's production coming from oil) E&P is about $1.85 per Mcfe, while operating and overhead expenses is about $1.25 per Mcfe, equating to a cash cost structure of around $3.10 per Mcfe. Given a $0.40 median gas price discount to NYMEX, the current NYMEX-normalized gas-dominated E&P cost structure is about $3.50 per Mcfe.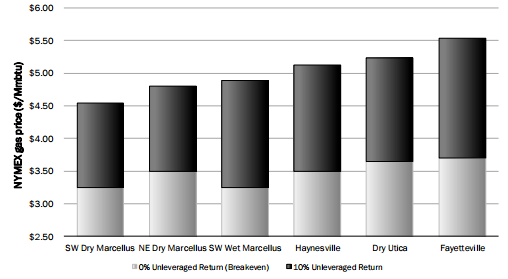 Source: KLR Group
Underpriced Natural Gas Strips
The assessment of KLR Group matches my view of the price required to balance natural gas market. Looking at the futures curve now, you hardly find prices above $3.25/mcf before 2022.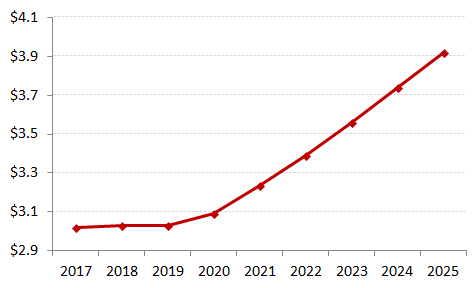 Source: Bloomberg
Drilling Activity
Bears could appeal to backlog of drilled but uncompleted wells (DUCs). I think producers have been actively using this joker in attempt to cut CapEx without considerable effect on production since January. Unexpected surge in natural gas production at the beginning of this year could be explained by completion of wells in backlog. It should have been natural gas wells, because crude oil production was declining with lower drilling activity.
U.S. capacity production data from Drilling Info was very helpful this year in predicting crude oil production trend, but was totally ignored by EIA in their monthly estimation of natural gas production. In last report from EIA on 31 May natural gas production had been still growing in March. New production capacity from drilling was only 1.3 BCF per day (1.7% of total production) though, according to Drilling Info estimation. Last year, producers replaced 2.5%-3% of natural gas production through drilling activity.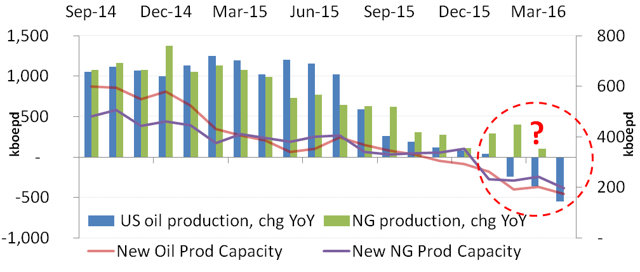 Sources: EIA, Drilling Info
Northeast backlog

Ethane Recovery
Natural gas production is supposed to drop eventually following crude oil due to low drilling activity. The drop might be higher because of the rise in ethane demand in the third quarter, when Enterpise's (NYSE:EPD) ethane export terminal will start working with 0.5 Bcf/d capacity. Enterprise claims that the facility is 90 percent contracted. Ethane will be recovered, instead of rejection into pipeline. It is about 0.6% of natural gas production
According to PointLogic, overall ethane rejection is 1.6 Bcf/d (2% of NG production) and new demand will cover this oversupply next year with constructed ethylene crackers.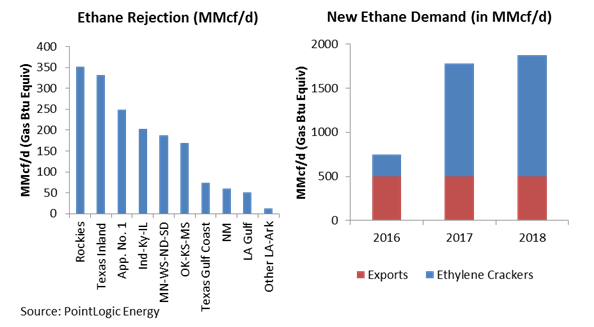 Production Forecast
It will be hard for producers to raise activity, when the price goes higher, because of so many rig workers were fired this time.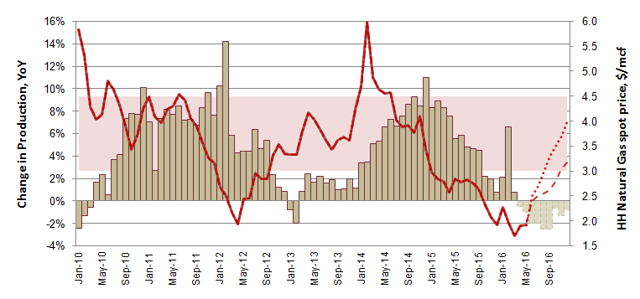 Source:EIA, Bloomberg
Strong Demand
Natural gas demand, adjusted for temperature effect, was actually pretty strong this winter, according to RBN Energy.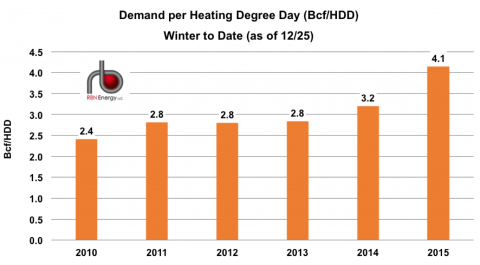 Recent data from EIA proved that electric power demand is still on the rise.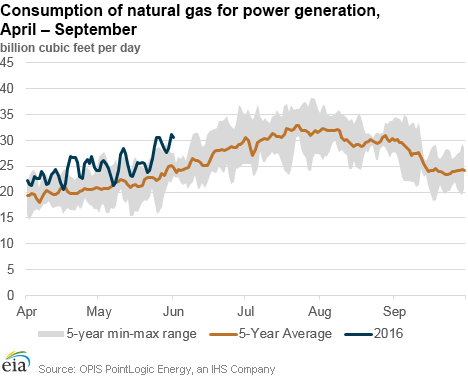 Natural Gas Storage
Inventory level will still be above 6-year average in the end of 2016. However, La Nina is coming. Taking the role of Stark from "Game of Thrones", NOAA has mentioned it recently. The probability of cold winter is high (75%).
Additionally, natural gas storage would be lower than the year earlier in October (below 4 Tcf).
Source:EIA, Bloomberg
Invest Idea: Bullish NG = Long CHK
No doubt, Chesapeake Energy (NYSE:CHK) is an impressive U.S. natural gas producer. That is why there are so many articles about the company at Seeking Alpha almost every day. CHK's rivals have got their shares 1.5-2 times higher from the begging of the year, given anticipated re-balancing of natural gas. While CHK is on the same level (about $5 per share).
Given current price of natural gas, CHK has a zero value indeed with a great amount of debt on balance. On the other hand, because of this leverage CHK has a target price of $21 per share, given more appropriate assumption, in my opinion, for the natural gas price ($3.75/mcf).
Bloomberg's consensus target price for CHK is $5 per share. It looks like an appropriate valuation, given current pessimistic view for the natural gas price in the long run closer to $3/mcf.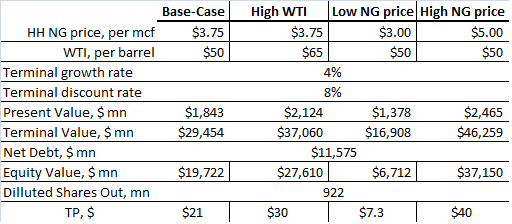 The company has solved their liquidity issues for this year. Its recent activity in debt to equity swapping aims risks' reduction for the next year in case of lingering low energy prices. It is right attitude for risk management, but makes investment in equity less profitable. To avoid dilution, there are CHK's preferable shares, having overperformed ordinary shares since May, when active swapping started.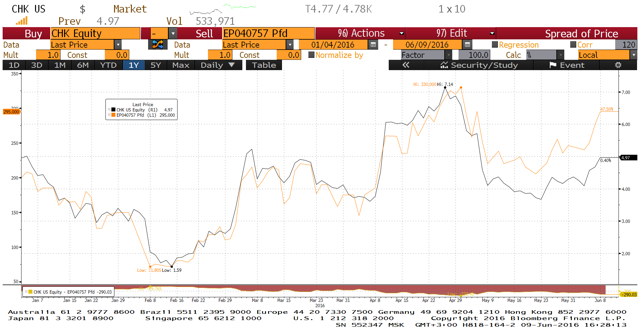 Supporting Documents
Disclosure: I am/we are long CHK.
I wrote this article myself, and it expresses my own opinions. I am not receiving compensation for it (other than from Seeking Alpha). I have no business relationship with any company whose stock is mentioned in this article.