If you are even casually following the Lithium (NYSEARCA:LIT) sector or even Tesla (NASDAQ:TSLA) for that matter you likely heard that Norway is going to be banning gasoline or diesel car sales by 2025.
This was one of the reports from Norway's Dagens Naeringslive newspaper. This isn't yet a law but the proposal seems to have the support of both the ruling and opposition parties.
The fact that Norway itself is going to ban cars that require oil is a primary fuel source isn't big news. The country is only 5 million people. What it is however is a sign of things to come.
Eventually the electric car is going to hit the mainstream.
Norway is not the only government considering a ban of internal combustion vehicles. There is also India and the Netherlands for now with more certain to come.
It Isn't Just About Converting Existing Drivers To Electric
In a new report (Global EV Outlook 2016), the International Energy Agency estimates that 1.26 million electric cars hit the world's roads in 2015 which is a neat milestone. Below is a chart showing the very rapid growth of both battery electric vehicles (BEVS) and plug-in hybrids (PHEV):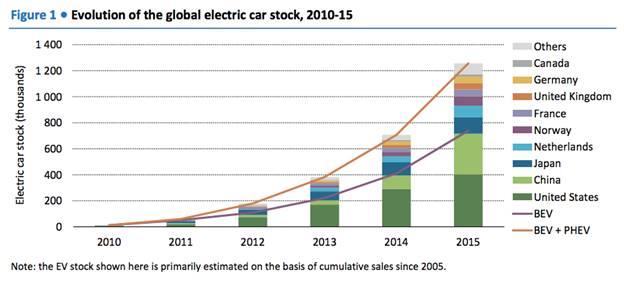 Source: IEA
Now let's put some perspective on just how small 1 million electric cars on the road really is. The chart below details the total number of passenger and commercial cars globally today.
The number is nearly 1.25 billion.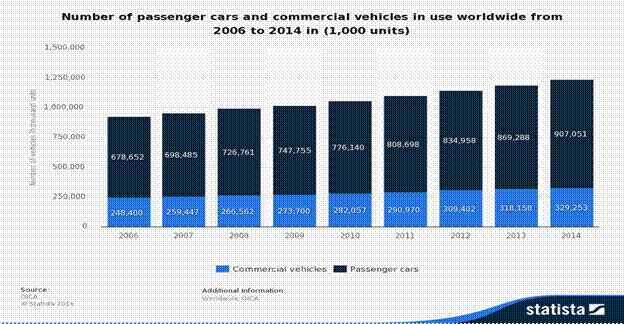 Source: statista
That would give electric cars a market share of...well the number is so small we can't even put it into words. To say the electric car hasn't scratched the surface of what is possible is a massive understatement.
Given that there is almost undoubtedly exponential growth for electric cars in the coming years we can't help but wonder what is going to happen to lithium prices. With just over a million electric cars being driven lithium prices have already skyrocketed.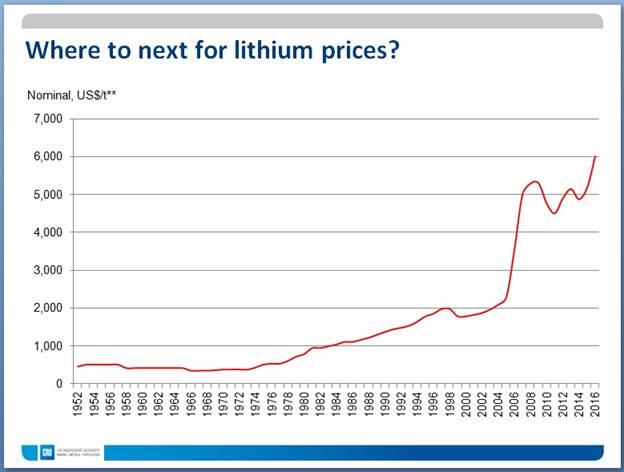 Source: Commodities-now.com
The existing car market is huge for electric cars to target. What we also have to remember is that the number of cars globally is growing and is going to continue to grow for a very long time to come.
The chart below from the World Bank tells a story that words can hardly do justice to. It depicts vehicle ownership per thousand people.
Just look at where the develop world is, 400 to 700 cars per thousand depending on the country. Then look at where China and India and their 2.5 billion combined citizens are.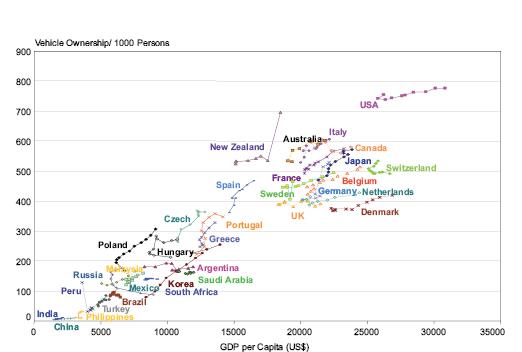 Source: EV.com
There is massive demand for vehicle growth coming from those countries and much of that growth is likely to be for electric cars.
For Tesla Securing All The Lithium In Its Own Backyard Is A No Brainer
Tesla has established a dominant position as an electric car maker. With the mind-boggling growth in demand for electric cars that lies ahead of us the company must lock up access to the necessary raw materials for the long term now.
It isn't by chance that Tesla put its Gigafactory in the State of Nevada. This is where the lithium in the United States both discovered and yet to be discovered is located.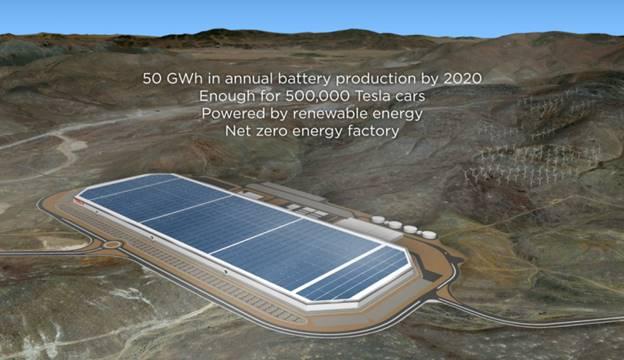 Source: Fortune.com
Given how crucial lithium is going to be and just how massive the demand could be for it we think that Tesla should try and vertically integrate lithium production into the company. We have seen oil and gas producers like EOG Resources (NYSE:EOG) successfully do this with frack sand.
There are all kinds of junior lithium resource companies that could be snatched up now for a tiny amount of money relative to what Tesla has for resources. Much of the prospective land that these companies control won't pan out, but some of it will. Tesla can get control of this lithium and significantly reduce its long term cost by owning this land now.
Here is a list of some of the publicly traded Nevada focused lithium ventures that we could find:
Pure Energy Minerals (HMGLF), (PE)
Project Highlights
- 9,324 Acre Lithium Brine Project
- 816,000 metric tonnes Lithium Carbonate Equivalent (LCE) Inferred Resource NI 43-101 July 2015)
- Next to the only producing lithium mine in North America
- Significant existing infrastructure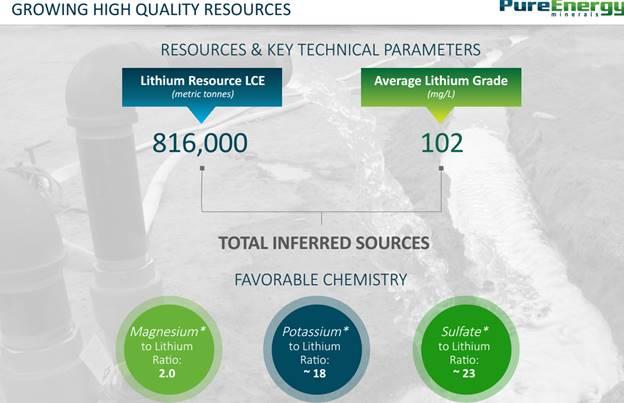 Source: Pure Energy Services
Last year, Pure Energy Minerals and Tesla announced an early stage supply agreement whereby Tesla would buy an undisclosed amount of lithium from the company within a certain time frame. Tesla would pay a "predetermined price that is below current market rates," according to the release at the time.
Oroplata Resources (OTCQB:ORRP)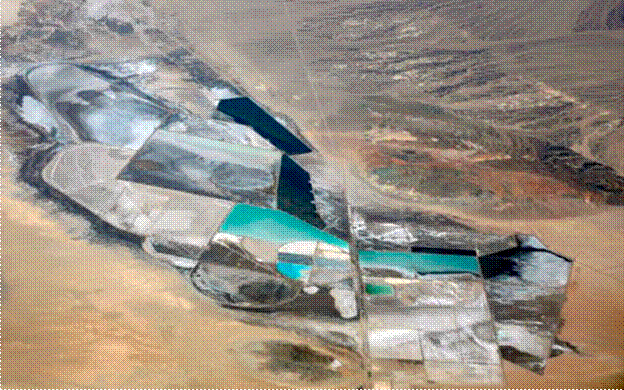 Source: EVWorld
Oroplata Resources, Inc owns the Western Nevada Basin project in Southwest Nevada.
The WNB Project covers the south central portion of an area that was first identified as Lithium rich by the USGS (United States Geological Survey). The Project includes 500 mining claims covering approximately 10,000 acres, the company has an option to acquire another 600 mining claims, approximately 12,000 acres.
Oroplata has a 100% interest in the WNB project which was acquired in exchange for a royalty on future production from the property.
Lithium X (ROCEF)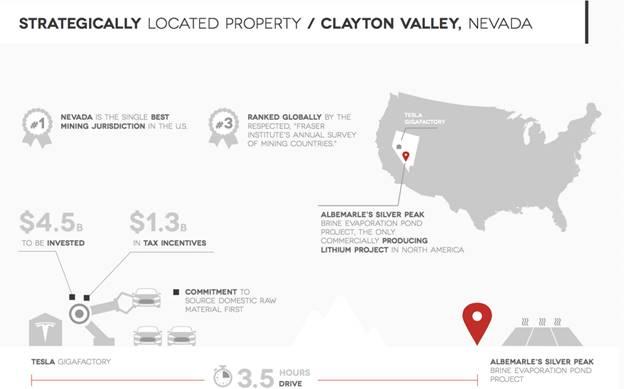 Lithium-X also the largest land package in Clayton Valley. It covers over 15,040 acres between its Clayton Valley North project and Clayton Valley South extension.
Both land packages are contiguous to the only producing lithium operation in North America - Silver Peak, owned and operated by Albemarle, the world's largest lithium producers.
Lithium-X also has something cooking in South America. Its Sal de los Angeles project is situated in the prolific "Lithium Triangle" in Salta Province, Argentina.
The project is comprised on 8,156 hectares covering the nucleus of Salar de Diablillos with approximately C$19 million having been invested in the property by previous operators, including $16.2 million in work completed at Sal de los Angeles between 2010 to 2015. It contains high grade brine with a historic NI 43-101 resource of 2.8 million tonnes LCE and historic positive project economics.
Nevada Sunrise (OTCPK:NVSGD)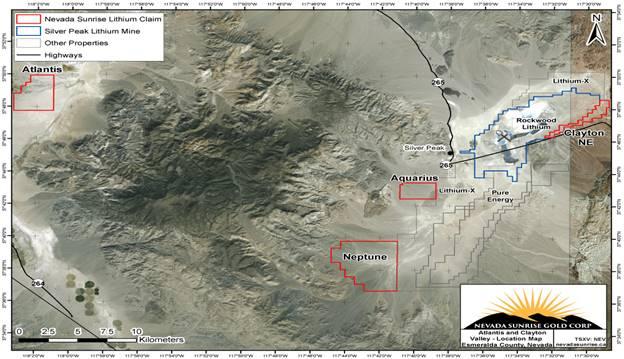 Nevada Sunrise's Neptune lithium project is located in the southwest corner of the Clayton Valley flanked by the Silver Peak Mountains to the west, the Palmetto Mountains to the south, and the Clayton Ridge and Montezuma Mountains to the east.
The Clayton Valley playa is characterized as an immature clastic salar, or salt flat.
Other than the 2011 geophysical surveys carried out by a previous operator, historical exploration for lithium brines at Neptune is sparse. A large scale ground gravity survey by the United States Geological Service ("USGS") in 1980 outlined two gravity lows in the south end of the Clayton Valley - the "South Central Low" underlies land controlled by Pure Energy, and the "Southwest Low" underlies Neptune.
On January 4, 2016, Nevada Sunrise announced it has received a drill permit from the U.S. Bureau of Land Management (the "BLM") for Neptune. The BLM has approved 10 exploration drill hole locations at Neptune, and Nevada Sunrise plans to drill 3 vertical holes as an initial phase, each up to 380 to 480 metres deep into the interpreted sub-basin, with follow-up drilling if warranted. There are no known drill tests for lithium brines within the targeted Neptune sub-basin. The Neptune drill program is scheduled to begin in March 2016.
We Are Long Term Bullish On Electric Cars - Not Specific Companies
We want to make very clear that what we are very bullish on is the future of the electric car. We believe that is happening folks (political policy will see to it) and the sheer scale of the growth ahead is hard to comprehend.
As of now, that means that we are bullish on lithium prices. Technology advancements could change that and if it does we will adjust our thinking.
We in no way recommend any specific company in this article including Tesla which itself could suffer from a competitor coming up with a more economic electric car. We are very intrigued by the small companies that hold the rights to prospective lithium resource in Nevada due to their location advantage. Any lithium found in Nevada is going to be a prized possession in the future. We view all of these companies as extremely speculative and would warn readers to own them only as part of a diversified basket of similar companies.
Do not take on significant specific company risk in this sector.
It is the numbers that fascinate us here. 1.25 billion and growing total cars on the road versus 1.2 million electric cars. If the electric car ever becomes competitive on a cost basis and isn't operationally inferior the growth potential here would be unlike anything we have encountered.
Use Seeking Alpha's follow option at the beginning of the article if you want more on this big opportunity and others.
Disclosure: I/we have no positions in any stocks mentioned, and no plans to initiate any positions within the next 72 hours.
I wrote this article myself, and it expresses my own opinions. I am not receiving compensation for it (other than from Seeking Alpha). I have no business relationship with any company whose stock is mentioned in this article.
Editor's Note: This article covers one or more stocks trading at less than $1 per share and/or with less than a $100 million market cap. Please be aware of the risks associated with these stocks.