Recommendation: Long Dollar Tree (NASDAQ:DLTR) equity
Current Stock Price: $91.25
Target Stock Price: $120.00 (32% upside)
Timing: 2 years
Catalyst: Successful integration of Family Dollar (NYSE:FDO) acquisition

Dollar Tree Long Thesis Recap
In January, I published my detailed thesis on why I believe Dollar Tree is a best-in-class retailer and how the acquisition of Family Dollar will help create significant shareholder value. That article can be found here.
In this article, I will recap and update my thesis based on the last 6 months of earnings and new market information.
Dollar Tree has a Winning Business Model in the Amazon Economy
The retail sector is much maligned. Disintermediation from e-commerce has made consumers more price conscience and convenience-oriented than ever. The cyclical threat of an economic downturn further erodes the business quality of most retailers. Dollar Tree's business model is extremely well positioned for this new retail sector reality by catering to the customer's desire for a convenient, low-price shopping experience.
Like the most successful retailers today, Dollar Tree is more of a logistics business than a retailer. Dollar Tree operates 14,000 small-format stores located in strip malls and urban street corners, which are ideal for quick walk-in and walk-out shopping. Through the operation of 21 extremely efficient distribution centers and carefully structured supplier agreements, Dollar Tree is able to offer every-day-low-prices which match or exceed value propositions offered by Wal-Mart (NYSE:WMT) and Amazon (NASDAQ:AMZN).
Dollar Tree also meets unique customer needs, which insulate the company from competition. The Dollar Tree banner is the only national retailer to offer all products at the $1 price point. This pricing strategy brings customers into the store for a "treasure hunt" and also helps low-income shoppers optimize their shopping baskets. The Family Dollar banner primarily operates in urban low-income neighborhoods where there are fewer traditional grocery stores (food deserts). Both of these retail models are less susceptible to the threat from e-commerce.
The company's customer-oriented selling concepts and incredible economies of scale provide for a winning business model with a sustainable competitive advantage.
CEO Bob Sasser's quote from the Q1 2016 earnings press release put it well:
"We have gotten off to a successful start to 2016. We continue to serve a loyal customer base by providing terrific values every day; we remain on schedule with our integration of Family Dollar; we are on track to achieve our stated synergy targets; and we are part of what I consider, in this economic environment, the most attractive sector in retail. Looking ahead, we are committed to growing and improving our Dollar Tree and Family Dollar businesses to better serve more customers, while delivering long-term value to our shareholders."
Dollar Tree is a Best-in-Class Operator
In addition to having a winning business formula, over time, Dollar Tree has proven to be an extremely well-run company. Over the last 10 years, DLTR has organically grown its legacy Dollar Tree banner by over 10% per year and has consistently grown profitability faster than sales.

Benchmarking Dollar Tree vs. discount retailer peers over the business cycle shows that Dollar Tree has superior operating metrics and return on invested capital. The numbers show that Dollar Tree is able to incrementally improve each year, increasing returns on capital and compounding value. The consistency is remarkable, Dollar Tree has reported positive same store sales growth for the last 33 quarters.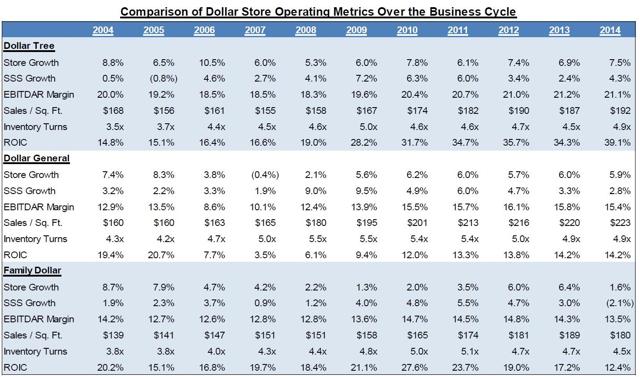 These results were achieved with virtually no leverage and the company has prudently used excess cash to repurchase shares. From FY 2005 to FY 2015, Dollar Tree repurchased $3.3bn in stock net of issuances.
The current management team and Board can take credit for this superb track record of organic growth and skillful capital allocation. Bob Sasser has been CEO since 2004. The COO and likely CEO successor, Gary Philbin has been COO since 2007 and is currently assigned to turning around the Family Dollar segment. This management team is likely to continue executing.
The management team and Board are aligned with shareholders. Altogether, the executive management team and Board own over $700 million in DLTR stock in addition to another $100 million in restricted stock and options. Given this owner-operator mentality, it's no wonder that DLTR has been run in such a shareholder-friendly manner.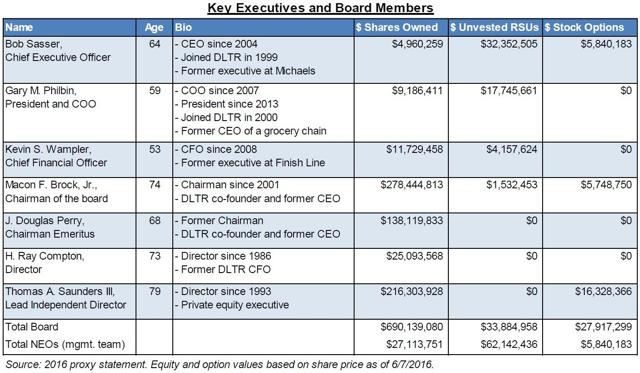 Recent Results Indicate that the Integration of Family Dollar is Progressing Nicely
Acquiring and integrating Family Dollar is no small feat. The acquisition more than doubled store count and revenue. That being said, I believe the acquisition was very shareholder friendly because of the low price paid, how the deal was financed, and the significantly improved logistical and sourcing economies of scale that will result.
When assessing the past 2 years of quarterly results of the combined company, it appears that the FDO acquisition may have impaired value because of reduced margins and EPS. However, there is quite a bit of short-term noise when viewing the data in this way. First, it is important to understand that the Family Dollar segment structurally has lower margins than the Dollar Tree segment because it is more of a grocery business. Second, per anti-trust requirements, 330 stores were divested at the end of Q3 2015, which accounted for $45.5 million in EBIT. Finally, several short-term margin hurting programs were carried out in order to clean up FDO (a clearance sale to move out unproductive inventory, store re-bannering, deferred store maintenance).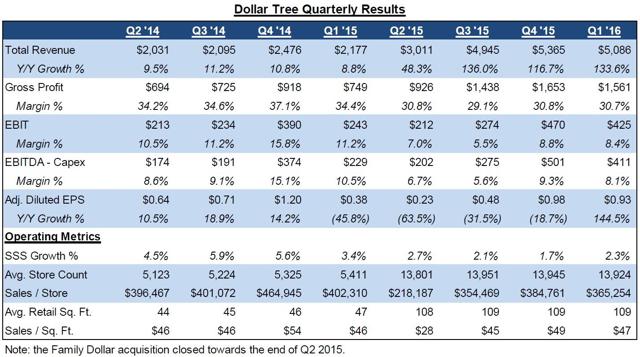 Given the accounting differences, I think it's more helpful to look at the two segments separately. Using this lens, it is clear that the Dollar Tree segment is still firing on all cylinders. Q1 saw improved operating margins, improved same-store sales growth, and accelerating store count growth. Management indicated that the Dollar Tree banner is benefiting from both increased traffic and higher average ticket.
There are still plenty of investments being made in the Dollar Tree banner stores. In Q1, 210 'Deals' banner stores were converted into 'Dollar Tree' banner stores. Over 200 'Family Dollar' banner stores have also been converted into 'Dollar Tree' banner stores. These conversions are very high IRR generating projects because the company is able to take existing stores with a mature level of sales and turn them into higher margin concepts without the need for significant investment that would be required for a new store. The company is very methodical about these conversions and essentially runs each Family Dollar store through the Dollar Tree real estate model to determine which banner would make more sense. Management has stated that there is an opportunity for a couple hundred more conversions that will be made later this year.
Another promising investment being made at Dollar Tree banner stores is the roll out of freezers and coolers at stores. Today 4,405 stores sell refrigerated products, which means there is an opportunity for 1,600 more stores to install coolers. At the company's RBC conference presentation on June 2, CFO David Wampler commented that there is a 5% to 10% comp lift at stores after coolers and freezers are installed.
Dollar Tree banner stores will also benefit from several of the synergy initiatives being spearheaded in the Family Dollar segment. The largest impact will be from lower supplier costs. Now that the company has doubled its size, it has significantly more pricing leverage over vendors. Another favorable source of improved efficiency will be found in some regions where distribution centers will begin shipping to both banners.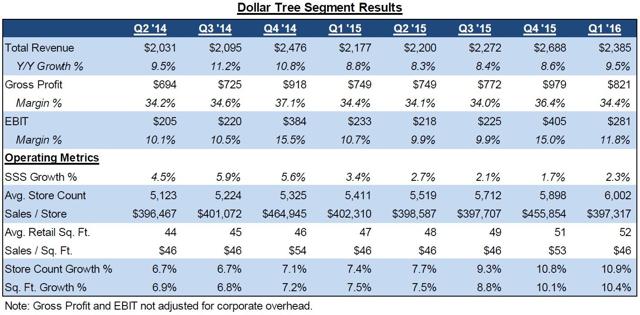 Assessing the financial performance of the Family Dollar segment is trickier because we do not have clean prior year comparables to use and because of all the noise in the numbers from the turnaround efforts.
When the FDO acquisition closed, the Family Dollar stores were in a state of disrepair. Many low hanging fruit changes to improve the stores included improving store lighting, tidying up the aisles, and refreshing inventory with better products. Most of these basic improvements have already been implemented and should help drive improved traffic and sales trends.
CEO Bob Sasser commenting on improvements made to the Family Dollar stores on the Q4 2015 earnings call:
"Just over 2 quarters in, the stores are cleaner, the shelves are better stocked, we had cleaned up old inventory and the end caps were more compelling and relevant. The feedback we're receiving has been positive. Our customer satisfaction scores have improved, validating that customers are taking notice… Same-store sales increased as the result of growth in both traffic and average ticket, with traffic leading the way."
The two most important metrics to keep track of will be same store sales growth and operating margin. Before FDO was acquired, the company experienced 2 years of same store sales declines and an EBIT margin, which declined to 4.2% in the LTM period right before the sale closed. Under new ownership, these metrics have turned around very quickly. Although segment same store sales are not yet reported due to the limited time of ownership, management has noted on calls that FDO has seen positive same stores sales growth in every quarter.
On the margin front, things have improved as well. After wrapping up the clearance sales event in Q3 where the company sold unproductive inventory at discounted prices, the segment has seen GM and EBIT expand significantly. As I explained in my January article, the margin expansion opportunity at Family Dollar represents the largest bucket of value creation and is not factored into synergy projections. If FDO can improve its EBIT margin from 4% to 8%, that represents ~$440 million in EBIT improvements. Using an 11x EBIT multiple, this represents a $4.7bn+ valuation creation opportunity.
Analysts have vastly underestimated the earnings potential of the FDO segment and have only assumed a ~6% EBIT margin going forward. However, management has expressed confidence in being able to hit a segment EBIT margin in the 7% - 9% range which is very achievable considering that Dollar General (NYSE:DG) has an EBIT margin approaching 10% and Dollar Tree had an EBIT margin over 12% before the FDO acquisition. I have confidence that management can execute on their turnaround as they have proven to be excellent operators with the legacy Dollar Tree business.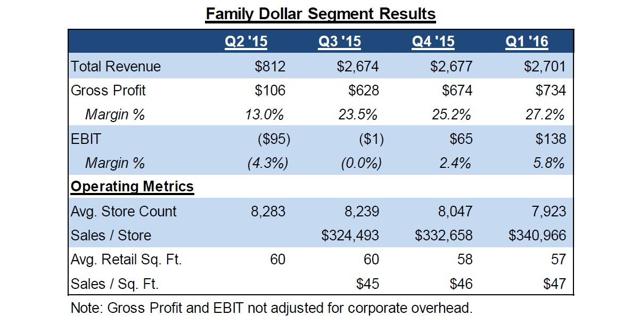 Aside from margin expansion at FDO, the two other buckets of value creation from the acquisition are synergies and deleveraging.
Management has targeted achieving $300 million in synergies by year 3. This target is only 2.9% of Family Dollar's sales, which seems very conservative. The average synergy target for retail deals has been closer to 6% of target sales. Given the massive size of the deal (14,000 retail stores, $20bn in total sales), I hypothesized that it would be very likely for DLTR to exceed these targets. Of course, Wall St. analysts have only modeled in the original $300 million target.
On the Q1 2016 call, CEO Bob Sasser hinted that the $300 million target is quite conservative:
"We have internal targets that are higher than the $300 million. We're not sharing that because right now, they're aspirational. But I believe that they're there. And the confidence that I would like to share with you is that the $300 million that we have described so maybe eloquently, maybe not, over the past almost 18 months are there. We're confident the $300 million is there. We're confident that we will be able to find more than the $300 million."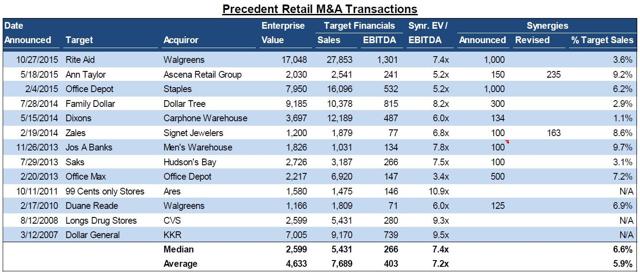 Finally, on the balance sheet front, Dollar Tree has already made significant progress delevering. In the last 2 quarters alone, net debt has declined by ~836 million.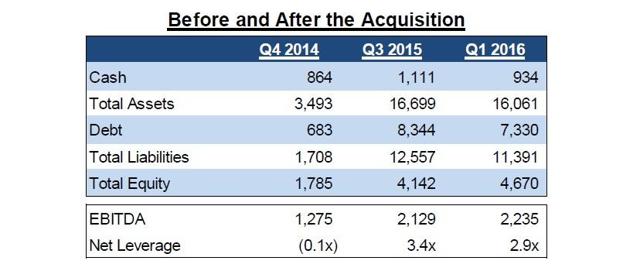 Updated Valuation
In my January article, I had a target share price of $130 by 2018. Today, I am lowering my target price to $120. I am lowering my target price because in my prior model, I had more aggressive assumptions for new store builds and thus I am lowering my expectations for top line growth as a result of updated management commentary. However, with the early success of the Family Dollar turnaround, I have a greater degree of confidence in my valuation and believe the downside scenario is less severe.
A target price of ~$120 by 2018 implies 32% upside from today's share price of $91.25 and an annualized return of 12.9% over the next 2.5 years.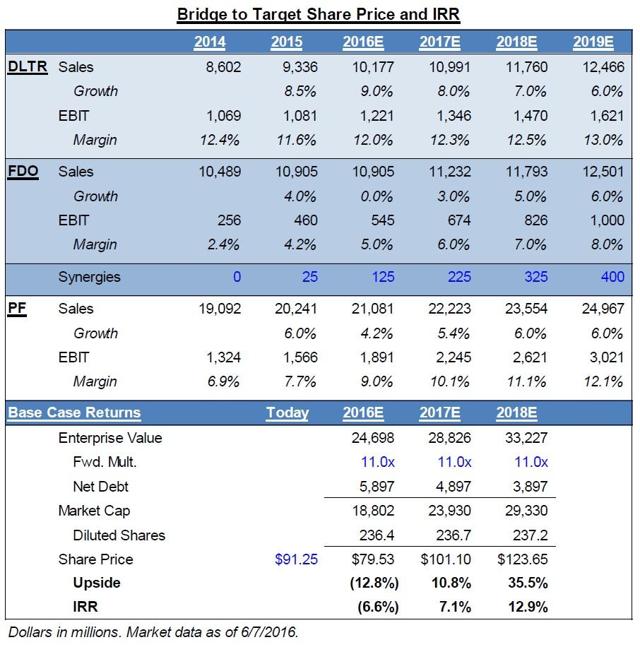 My key modeling assumptions are that the company will hit same store sales comps between 2% to 3% per year and open new stores at a 4% to 5% growth rate per year. In the above table, I have also extrapolated margin expansion and realization of synergies. I am conservatively using an 11x Forward EBIT multiple which is consistent with the 10-year median EBIT multiple for the peer group but below the current peer multiple range of 12x to 14x.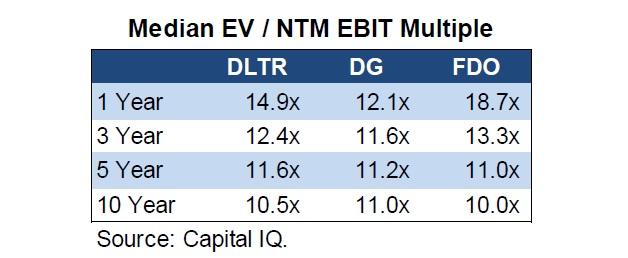 Supporting Documents
Disclosure: I am/we are long DLTR. I wrote this article myself, and it expresses my own opinions. I am not receiving compensation for it (other than from Seeking Alpha). I have no business relationship with any company whose stock is mentioned in this article.