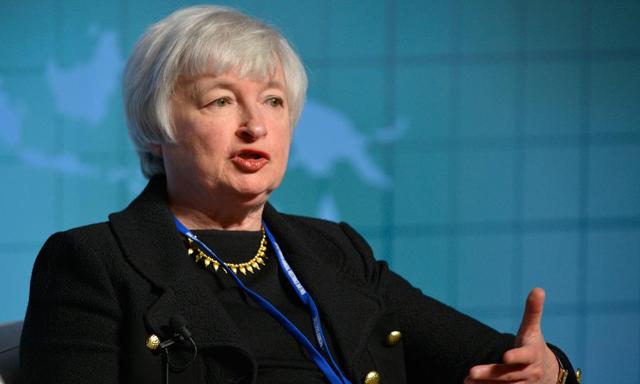 The markets are perpetually fixated on the Fed's policy cycle. In this article, we will take a snapshot of several key economic indicators and try to distill its effects.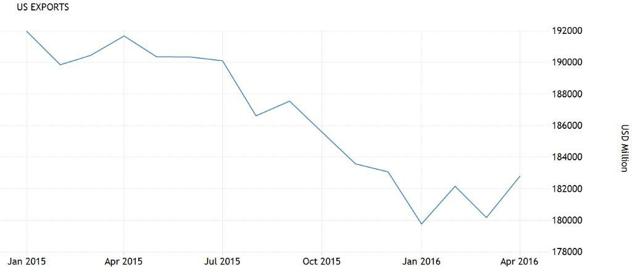 Source: Trading Economics (U.S. Census Bureau)
You would be able to note 1.5% rise in April exports and a sharp revision to the March trade deficit boosted external accounts to a much better trajectory. April accounts deficit dropped to $37 billion from a Q1 average of $41 billion.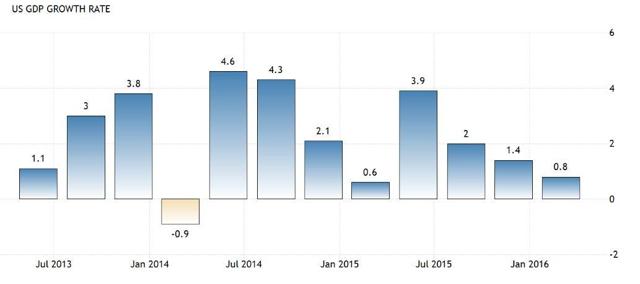 Source: Trading Economics (US. Bureau of Economic Analysis)
If this trend holds through and into the volatile June period, we would be able to see a 3% GDP growth in Q2 which would be a big jump from the poor Q1 growth this year.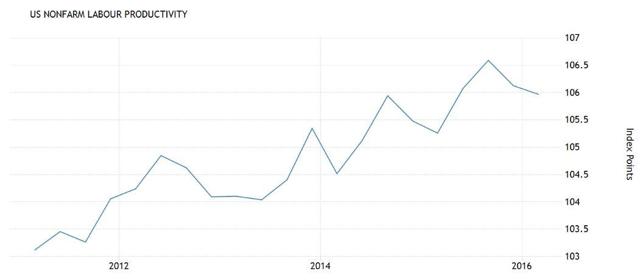 Source: Trading Economics (U.S. Bureau of Labor Statistics)
In order for a full expansion of YOY GDP of 3% or higher, a pick-up in labor productivity growth would be crucial. Labor productivity growth have averaged around 0.5% per year since 2010, and optimistically an improvement in the recent few quarters will spur growth going forwards.
In the recent years, technological implications of crowd sourced content and co-sharing, as well as more optimization freely available has improved numbers. However, a more in depth analysis for productivity will be for another article.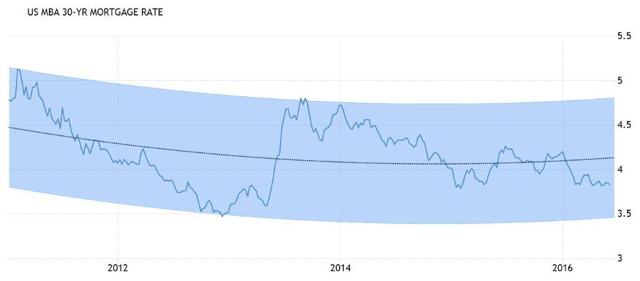 Source: Trading Economics (Mortgage Bankers association of America)
Consumption growth is steadily increasing, largely thanks to the low mortgage rates over the period. Housing prices have generally been on a steady uptrend over the past 4 years showing general stabilization and improvement of the market.
Mortgage rates have been close to the lowest levels since World War 2, fueling large amount of prospective buyers and mortgage applications. You might want to even consider putting this article down and taking a look at your mortgage financing.
This strong move led new home purchases which have been growing stably at 12% pace to spike by 17% in the month of April alone. Expansion in the housing market would have a trickle down effect to other aspects of the economy and the markets.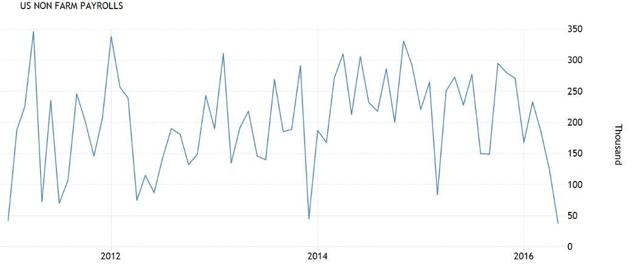 Source: Trading Economics (U.S. Bureau of Labor Statistics)
The recent non-farm payroll upset of 38K have pushed back expectations of the Fed to get back on the normalization path that the Federal Reserve says. Most firms and agencies are predicting a singular rate hike either in June or December. The pessimistic non-farm payroll number which shocked the U.S. Dollar by a large margin, which resulted in many people calling a half on the dollar's progress.
However, it may be more applicable to use another indicator for labor expansion. Despite the poor headline NFP number, there are many other indicators that could paint us a picture of the economy.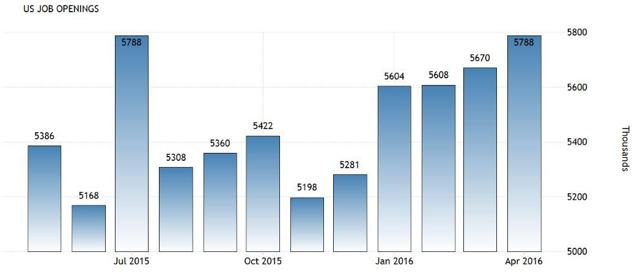 Source: Trading Economics (U.S. Bureau of Labor Statistics)
One such indicator is one of Yellen's favorite economic reports - the U.S. JOLTS Job openings. The JOLTS report jolted the market on the upside yesterday. The data of 5788k in April was higher then the 5675 consensus estimate as well as the 5670 in March.
Since the Fed hike cycle began, JOLTS have been improving at low 4000k levels in December 2015 till the 5500k levels currently. Compared the to the more popular non-farm payroll reports, some may say the Jolts provide a more consistent trend of the state of U.S. jobs market.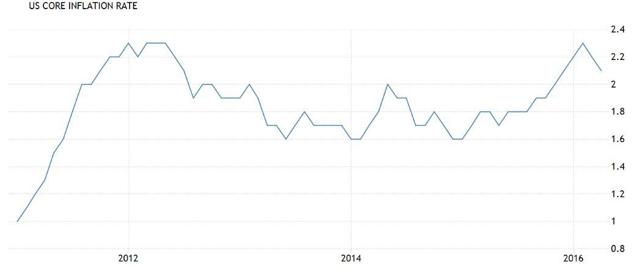 Source: Trading Economics (U.S. Bureau of Labor Statistics)
Inflation is modesty about 2.1% and above the target rate by the Fed of 2%. The recovery to crude oil prices is also expected to minimize possible downsides in inflation after energy prices stabilizing and volatility decreasing.
Yellen in a June 6th Speech at the world affairs council:
If incoming data are consistent with labor market conditions strengthening and inflation marking progress towards our 2% objective, as I expect, further gradual increases in the federal funds rate are likely to be appropriate and most conducive to meeting and maintaining those objectives.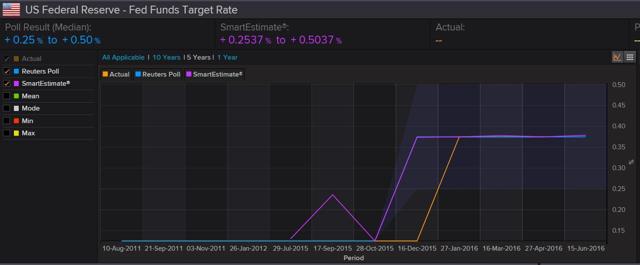 Source: Thomson Reuters Ekion (Fed Fund Target Poll)
The Fed is falling behind the curve and have more catch up to do in the months ahead than the markets currently anticipates. With that being said, given the current pricing and atmosphere, we should see minimal chances of a of a June liftoff, making a 2.9 ~3.1% GDP growth in Q2 a very distinct possibility.
Hold on tight and get ready for the Yellen economy, coming next FOMC on June 14-15th.
Feel free to follow me if you like my content and want to see more.
Disclosure: I/we have no positions in any stocks mentioned, and no plans to initiate any positions within the next 72 hours.
I wrote this article myself, and it expresses my own opinions. I am not receiving compensation for it (other than from Seeking Alpha). I have no business relationship with any company whose stock is mentioned in this article.