Infosys (NASDAQ:INFY) chief operating officer (NYSE:COO) UB Pravin Rao lowered its Q1 margin guidance by 200 bps mainly on the back of higher visa and compensation costs. However, the COO said he was confident of meeting its FY2017 revenue growth guidance of 11.5%-13.5%. He Rao told investors that overall demand remains "volatile" and weaker spending in the energy and insurance sector will weigh on the company's performance over the next few quarters. He also highlighted on the ongoing slowdown of its enterprise resource planning (ERP) and business process outsourcing (BPO) businesses, and said that the company was working to turn around those businesses. The retail sector performance also remained soft last few quarters especially across the US and Europe.
Mr Rao says commoditisation has taken place in the industry; the management is betting on automation and artificial intelligence platform to counter balance this commoditization. According to NASSCOM, the industry growth this year is expected to grow between 12%-14% driven by softness in some sectors. Infosys also expects FY17 revenue growth to be around 11.5%-13.5%, almost in line with the industry average. However, the management expects the ongoing heavy investments in automation and artificial intelligence to pay off significantly over the coming years.
Q4FY16 performance highlights- healthy numbers were recorded- Infosys posted revenues of US$2,454mn, up 1.6% qoq. In constant currency terms, the growth is of ~1.9%. Volume growth during the period is of 2.4% qoq. EBIT margin improved to 25.5% vs. 24.9% in 3QFY2016, an expansion of 60bps qoq. The company posted a net profit of $3,597cr up 3.8% qoq.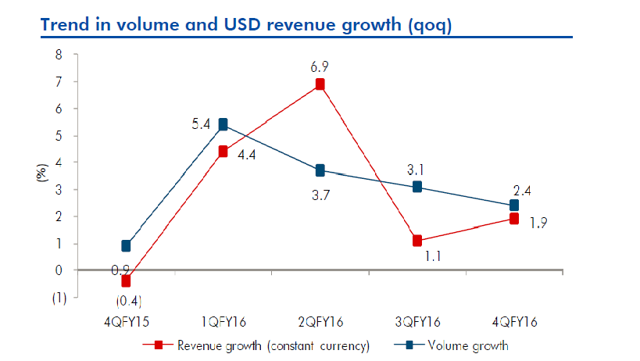 The utilization levels (including trainees) improved to 74.7% versus 74.2% in 3QFY2016, while the attrition rate was also better at 17.3% versus 18.1% in 3QFY2016. For FY2017, the company has given a revenue guidance at 11.5%-13.5% in constant currency terms and 11.8%-13.8% in US$ terms at March 31, 2016 exchange rates.
In terms of geography, North America grew 0.6%, Europe grew 3.6%, India grew 11.1%, while RoW grew by 3.2% sequentially in constant currency terms.
Infosys added 89 new clients (gross additions) this quarter, taking its total active client base to 1092.The company added 8 clients in the US$100-200mn bracket. Infosys bagged new deals with TCV of US$757mn this quarter. New deals with TCV for FY2016 stood at US$2.8bn, 42% higher than in FY2015.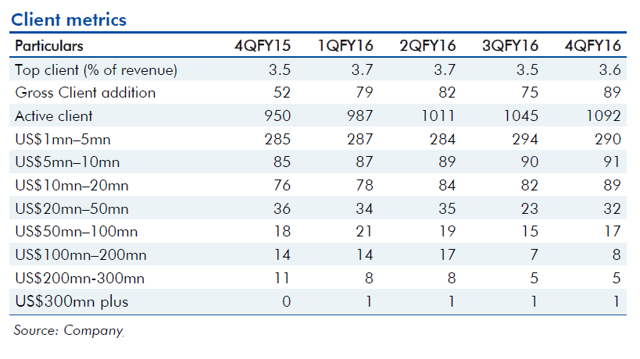 Infosys' 2020 vision: Infosys aims to achieve a goal of $20 billion revenues, EBIT margin of 30% and per capita revenues of $80,000 FY2020. Although the goal is ambitious it would help in keeping the ongoing performance intact.
Infosys' strategy to focus on automation and artificial intelligence; improve its utilisation levels, gaining higher win rates and reducing its attrition rates will benefit the company. However, the company needs to be cautious of the small players (like EPAM/Luxoft) who are gaining market share in the growing trend of analytics and digital spending. The IT industry is evolving and so is the business model and client spending. The client spending has been increasing more in the digital space and the companies which are able to capture this demand would benefit the most. I think Infosys is a good buy on dips. The recent ongoing stock price correction on earnings' warning gives a good entry point to the investors. But I would recommend to wait and buy around $17-$17.5 for good capital appreciation as the company is expected to grow in line with the industry's average and not does not deserve a significant premium. The recent softening of dollar would also weigh on the company's performance. However, Infosys has been a promising story until now and will continue to remain so
Disclosure: I/we have no positions in any stocks mentioned, and no plans to initiate any positions within the next 72 hours.
I wrote this article myself, and it expresses my own opinions. I am not receiving compensation for it (other than from Seeking Alpha). I have no business relationship with any company whose stock is mentioned in this article.