Analysts have come to praise Facebook's (NASDAQ:FB) Mark Zuckerberg for his "brilliant" acquisition of Instagram for a cool $1 billion back in 2012. The time has come to give similar praise to Jeff Bezos in regards to Amazon's (NASDAQ:AMZN) billion-dollar acquisition of Twitch, the live streaming video platform embraced by gamers across the world. Looking back at Twitch's yearly retrospective, we can identify three figures that demonstrate the success of Twitch.
Sustainability
As with every internet platform created, there's the concern of whether or not the service will be able to translate to mobile. Facebook went through the same phase, and emerged incredibly successful. It appears Twitch will follow the same trajectory, as management revealed that 35% of viewership now comes from mobile devices.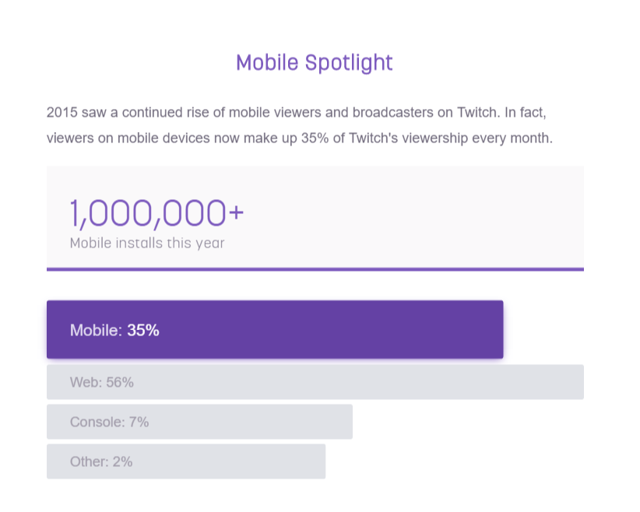 Twitch users aren't merely adapting to mobile, they're embracing it. Besides spectating PC/Console content on their mobile devices, users are streaming, watching, and playing mobile games. The retrospective lauded the performance of Vainglory, the fastest growing mobile game of 2015. Throughout the year, Twitch users watched a total of 155.6 million minutes of Vainglory.
Users' dedication to follow Twitch to mobile showcases the value and loyalty of the Twitch platform. I expect Twitch viewership to continue to migrate towards mobile and eventually overshadow PC viewership.
Call It What It Is
Initially intended as purely a live streaming site to broadcast and watch video games, Twitch has evolved into much more. No longer can we ignore the social capabilities of Twitch. It has become a niche network for gamers to communicate, share tips, and simply hang out. Here's the figure to back this statement up: over 9.1 billion messages were sent over Twitch's platform this year. That equates to over 17,446 messages a minute. Because of this, Twitch ought to be included in discussions that involve the likes of Facebook, Twitter (NYSE:TWTR), and Snapchat. Although a move against Twitch, Facebook's recent deal with Activision Blizzard (NASDAQ:ATVI) to allow users to directly stream their gameplay serves as validation to the social aspect of gaming.
Twitch is King in User Engagement
The figure that stood out to me the most by far was user engagement. The average Twitch user watched an incredible 421.6 minutes of Twitch content per month. Contrast this to the current king of video, Google-owned YouTube (NASDAQ:GOOG) (NASDAQ:GOOGL), which entertains users for an average 291 minutes per month, and you will see how impressive of a number this figure is. This metric is especially important to Twitch, since its specific focus on gaming limits its potential user base. Where it will be more limited in number of users, it can make up for in amount of time spent on the site per user. Twitch will be able to display a large amount of advertisements since its users spend so much time on the site.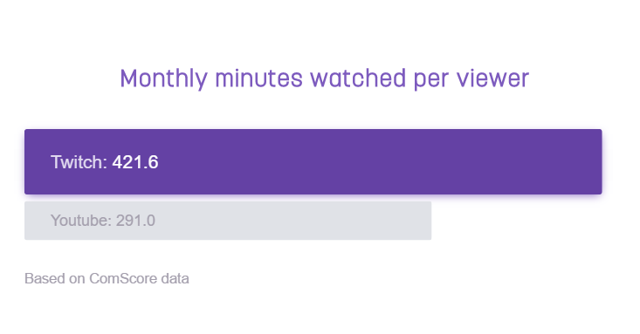 Conclusion:
Twitch is smack dab in the center of all the theming trends right now; growing mobile use, strong user engagement, messaging, and live video. Twitch also hosts an impressive e-sports division. 27 million unique visitors livestreamed the ESL Cologne 2015 CS:GO Tournament from Twitch's platform. Twitch launched its first conference in 2015, named TwitchCon. Twenty thousand people from across the globe descended upon San Francisco to witness the first assembly of Twitch fans. It's impressive that a site so large and global can have such a dedicated fan base so as to attract 20,000 people to a first-year conference.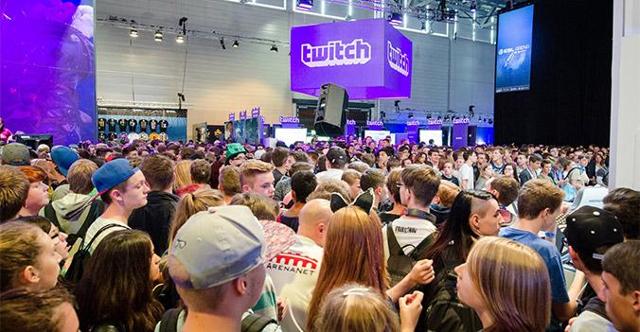 Twitch's efforts have been paying off, as revenue from advertisements and subscriptions continue to grow. In 2015, it snagged 43% of the video game content industry, a prize equal to $1.6 billion. From its user growth, gaming industry growth, growth in digital advertising, and a whole host of other factors, Twitch's revenue runway sees very few limits. While Amazon does not break out Twitch's specific financial impact, it is believed to have been profitable since 2013. As Twitch learns to expand its margins and grow its revenues, Bezos' $1 billion purchase will look like more and more of a bargain. For investors searching to justify Amazon's sky-high P/E ratio, this is certainly one of them.
I encourage you to follow me as I cover a wide variety of current topics, with a special interest in the technology and entertainment industries.
Disclosure: I am/we are long FB, ATVI.
I wrote this article myself, and it expresses my own opinions. I am not receiving compensation for it (other than from Seeking Alpha). I have no business relationship with any company whose stock is mentioned in this article.