There is a phenomenon in the investment word that majority of analysts and investors focus only on well-established companies and keep themselves away from small cap companies due to their business riskiness and illiquidity. However, if these companies are thoroughly researched to make an informed investment decision, they can generate above average risk-adjusted returns for investors. Small cap companies can enjoy higher growth rates many years in the future as compared to large cap companies. Additionally, there could be large market inefficiencies due to less coverage of these markets, serious investors can earn alpha by investing in these companies. One of such type of companies is the Takung Art Company Limited (NYSEMKT:TKAT) which I am going to discuss in this article.
Takung Art Company, founded in 2012, is a Hong Kong based business concern that has a very unique business model in the word. The company facilitates, through its unique fine-art trading platform, the art collectors and the investors to trade and gain ownership interests in Asian fine arts. The artworks that are listed and trade on company's trading platform include paintings, crafts, calligraphy, jewelry, ceramics, sculptures, metal ware, jade, antique furniture, and other precious gems. There are 69 artworks listed on the trading platform, with combined worth of $22.8 million, as of 31 March 2016. The company's online artwork trading platform has created a new investment avenue as an alternative to traditional securities trading opportunities available to investors. It facilitates small investors to invest in precious artworks by converting artworks into pieces called units. Recent stock market turmoil greatly shifted investor's attention to this newly introduced unique artwork trading investment opportunity. In July 2015, Takung Shanghai started its operations to facilitate mainland China's traders. To further expand its operations, the company incorporated another wholly-owned subsidiary, Tianjin Takung, on 27 January 2016. This company provides technical and marketing services to Takung Art Company Limited.
Back in 2009, the company commenced its operations as a biotech (Cardigant Medical), to treat vascular disease. It becomes Cardigant Neurovascular after a restructuring in 2014. Later on, as a result of the restructuring, the company incorporated in the name of Takung Art Company for artwork trading business and quit the biotech business.
Takung Art Company's online artwork trading platform found at eng.takungae.com, presents art collectors the opportunity to get their precious artworks listed and traded by the artwork-interested investors. This trading platform makes expensive artwork investment more accessible to investors with less financial resources. Against this unique and wonderful artwork trading opportunity, the company earns revenue in different forms, like listing fees, management fees, trading commissions, and fees from authorized agents. The company charge artwork's owners a 22.5% to 47% of the offering price of the artwork, along with the 20% of the offering price as a refundable deposit. Trading commission is 0.2% of transaction value on both purchase and sale of artwork units. The company charge management fees about $0.0013 per 100 units of artwork per day, and it includes storage, insurance, and artwork transportation costs. Authorized agents pay substantial annual fees against the listing of artworks on the online trading platform. The company recently made a $1.3 million fees per annum contract with the agent and already have received $160,000 payments from the agent.
Strong Fundamentals
Now I want to discuss the company through numbers by analyzing the historical financial performance and some key ratios. Revenue is the most important element of any business and is the back-bone of any successful entity. Takung Art Company is enjoying a remarkable growth rate in revenues. The reported revenues for the fiscal year 2015 are just over $11 million as compared to $4.7 million in the last year, depicting an outstanding growth rate of 140 percent. The major drivers of this huge growth rate are the year-after-year increase of $3 million in listing fee and $3.3 million increase in trading fee revenues. The increase in listing fee is the result of the increase in number of artworks listed on the company's trading platform. The main reason of the increase in trading commission is the commencement of operations by Takung Shanghai in August 2015. Takung Shanghai greatly improved the performance of the company by enabling the traders of mainland China to use the company's trading platform.
Takung Art Company reported net income of $5.4 million, EPS of $0.49, for the fiscal year 2015, showing a solid 297 percent growth rate over the prior year's net income of $1.4 million, EPS of $0.15. The outstanding growth rate in profitability is mainly the outcome of increase in the revenues as mentioned above. Some of the profitability is offset by the surge of $1.2 million in operating expenses as compared to the previous reporting year.
In recent terms, the total transaction value traded on the company's trading platform is $319 million in March 2016. This depicts a 463% increase from the same period last year. In first three months of the fiscal year 2016, the company generated a total of $813 million transaction value, which is a healthy 311% increase in traded transaction value from the same period last year.
The following figures (figure-1 & figure-2) show the financial performance of the Takung Art Company Limited.
Figure-1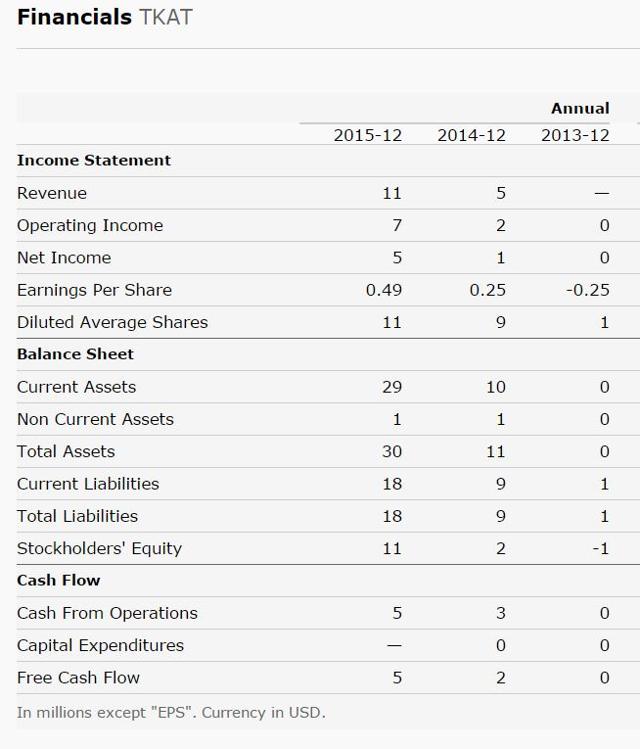 Source: Morningstar.com
Figure-2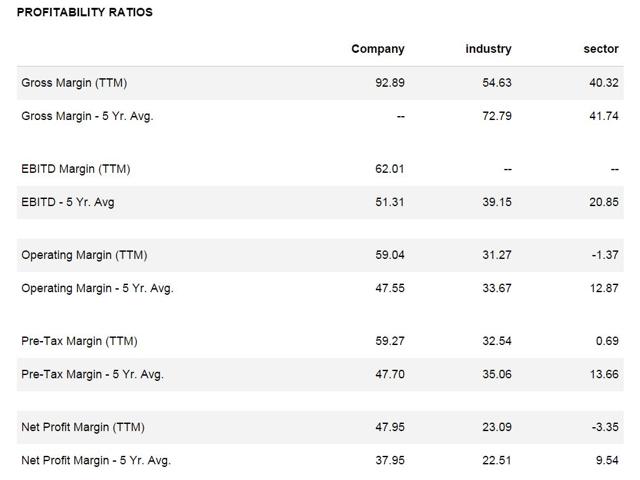 Source: Reuters.com
Valuations
The Takung Art Company looks very attractive and cheap based on its valuation ratios. Figure-3 below shows some relative valuation measures. The company's price-to-earnings ratios are much lower than the industry/sector ratios. P/E ratio tells how much you have to pay to earn $1 in earnings of the company. Lower this ratio is, the better is the investment opportunity. Similarly, price-to-sales ratio, price-to-book value ratio, and price-to-cash flow ratio, all are much lower, indicating that the company is much cheaper to invest. Additionally, enterprise value-to-revenue ratio is 3.92, and enterprise value-to-EBITDA ratio is 6.32, which means the company is in the healthy position.
Figure-3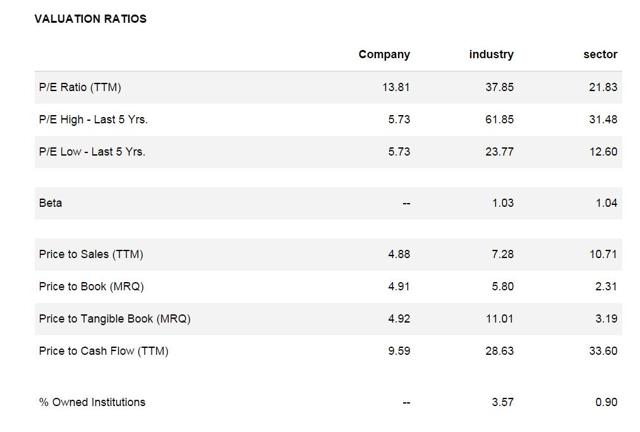 Source: Reuters.com
The following table (figure-4) presents some of the important measures to judge the company's management effectiveness. If we look at the return on assets ratio, return on investment ratio, and the return on equity ratio, all are amazing. These valuation measures indicate that the management of the Takung Art Company is handling business matters effectively and efficiently, adding value to company's shareholders.
Figure-4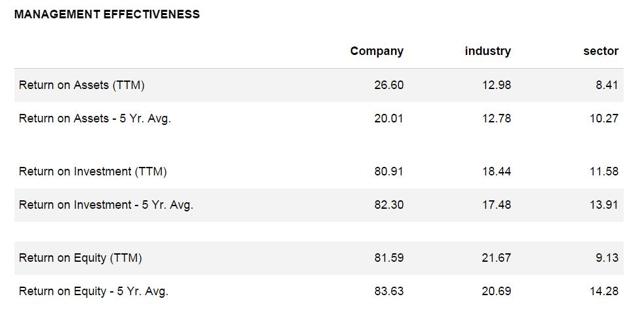 Source: Reuters.com
Final Thoughts
Takung Art Company's stock performance has been outstanding since last six months. Look at the following graph (figure-5) to have an idea how the stock of the company has performed in last six months. Despite the China's stock market turmoil, Takung Art Company's stock appreciated almost more than 100% in the aforementioned period.
Figure-5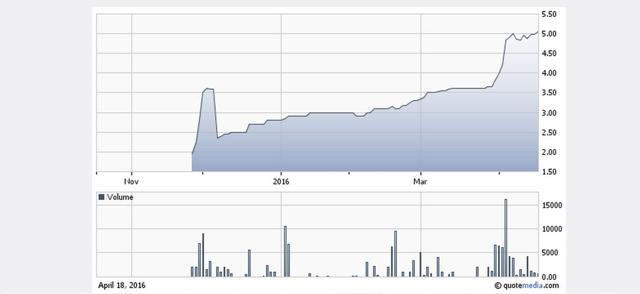 Source: Takung Art Company
There are some risks involved given the current economic atmosphere and the company that has very low market capitalization. Small cap companies face a number of risks that may range from trading illiquidity to limited capital availability for business expansion to lesser publicly available information and operating history, among others. Additionally, China's economic growth is slowing down since the start of the calendar year 2014, a decline from 7.9 percent GDP growth rate to current 6.7 percent. This slowing down economic growth posted a number of threats to the China's economy and the country's stock market performed badly in recent periods. However, this stock market turmoil offered Takung Art Company a great opportunity to attract investor's attention towards a very unique artwork's units trading platform. During this market sell-offs, the investor's found an alternative investment avenue to earn healthy returns on their invested capital. All of the above views and Takung Art Company's business analysis put the company in a very good position to grow and add value for its shareholders.
Disclosure: I/we have no positions in any stocks mentioned, and no plans to initiate any positions within the next 72 hours.
I wrote this article myself, and it expresses my own opinions. I am not receiving compensation for it (other than from Seeking Alpha). I have no business relationship with any company whose stock is mentioned in this article.
Editor's Note: This article covers one or more stocks trading at less than $1 per share and/or with less than a $100 million market cap. Please be aware of the risks associated with these stocks.