Introduction
J.M. Smucker (NYSE:SJM) reported third quarter results on June 9, 2016.
Overall sales were boosted by the acquisition of Big Heart Pet Brands, while core comparable organic sales were up 5% not counting the acquisition.
SJM has grown sales at a 6.43% annualized clip over the past 8 years so this sales growth is slightly below the long term average but right at the mark that management has been forecasting going back to 2014.
Comparably, this is impressive when taking a larger view around the sector as some companies like Nestle, the king of food, is struggling to grow sales more than 4% the past few years despite targeting 5-6% as their "model".
The company earned $5.76 for the full year in net income. This is up strongly from the 2009 numbers of $4.15 but in line with 2013 EPS of $5.42 and 2015 EPS without acquisition costs of $5.40.
Forecast
The interesting part is that SJM actually predicted a sales decline of 1% for the 2017 fiscal year. They said sales without the canned milk divestiture would be positive 1%, still not great. The stock jumped 7% at one during active trading after this release came out which surprised me given the relatively timid outlook.
I think it is interesting how some companies can report great quarters with bad outlooks and get crushed while some like SJM can do the same thing with the opposite reaction in price. Just another quirk that makes investing challenging and intriguing I suppose.
It was difficult to find a forward EPS guidance as all the company supplied was a Non-GAAP Adjusted EPS which is $2.00 per share higher than the real GAAP EPS, as crazy as that may sound.

That number gets rid of amortization of intangible assets which is fairly preposterous to me considering that goodwill and, more importantly, other intangible assets make up 78% of the company's assets. It is not like those brands do not have value--in fact they are a major reason for the company's success and sales.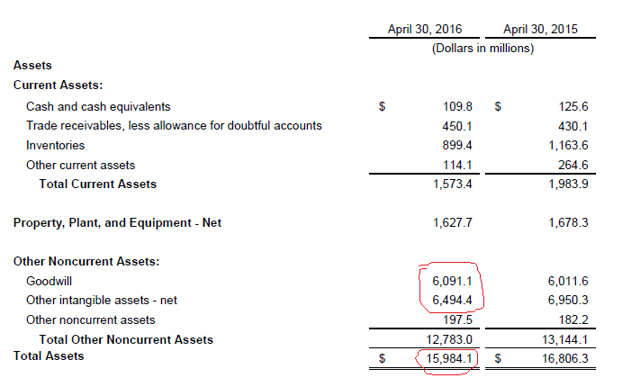 Considering continued cost cuts, lack of sales growth, and the dividend payout ratio of around 48-50%, my own forecast for 2017 fiscal GAAP EPS is somewhere in the range of $5.60 to $5.90.
The exact number is not important as this estimated range will be sufficient enough to value the company and compare it to competitors.
Another positive is that the Big Heart Pet Acquisition appears to not have leveraged the company much more than it already was. In fact, the company's debt to shareholder equity ratio improved year over year from 1.22 to 1.10 (liabilities/se).
Valuation
After today's large jump, the stock trades at 23.8 times forward earnings if we use the high end of my range. Fidelity shows me that analysts expectations are for $6.38 next year but that seems way to high to me.
The stock yields 2.20%. The stock is considered a consumer staple and it has therefore run up along with the rest of the group, regardless of individual company growth profiles.
Practically the only consumer staples that aren't above 20 times earnings are the agricultural middlemen like Archers Daniels Midland (NYSE:ADM) and Bunge Co. (NYSE:BG) which probably shouldn't be classified as consumer staples given their cyclical nature.
If I have learned anything in my short investing career it is that price matters. Examples of this abound whether it was the lackluster performance of the nifty 50 in the 60-70s after their prices ran up or that Wal-Mart (NYSE:WMT) at 50 times earnings in 1999-2000 does not make for a good long term investment.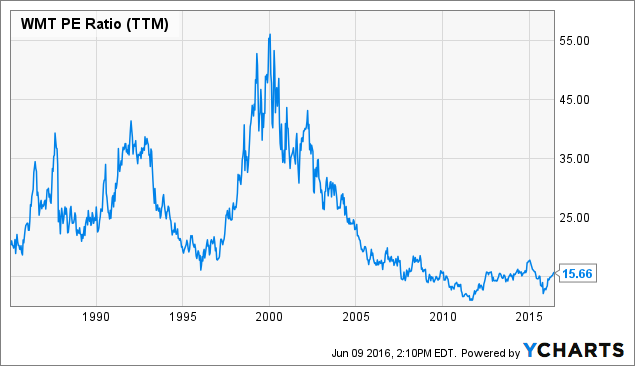 WMT PE Ratio (TTM) data by YCharts
I like the company, its products, and the quarter was indeed impressive. The Big Heart Pet Brands acquisition appears to be going well and the debt load is under control.
However, I just feel there are better opportunities relative to SJM, especially with the seemingly unwarranted run up 7-8% today.
There are many examples but one I will point out is Hershey(NYSE:HSY). The company trades at 21 times forward earnings and projects much faster sales growth at 2.5% versus 1% for SJM.
Both companies benefit from a weaker dollar to help their international sales.
In addition the company blows SJM away in terms a return on equity, a important measure of potential shareholder returns over the long haul.

HSY has average 64.15% ROE over the past eight years while SJM has averaged 8.61%. That is a meaningful and staggering difference.
Conclusion
JM Smucker had a solid quarter and its recent acquisition appears to be integrated and performing well. Nevertheless, the company is more expensive that many in its cohort despite weaker metrics and on an absolute basis 23 times earnings with 1% sales growth is way, way too high a price to pay for a company regardless of how low interest rates are or will remain.
The odds are simply not in your favor to make a decent risk weighted return with such a starting price unless an avalanche of 7-8% sales growth comes out of nowhere in the next few years. For a maker of jams, jellies, and pet food, I find that unlikely.
Disclosure: I/we have no positions in any stocks mentioned, and no plans to initiate any positions within the next 72 hours.
I wrote this article myself, and it expresses my own opinions. I am not receiving compensation for it (other than from Seeking Alpha). I have no business relationship with any company whose stock is mentioned in this article.