GlycoMimetics (NASDAQ:GLYC) is a development-stage biotechnology pharmaceuticals company generating therapy candidates with a novel platform. Its lead candidate, Rivipansel for VOC (vaso-occlusive crisis) is partnered with Pfizer for a Phase 3 trial.
GlycoMimetics stock closed at $8.03 on June 6, giving it a market capitalization of about $160 million. As a micro-cap stock it carries not only the usual risks that its clinical trials might result in failure, but also the volatility that comes from being thinly traded. I own the stock and write about it because I believe the potential upside rewards far outweigh the downside risks.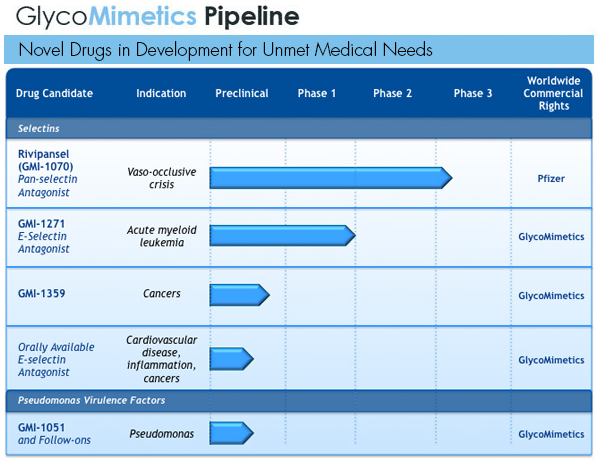 Recently GLYC has backed off its 52-week high of $9.25 reached on June 6. However, positive developments during the last year have driven it up 126% from its 52-week low of $3.70 on February 11, 2016.
New IND will be third clinical candidate
"GlycoMimetics expects to file an IND with the FDA for a third drug candidate, GMI-1359, a combined CXCR4 and E-selectin antagonist, in the third quarter of 2016."
Some preclinical data released by GlycoMimetics showed GMI-1359 (plus chemo) cleared blast (cancer) cells from bone marrow better than chemotherapy alone.
The exact initial indication for GMI-1359 has not been announced yet, but earlier today it was referred to as "hematological malignancies." Any Phase 1 trial would be looking for safety and tolerability in human subjects, plus hopefully some signal about effectiveness. A recent (May 25, 2016) press release notes that "GMI-1359 is a potent dual antagonist of both E-selectin and CXCR4, demonstrating anti-tumor activity in preclinical models of pancreatic cancer, FLT-3+ acute myeloid leukemia (AML), and prostate cancer."
Short run, the initiation of this trial would be proof that GlycoMimetics has the capability to generate multiple therapies with its platform. The value of GMI-1359 will depend on the size of its addressable market, presuming it passes all the hurdles necessary to get FDA commercial approval.
GMI-1271 for AML looks promising
GlycoMimetics has only one other drug besides Rivipansel that has progressed to a clinical trial, GMI-1271. This again is a selectin antagonist, but in this case targets only the E-selectin variety. The Phase 1/2 trial testing GMI-1271 (in combination with standard chemotherapy) against AML (acute myeloid leukemia) started in May 2015. Phase 1 results were positive so the first patient was dosed in the Phase 2 part in early June. There will be 25 patients in this Phase 2 set. A second set of 25 newly diagnosed patients is also planned.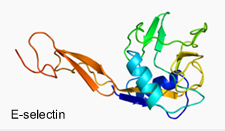 The Phase 1 results showed the therapy was well-tolerated and had a high remission rate. 13 very sick patients with RR (relapsed/refractory) AML were treated at two doses (plus MEC chemotherapy). 30 day mortality was 0%. 54% of subjects had a complete response, 15% had intermediate responses, and 31% had no response to the treatment. Those responses were "higher than expected given the high risk cytogenetic features in this group." On June 10, 2016 a fuller set of data on 19 patients will be presented.
Preclinical results indicated that 1271 could have a beneficial side effect: it is "also associated with a reduction of chemotherapy-induced neutropenia and chemotherapy-induced mucositis."
A successful AML therapy could be a major accomplishment and could lead to blockbuster revenues. No new AML therapies have been approved in decades. However, because AML constitutes a high unmet medical need and has very high mortality, a number of other companies besides GlycoMimetics have therapies in development. Since AML kills most patients quickly, the time to see results in trials is relatively quick. Despite that, it is likely to take years to get 1271 to FDA approval, and the small size of the Phase 1 trial should be a caution against extrapolating too much.
In addition, preclinical data was published in May showing GMI-1271 could be effective for inhibiting breast cancer metastasis. It works by blocking the successful migration of breast cancer cells into the bone marrow. Finally, GMI-1271 is being considered for multiple myeloma based on the work of an independent, outside researcher in Ireland.
Rivipansel for VOC has a high likelihood of success
GlycoMimetics most advanced therapy is currently in a Phase 3 trial being conducted by partner Pfizer.
Rivipansel has a unique mechanism of action. It is a synthetic carbohydrate that interacts with proteins. Specifically, it inhibits all three types of selectin, which are glycoproteins (combinations of carbohydrates and proteins, etymology: glykeros, Classical Greek for sweet) that allow for cell adhesion, but that can be part of inflammatory processes. It should be noted that there are other methods of inhibiting selectins, but the Rivipansel data is quite good.
About 100,000 people have sickle cell anemia in the U.S. resulting in VOC. VOC results in about 80,000 hospitalizations per year in the U.S. The Phase 2 trial enrolled 76 patients and showed efficacy in reduction of time to reach crisis resolution, hospital stay time, and need for pain management. Data from the Phase 2 trial was presented at the ASH meeting in December of 2013. Rivipansel has been granted Orphan Drug status in the U.S. and Europe, and Fast Track status in the U.S. There is also an SPA with the FDA, giving a clear path to approval if the Phase 3 data is good. The trial is enrolling 250 patients.
GlycoMimetics received a $20 million milestone payment from Pfizer following the start of the Phase 3 trial in June 2015. Pfizer is now responsible for the clinical development of Rivipansel, and its worldwide commercialization if it is approved by regulatory agencies. In addition to milestone payments totaling up to $340 million (some already received), GlycoMimetics is eligible for royalties on sales. The royalty rate has not been disclosed except that it is tiered and starts in the low teens.
Lack of coverage by analysts leaves room to grow
I believe the data so far indicates that GlycoMimetics will eventually generate substantial revenue and profits.
Because it is a micro-cap and did not start out with an IPO promoted by the largest brokerage houses, it has not received extensive analyst coverage so far. According to NASDAQ, only Jefferies and Stifel Nicolaus cover the stock, both rating it a Strong Buy. As (or rather if) it grows its market capitalization, trading volume should increase. As more analysts cover GLYC, there will be more brokers and managers recommending it to clients. It is the usual path for a micro biotech achieving full valuation potential.
Yet risk abounds in the field, even if an FDA approval is achieved. Success for Rivipansel in Phase 2 indicates it is likely to have a successful Phase 3, but there is no guarantee.
All the usual caveats about micro-cap biotechnology stocks apply. Volatility is a given.
Aside from volatility, the underlying price signal will depend on data. The next few data points are likely to be:
1. Topline Phase 3 data for Rivipansel for VOC.
2. Topline Phase 2 data for 1271 for AML in mid-2017, preceded by more Phase 1 readouts
3. Topline Phase 1 data for 1359 for hematological malignancies
And of course, there is always the possibility that a larger pharmaceutical company will attempt to acquire GlycoMimetics, since is currently quite affordable and has desirable assets.
Finally, I note that GlycoMimetics is not as well-capitalized as I would like. At the end of Q1 2016 the cash balance was just $38.8 million. Cash burn in the quarter was about $8 million. No revenue is expected this year unless there is a milestone payment from Pfizer. Given the potential value of 1271, it would not surprise me if more capital were raised to prepare for increasing development expense. Another course would be to partner 1271.
Disclosure: I am/we are long GLYC.
I wrote this article myself, and it expresses my own opinions. I am not receiving compensation for it (other than from Seeking Alpha). I have no business relationship with any company whose stock is mentioned in this article.