Caterpillar (NYSE:CAT) saw a pickup in price along with the broader market over the course of the past few months and I feel much of these gains aren't warranted as the catalysts are temporary. Stimulus out of China has boosted infrastructure spending, aiding CAT, and a rally in commodity prices allowed for an aggravated pickup. Today, however, CAT looks much less desirable and with random MBSs on their balance sheet, I'm not so sure this company knows what it is doing.

Source: Caterpillar
Strong Equity Performance
CAT has really seen a strong trend since late January and has picked itself up out of the sub-$58 lows to now the $78 level. The company, according to the RSI, is nearing overbought with a reading of 69, so a short-term retracement isn't out of the question, irrespective of the fundamental situation.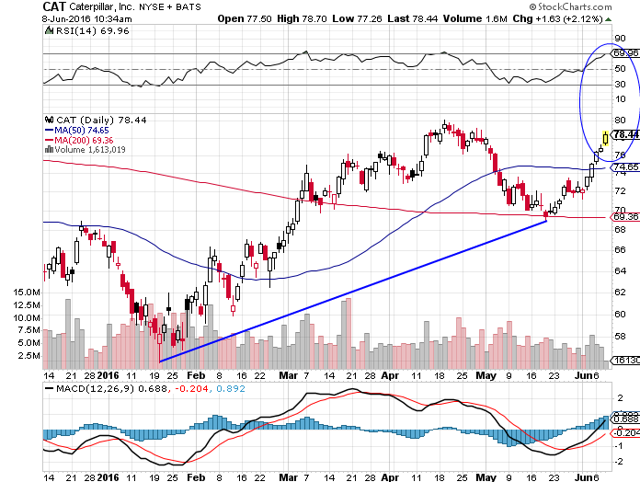 Source: StockCharts
To think in a more encompassing mindset, I am quickly reminded of this stock's LT risk/reward scenario. The company is still considerably off its all-time highs, but now that the last few months has sent CAT to the $78/level, the situation changes. The company's all-time high was reached in mid-2014, just under $105/share. That's nearly 33.86% upside from the current level, versus a 28.1% dip to its late January low. Is a +5% differential in risk/reward really enough for individuals to start pulling the buy trigger?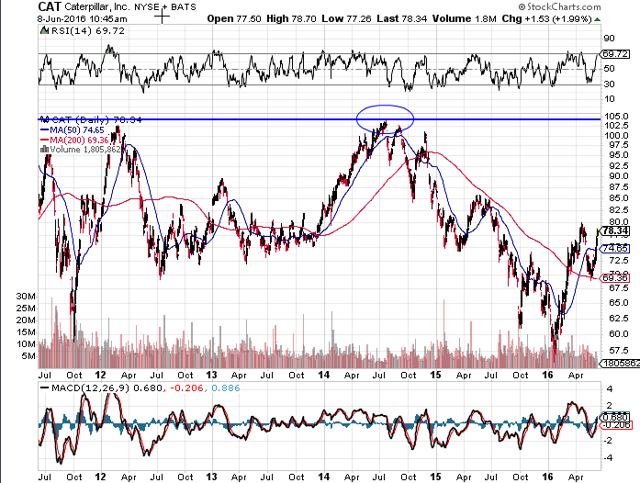 Source: StockCharts
The market rally over the last three months showed a tightening of these scenarios across all sorts of equities, CAT included. However, in terms of allocating a position to CAT, there are far more equities in the basic materials/industrials space that don't have a late sales recovery timeline and are benefiting from significant catalysts in the NTM. For example, one of the last domestic producers of aluminum is Alcoa (NYSE:AA) and that company is looking at favorable fundamentals as it relates to possible tariffs against China and a shareholder split later this year, which is critical to unlocking value.
Yet, what investors may rebuttal is that this is a blue-chip DRIP stock and that ignoring commodity cycles is essential towards generating an outperforming portfolio. It has raised its dividend for nearly two decades in a row and outpaces the yield of primary competitor Deere (NYSE:DE), additionally. If you're going to DRIP, why not take on another equal risk/reward scenario in BP (NYSE:BP) with an 7.27% yield, diversify out of a China-plagued equity like CAT and go towards a high-quality REIT like Annaly Capital Management (NYSE:NLY) with a 11.12% yield.
What To Expect
In the company's recent presentation at a Wells Fargo conference, the company stated that there is "not much change to our expectations for 2016." This is interesting considering that the Chinese stimulus for infrastructure, which has allowed for this stock to experience strong capital gains over the last few months, isn't changing the company's outlook for declining sales YOY. If management is directly telling investors that nothing is going to change, how can the stock rally past 2015 levels and provide quality capital gains?
That sluggish growth is depicted below, with the top end of the sales range being cut by $2 billion.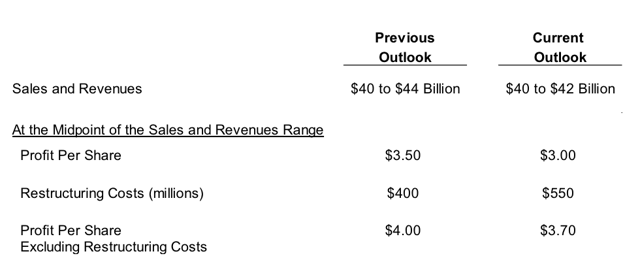 Source: Investor Relations
Yet, provided that CAT maintains its current cash balance and cash flow levels through the less than ideal operating environment, a 3.99% yield is well-above market average and can provide more risk-averse shareholders with a sizable amount of current income.
I'd advise investors not to expect the same pacing in trend as the uptrend experienced over the last few months. That rally was fueled by large amounts of short covering and speculation, with minimal amounts of fundamental data showing support. Speaking of pacing, don't expect CAT to repeat last year's 10% dividend hike while this restructuring is present. The payout ratio, currently, is over 140% - something that is unsustainable and should come as a red flag to dividend growth investors. This is yet another reason why CAT's yield is falling behind.
Caterpillar Financial?
I'm always trying to find new information about companies, whether it be in the footnotes of a 10-Q or in technical indicators. Every company exposed to commodities should have some sort of hedging practice and thankfully, CAT does. However, they also have mortgage-backed securities (MBS) on their books. What is an equipment and machinery company like CAT doing with MBS?
Here, CAT has a cost basis of $283 million in U.S. government agency MBS, for which the chance of a credit event is next to nothing. Yet, the company also has a cost basis of $11 million for RMBS and $58 million for CMBS, for which investors do not know the credit quality.
For ABS, the company has $126 million in cost basis of securities and a whopping $707 million in corporate bonds. For corporate bonds and equity securities, CAT does not intend to sell these before they recover their cost basis. Losses have been due to changes in interest rates and sector challenges, respectively.
Nowhere in the 10-Q does it explain why the company has these securities on the books. Fortunately for CAT, none of these securities are posting a negative P/L yet. However, considering the market is at all time highs, riskier loans are reentering the market, and corporate profits have declined for three straight quarters, is it really a good idea for this company to hold these kinds of securities?
At a fair value of $1.67 billion, these securities make up about 2.1% of total assets. With total assets at their lowest in level in five years, any losses incurred that reduce this fair value will lead to value reduction. It's an unnecessary practice for CAT to have mortgage-backed securities, as well as the extent to which it has corporate bonds. That's an unwarranted amount of risk in the current market.
The funny thing is that CAT has a proper hedge book, irrespective of the MBS and other debt securities. The company has unique OTC machinery, energy and transportation derivatives, but also has FX and interest rate derivatives which make complete sense given the company's global diversification and variable debt. In fact, their hedge book shows minimal outstanding liabilities, if settlement had to be incurred immediately. This can be seen below in the $47 million liability figure.

Source: 10-Q
Conclusion
When doing due diligence, investors should not overlook the small details. While valuation, the dividend, and the current risk/reward scenario are all central focus items, the company's hedge book is rarely, if ever discussed. If these securities start going in the red, CAT is going to run into cash flow problems and bottom line misses come earnings season.
Disclosure: I am/we are long AA, NLY.
I wrote this article myself, and it expresses my own opinions. I am not receiving compensation for it (other than from Seeking Alpha). I have no business relationship with any company whose stock is mentioned in this article.