Company Description
Dr Pepper Snapple Group, Inc. operates as a brand owner, manufacturer, and distributor of non-alcoholic beverages in the United States, Mexico, and Canada. The company operates through three segments: Beverage Concentrates, Packaged Beverages, and Latin America Beverages. It offers flavored carbonated soft drinks (CSDs) and non-carbonated beverages (NASDAQ:NCBS), including ready-to-drink teas, juices, juice drinks, water, and mixers, as well as manufactures and sells Mott's apple sauces. [via Yahoo Finance]
Dr Pepper Snapple Group gives us many reasons to want to buy it, including:
Found in a screen that has over a 66% success rate
Consistent dividend yield and payout ratio of the past 7 years.
Very high piotroski score
Basic Value Screen
Over time I have begun to focus more and more on value investing strategies. However, I wanted to build an extremely basic value strategy that returns more than the market at a lower or same standard deviation and has a fairly high win/loss.
1. I only want to invest in companies with a market cap over $10B.
2. Each company needs to be offering a dividend yield of at least 1.5%.
3. They must be in the top 90% of the market as ranked by their trailing-12-month piotroski score - an important metric in the world of value investing.
4. I avoid companies in the following areas:
Oil and Gas - Drilling
Oil and Gas - Midstream i.e Shipping
REITs
Healthcare
5. I also avoid companies whose shares are classified as depositary receipts.
This screen returns many industry leaders and companies that have established themselves as global names. These companies have been around for a decent period of time and have experienced significant growth since going public while still exhibiting further upside potential.

From this chart of the backtest you can see that we are successfully making more than the market - averaging 1.02% on a monthly basis while the market only averages .73% monthly. We are also able to do this at a lower overall standard deviation - our's resting at 4.31% compared to the 4.57% of the S&P.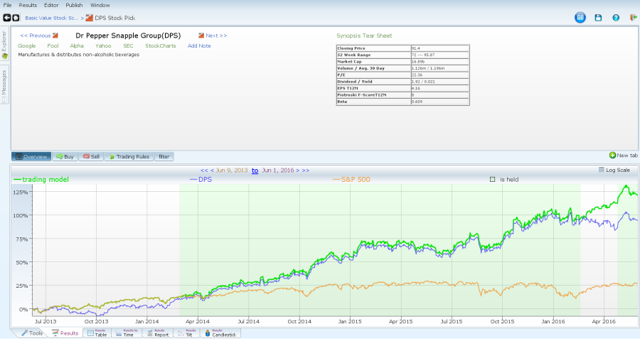 Here you have a shot of the stock pick page for Dr Pepper Snapple Group (NYSE:DPS). Using the strategy outlined above, if you only traded Dr Pepper Snapple Group when it passed that screen you would have averaged 30% annually over the past three years. Now Dr Pepper Snapple group has been consistently increasing in price since they went public in 2008; however, they didn't begin passing this specific screening criteria until 2014.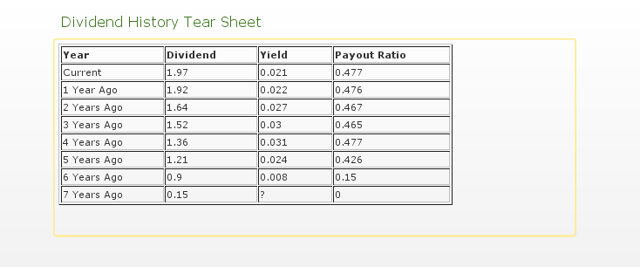 Dr Pepper Snapple group has been paying dividends over the past 7 years, and in that time they have increased dividends as well as the payout ratio, stabilizing the payout ratio at the five-year mark.
Green Flags
High Piotroski Score: A piotroski score is a score developed by a University of Chicago professor that analyzes nine different criteria based on a company's financials and returns a score that reflects a company's value. Dr Pepper Snapple Group scores 8 out of 9. How does a score this high affect the returns of a strategy?

Low Positive Beta: Beta identifies how correlated that company is to the overall market, and as a result how volatile that company is. If a company has a beta of 1 it is almost exactly correlated to the overall market. If beta is negative, it has a negative correlation to the market i.e if the market goes up the stock price typically goes down. Dr Pepper Snapple Group's beta is lower than one but higher than 0, does a beta in this range offer positive returns?

2.1% Dividend with Cash to Cover it: When looking at value companies, dividends are incredibly important as you are able to collect extra revenue on your investments on top of the growth of the underlying stock. However, some companies will give dividends that they aren't able to actually pay. Instead they are forced to borrow money in order to pay out dividends and we all know you can't borrow money forever. Thankfully, this isn't the case for Dr Pepper Snapple group. They offer a dividend yield of 2.1% and are able to pay for. The way to figure out if a company can actually afford a certain yield level divide the EPS by the latest close and see if that is higher than the current yield. How do companies that can actually pay for their dividend and have a dividend as high as Dr Pepper Snapple Group do?

Summary
All of the signs I'm seeing are pointing towards a buy rating from us here at Equities Lab. Dr Pepper Snapple Group is a solid company with great financials. In my opinion, the growth potential here isn't massive - maybe a year-end price target of $97.
Disclosure: I/we have no positions in any stocks mentioned, and no plans to initiate any positions within the next 72 hours.
I wrote this article myself, and it expresses my own opinions. I am not receiving compensation for it (other than from Seeking Alpha). I have no business relationship with any company whose stock is mentioned in this article.