Shares of Smucker (NYSE:SJM) climbed 7.6% after the company reported fourth quarter results that beat analyst expectations. Last year's acquisition of Big Heart Pet Brands was mainly responsible for the 25% y/y sales increase, but strong demand for Dunkin' Donuts (NASDAQ:DNKN)-branded coffee pods helped fuel organic growth. Excluding acquisitions and FX, net sales increased 5%. At the same time, management's cost cutting initiatives appear to be paying off as gross and operating margins both increased 590 bps. With economic growth in the US slowing and the possibility of a cyclical downturn looming, investors may be considering a position in the defensive and stable Smucker. But shares are trading at 52-week highs and we don't recommend investing unless the stock falls closer to $100, which would imply a forward P/E of 15 based on consensus EPS estimates.
Figure 1 shows SJM's segment revenues and operating margins as of Q3 2016. Following the acquisition of Big Heart Pet Brands, the firm's US operations are more-or-less evenly split between coffee, consumer foods, and pet foods. Management purchased Big Heart to get exposure to the faster-growing pet foods business, and believes Big Heart's portfolio of leading brands such as Milk-Bone and Meow Mix will give SJM the same kind of advantage that it enjoys in its core, more profitable, consumer and coffee segments. SJM's portfolio of widely-recognized brands gives the firm pricing power in a wide range of consumer goods with limited product differentiation. The company's Folgers, Dukin' Donuts, Jif, Smucker, Crisco, and now Milk-Bone and Meow Mix all command leading positions in their respective categories. SJM's large scale and relationships with retailers raise barriers to entry. This "economic goodwill" allows the company to earn higher margins and returns on capital than most of its peers.
Figure 1: Segment Revenues and Profitability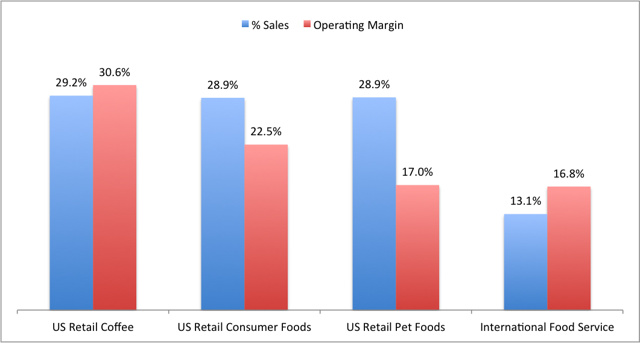 The decision to expand into pet foods creates uncertainty. It takes the firm away from its legacy businesses, but many see it as a necessary step for offsetting "category erosion" in some of its consumer products, that are going out-of-trend (Morningstar Analyst Report). Many of the same trends impacting the consumer foods sector are shaping the pet foods industry. The focus on active lifestyles has shifted demand towards more natural and healthy foods (and away from jams and baking products), and pet-owners are increasingly turning to similar products to feed their pets. Pricing power in pet foods may be even greater than in SJM's legacy categories, as customers show a greater willingness to splurge on premium brands, and are less likely to switch to alternative products when they find something their pet likes. IBISWorld projects that an increase in pet ownership and strong demand for premium products will drive average annualized revenue growth of 3.1% over the next five years. But while the long-term demand outlook in pet foods is promising, segment revenues in Q3 were negative y/y. This line is exposed to income fluctuations and SJM will have to lower prices if the US enters a downturn and consumer spending growth stalls. Furthermore, SJM will have to capture considerable cost synergies to justify the premium it paid for Big Heart.
The margin of safety is too narrow to justify an investment in SJM at current levels. While the company has its strengths, the forward P/E of ~ 20 is too expensive for a firm with defensive growth prospects. The US economy is due for a correction, and SJM's premium products will struggle if we enter a downturn. Sales in SJM's consumer foods segment declined 2% in the latest quarter, an indication that the company is having trouble maintaining volumes in some of its legacy brands as customer preferences change. Smucker will need to rely on new products to offset these headwinds, which brings new risks relating to bad investments. The Big Heart acquisition is promising, but SJM will need to capture significant synergies to justify the expensive purchase.
Disclosure: I/we have no positions in any stocks mentioned, and no plans to initiate any positions within the next 72 hours.
I wrote this article myself, and it expresses my own opinions. I am not receiving compensation for it (other than from Seeking Alpha). I have no business relationship with any company whose stock is mentioned in this article.