The Corporate Sector Purchase program (CSPP)
The ECB started yesterday (June 8th) its corporate sector purchase program (CSPP).
Simply put, it consists in buying, in both primary and secondary markets, investment grade debt (by at least 1 rating agency), denominated in euros, maturing within 6 months and 30 years, from non-credit companies and from issuers incorporated in the euro-area.
The ECB can buy up to 70% of the bond outstanding amount and it is not obliged to sell the bonds in case of a rating downgrade below investment grade status.
Purchases will be published on a weekly and monthly basis.
Purchases vs Market Size
Bloomberg says there are 1.049 securities eligible for this program totaling €620 billion. CreditSights values the market at €628 billion, while Morgan Stanley estimates it is worth €675 billion.
In terms of purchase amounts, BNP Paribas says that at least €5 billion per month is needed for the program to be successful, Credit Sights says that purchases below €3 billion per month would disappoint investors while Commerzbank and Morgan Stanley don't expect the monthly purchases to surpass €5 billion.
The Public Sector Purchase program (PSPP)
To put this new program in perspective, the ECB has already purchased €800 billion worth of government bonds of the total €1.1 trillion announced in March 2015 as part of its Public Sector Purchase Program. The ECB balance sheet has increased 50% since then from €2 trillion to €3 trillion: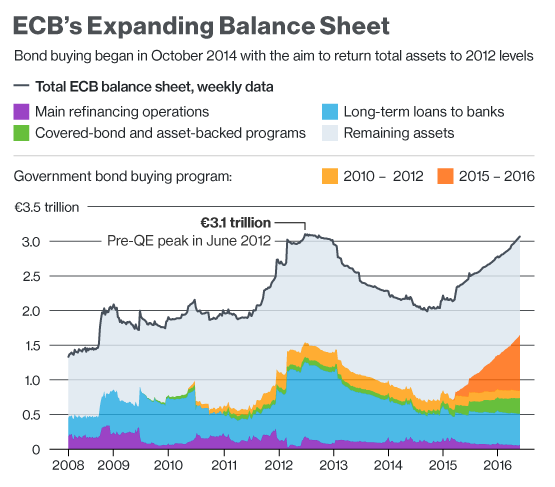 Source: Bloomberg
This previous program has completely distorted the government bond prices in Europe, with investors paying to lend money to Germany or pricing the Portuguese government bonds almost as risk-free.
The new corporate sector purchase program shouldn't have a meaningful impact on the ECB balance sheet (given the small size of this market). Still, it should disfigure this market even further.
In fact, investors that were pushed away from government bonds into investment grade corporate debt by the ECB are now going to be once again pushed away from those bonds into riskier assets (or cash in the lack of alternatives).
Bonds have rallied since the announcement
Since this decision was announced on March 10th, euro denominated investment grade corporate bond prices rallied pushing yields from 1.3% on average to below 1%, as investors anticipated part of this new program impact over the last 3 months: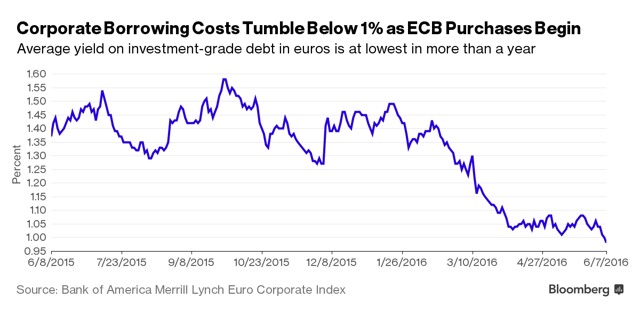 Source: Bloomberg
In fact, much of the power of the monetary policy is in the announcement and in expectations management.
The first day of purchases
Yesterday (June 8th or the first day of the program), the ECB bought bonds from Telecom Italia, Siemens, AB Inbev, Engie, Telefonica, Generali, RWE and Renault.
Despite the anticipation seen in the previous graph, the ECB first purchases yesterday were able to push prices even higher. Gains on these bond prices averaged 0,50% as you can see from the graphs below.
Here's the 1.75% Siemens 2021 bond issue: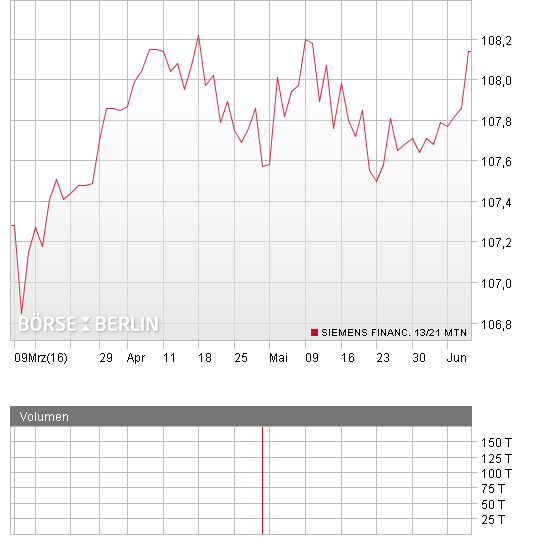 Source: Boerse Berlin
Here's the 4% AB Inbev 2021 bond issue: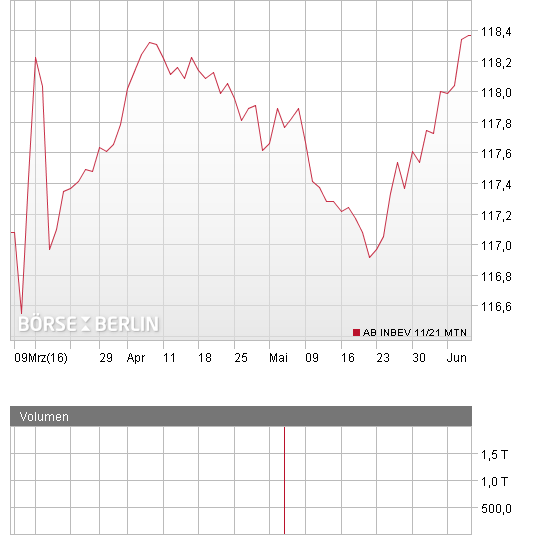 Source: Boerse Berlin
Here's the 2.375% GDF Suez 2026 bond issue: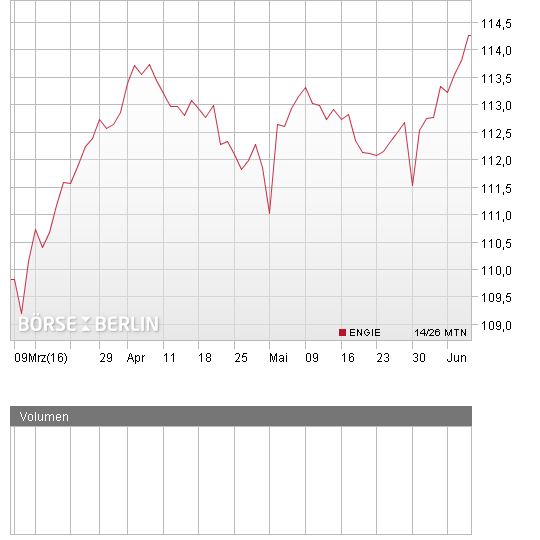 Source: Boerse Berlin
Here's the 1.46% Telefonica 2026 bond issue: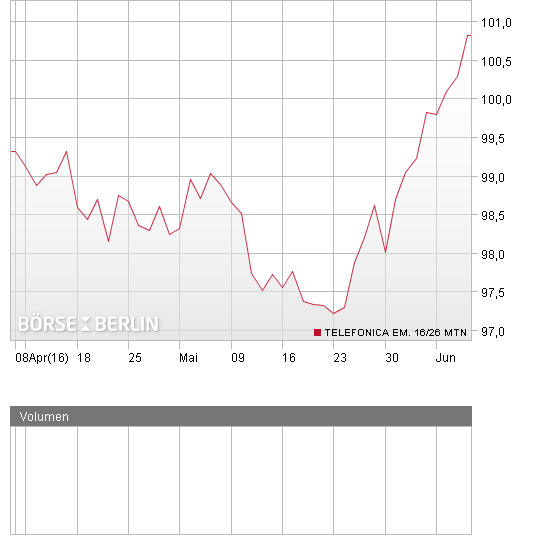 Source: Boerse Berlin
Today (second day of the program), the ECB is buying bonds from Continental, Orange and Volkswagen and the impact in these bonds prices is similar to yesterday's.
In Summary
As in the Public Sector Purchase program (PSPP), you don't want to fight the ECB on this new program. However, it's time to start unloading your euro-denominated investment grade corporate bonds (if you haven't done it yet) as there's no juice left after the anticipation rally seen over the past 3 months on these assets. If you have to keep any, prefer the ones with short duration and with still positive yields if possible.
On your way out, I suggest you place your sell orders slightly above current prices and "get out in style" by selling at the market top. In fact, as we've seen above this is not a very big market and certainly not as liquid as the government bond market so if a major player like the ECB buys the $3 to $5 billion per month expected by analysts price spikes could happen.
On what to do with the proceeds from these sales, if you want to remain invested in euro denominated debt you'll have to look at the bonds the ECB is not buying: High Yield or bonds from entities not incorporated in the eurozone (namely emerging markets debt).
On this regard, I think there's still good value in emerging markets debt, both on an historical and on a comparison basis. As I wrote recently, Brazilian bonds are interesting at the moment. You can find good returns on bonds in hard currency (both in EUR and USD) from companies like Vale (NYSE:VALE) (OTC:VALEF) and Petrobras (NYSE:PBR) (NYSE:PBR.A). Also, if you're thinking about diversifying away from the euro, it is worth having a look at local currency Brazilian Republic bonds.
Disclosure: I/we have no positions in any stocks mentioned, but may initiate a long position in VALE, PBR, BONDS over the next 72 hours.
I wrote this article myself, and it expresses my own opinions. I am not receiving compensation for it (other than from Seeking Alpha). I have no business relationship with any company whose stock is mentioned in this article.
Editor's Note: This article discusses one or more securities that do not trade on a major U.S. exchange. Please be aware of the risks associated with these stocks.