As we have said in the past, if you are following the oil (NYSEARCA:USO) markets, then you must follow John Kemp from Reuters. He does outstanding work, and we rely on him for a lot of the materials we present here.
Last night, he came out with a slide deck on the global oil outlook for 2016-2018. In it, he highlights several things we will talk about here today.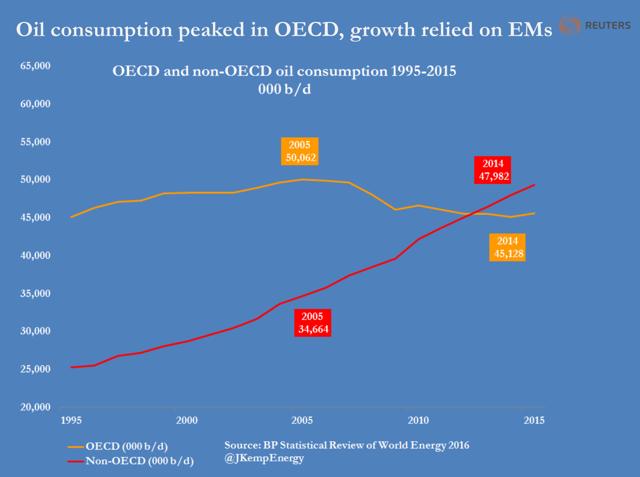 This first slide goes to illustrate that OECD oil consumption has actually declined, while EM oil consumption continues to grow.
However, notice that OECD demand actually increased last year. This is likely due to low oil prices, and the demand destruction fall off coincided with $100+ oil. Consumers likely shifted their consumption habits by buying higher fuel efficient cars, and taking less road trips. Consumer habits are hard to change, but a drastic decrease in oil prices has reignited the demand growth in OECD countries.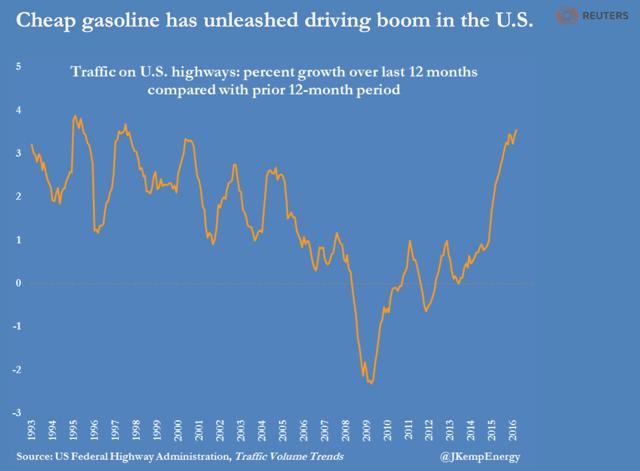 Cheap gasoline has unleashed a new driving boom in the US. Who said prices don't induce demand? Over the last 12 months, we saw a material increase in how much people drove.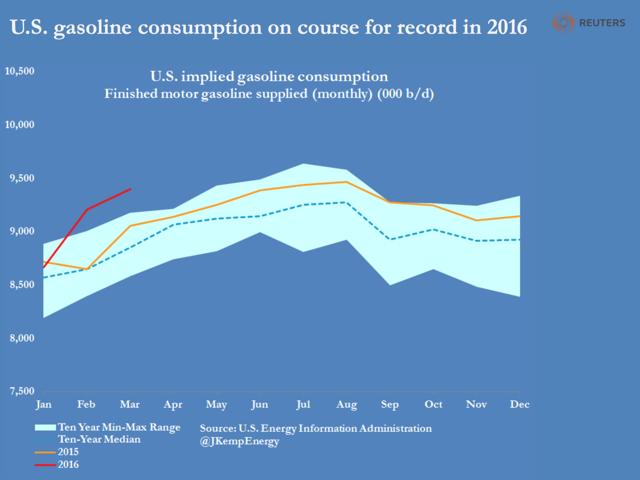 As a result, gasoline consumption is expected to hit record highs this Summer. Refinery throughput has been strong throughout the year. If refineries don't run into any operational issues, we suspect crude stock will draw substantially, but gasoline stock will draw only mildly. This will compress the refining margins and lead to compressed gasoline prices. As a result, even if crude prices rise, consumers won't see the same magnitude in gas prices, which would be very bullish.
India Oil Demand
India's insatiable oil demand continues to surprise even the bearish of the bears.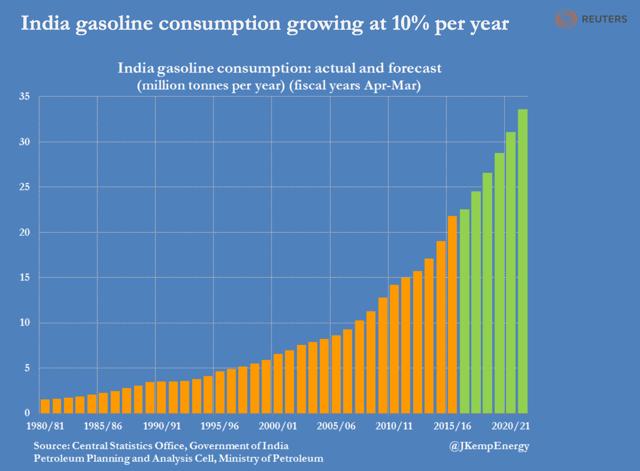 The gasoline consumption growth in India almost rivals that of China in the early 2000s. The car ownership rate is also seeing rocket-like growth.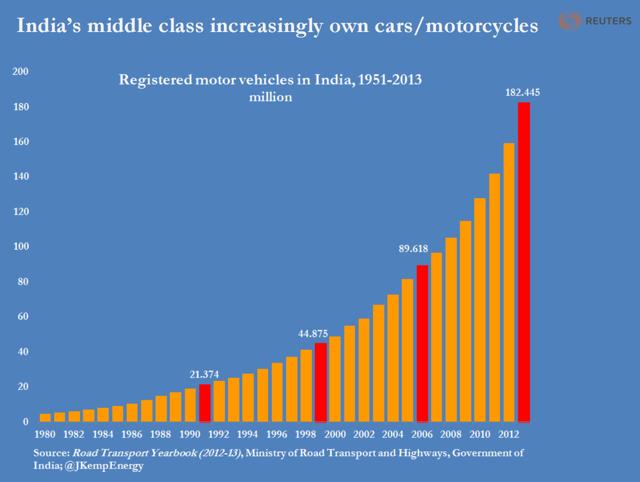 We don't think this trend will change anytime soon. Like we said earlier, there's a new generation of drivers out there that have never seen gasoline prices this cheap. The glut in gasoline stock in Asia will likely keep prices low even if oil prices rise. This will further induce additional driving demand.
Concluding Thoughts
We highly recommend you view the slides here. Some of the other slides in the presentation have already been covered by us in other write-ups, so be sure to click on the follow button above to read our oil markets daily.
We also highly recommend you follow John Kemp and email him at john.kemp@thomsonreuters.com to get on his daily email list. He's fantastic and we think you will find his analysis extremely insightful.
Disclosure: I/we have no positions in any stocks mentioned, and no plans to initiate any positions within the next 72 hours.
I wrote this article myself, and it expresses my own opinions. I am not receiving compensation for it (other than from Seeking Alpha). I have no business relationship with any company whose stock is mentioned in this article.