When trading a stressed-equity (or a stressed-debt tethered to a stressed-equity for that matter) getting the "vehicle selection" right is almost always as important as getting the directional movement of the underlying equity right. Yes, getting the equities directional move right is singularly most important - this isn't being debated as this almost always drives pricing of ancillary cap structure vehicles. But there are scenarios, and if you're reading my note likely you've run into one or a handful of these scenarios prior, where you can have the right directional move play out yet achieve an undesired or underwhelming result.
Avoiding this, or trying to at least, is going to be the focus of this update note. Vehicle selection is a primary pillar in my investing methodology and is the reason why I think 99% of investment ideas are bad ideas; too often the underlying analysis can't be matched up with an equally attractive vehicle (one that perfectly justifies the risk of exposure). Investors should find investment vehicles that perfectly match to the intended use-case so that the desired outcome can be given the highest probability of success at position initiation.
This note will focus on EXCO Resources (NYSE:XCO) and specifically its equity, its 7.50% 2018 bonds, and its 8.50% 2022 bonds. The intention of this note is to outline the vehicles by use-case. The ultimate intention of this note is to help those with EXCO exposure on their books make most efficient use of the warehoused risk.
EXCO EQUITY:
EXCO's equity is going to be for those that are 1) confident of a positive outcome for EXCO as an enterprise, 2) fairly confident the positive outcome will either take place in the immediate-term or become higher in visibility to the general markets in the immediate-term and/or 3) but that still want a highly liquid vehicle that would presumably allow them to retain some value in a catastrophic outcome. How positive the projected outcome is - whether that projected outcome is a simple survival case or whether that projected outcome is an eventual, deleveraged-model go-private transaction - is of little relevance; because if EXCO does anything but ultimately fail the equity will reprice higher fastest and to the greatest degree (from current value to peak value).
EXCO's equity has several things going for it that will provide incredible upside-capture value in anything equal to or greater than a simple survival case:
EXCO's equity is currently being priced by the market with little true-equity value and with only time value associated (commodity reprice optionality) - the equity is essentially a call option on the underlying model destressing optionality
EXCO's equity doesn't have a "par" value (i.e. a cap on its ability to reprice higher)
EXCO's equity is (at least to the point) the most elastic to viability changes (i.e. it reacts quickest and to the greatest degree to changes in implied viability)
All of these, theoretically (and we have nothing to suggest that a hundred years of capital market theory will be proved wrong) should allow EXCO's equity to reach a level infinitely higher in an infinitely better outcome scenario. That matters.
POSITIVES: being priced for bankruptcy currently, highly elastic (or reactionary to viability changes), liquid
NEGATIVES: opportunity cost (i.e. you're not "paid to wait" as in owning a debt vehicle)
EXCO 7.50% 2018: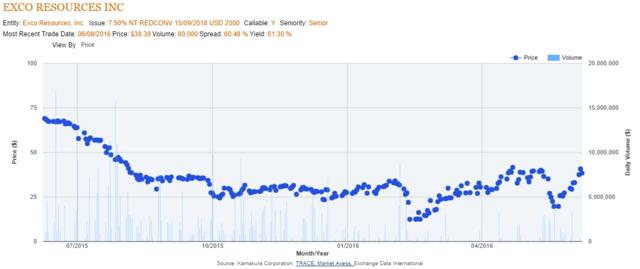 EXCO's 7.50% 2018 issue is going to be for those that are 1) confident of a positive outcome for EXCO as an enterprise, 2) of low confidence when it comes to the timing of the positive outcome and/or 3) looking for a way to capture a high-yielding, up to 27-month note for a blended-yield strategy (of course in a positive outcome scenario). Trading at just $38 this note offers $62 points of upside prior to reaching par [its "fully valued" pricing ceiling (there are scenarios in which bonds price at greater than 100 cents on the dollar but these are rare and this bond likely will never achieve this outcome)] - which means this note has a maximum upside of 163% via its repricing alone. Don't discount the purely transactional upside of this note, even if it is a non-equity vehicle. This particular note is also yielding a whopping 61% which is an incredible yield to capture and hold in an ultimately positive outcome (even if owned in small size and even if mixed into a higher quality, blended-yield fixed income strategy).
The other, often less mentioned or completely overlooked benefit of this issue? Presumably EXCO will continue to show this issue priority form a buyback standpoint over its longer dated 8.50% 2022 peer. What does this mean? This could mean that EXCO gets aggressive ( especially in a raging bull commodity environment where cash flows are of higher visibility - commodities have recently made marked moves higher) and offers to make a Second Lien exchange for these bonds (essentially "sucking up" this issue into an accordion feature available via its existing 2L - likely this would be publicly marketed and would take place on a "class wide" basis) OR takes one-off solicitations for buybacks in cash (this would require the 2018 issue owners to call down to negotiate this swap).
While not of high visibility, the latter benefit of this 2018 issue shouldn't be completely overlooked. EXCO has been clear in its actions that it would like to remove this tranche from its cap structure and there's been no indication that it wouldn't take extreme measures to do this prior to higher market pricing for the issue making this prohibitive. I highly doubt EXCO wants to carry this issue on its cap structure to maturity.
POSITIVES: ability to capture a repricing from a purely pricing based standpoint, high-yielding, potential monetization and upward mobility of seniority in a 2L exchange
NEGATIVES: largely illiquid, wide bid/ask spreads on transactions (i.e. if you go to sell the bond at $38 you get a fill at $30-$32), capped upside (at par) from a market pricing standpoint
EXCO 8.50% 2022: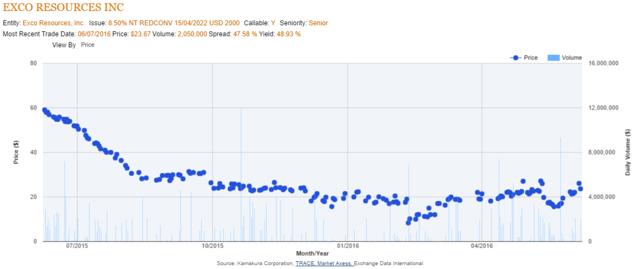 This issue, being a bond as well but being longer in duration, is substantially similar to the 7.50% 2018 issue detailed above but with the following adjusted commentary:
This particular issue is currently only pricing at $23 (rather than the $38 above) so it has $77 points of upside prior to reaching par - which means this note has a maximum upside of 334% via its repricing alone
This note could potentially be warehoused for exposure for up to 66 months rather than the 27 noted above
This note yields 49% rather than the 61% above
It is highly unlikely that this note will be given buyback/company-initiated transaction priority over the note detailed above; and it is highly unlikely that EXCO would make an extraordinary move to remove this class from its cap structure
In taking on exposure, vehicle selection matters. In fact, it can be paramount to achieving a desired result. Again, vehicle selection optimization is a pillar of my methodology and I go to great lengths to understand the theory behind each vehicle prior to warehousing risk. I would suggest all investors asses any existing EXCO exposure and realign, if necessary, to optimize by vehicle. EXCO recently gave a superb opportunity to reshuffle exposure (in general but also by vehicle) and a large part of this opportunity is still on the table; don't allow it to go unutilized.
Good luck everybody.
Disclosure: I/we have no positions in any stocks mentioned, and no plans to initiate any positions within the next 72 hours.
I wrote this article myself, and it expresses my own opinions. I am not receiving compensation for it (other than from Seeking Alpha). I have no business relationship with any company whose stock is mentioned in this article.