Vivint Solar (NYSE:VSLR) recently experienced a major upsurge after Deutsche (NYSE:DB) raised Vivint Solar's target stock price to $7.50. Deutsche believes that Vivint Solar is well-positioned to hit its 2016 installation target as a result of an improving tax equity environment. Vivint Solar's tax equity situation certainly appears to be improving considering the fact that company recently closed a tax equity investment fund with a commitment of $75 million.
Despite improvements on the tax equity front, Vivint Solar is still plagued with many other problems. In addition to the general industry headwinds affecting all major residential solar players, Vivint Solar has many unique challenges facing it. The most glaring obstacle facing Vivint Solar is its stagnating cost structure, of which has become increasingly uncompetitive in recent quarters. In addition, Vivint Solar appears to be struggling to keep up with the changing solar landscape.
Increasingly Tough Cost Environment
The slowing growth experienced by the residential solar industry is making it harder for major residential solar companies to cut costs. The slowdown has caused major residential solar companies' sales costs per watt to skyrocket as sales costs are being spread across a smaller growth base. In this respect, Vivint Solar is actually doing better than its main rival SolarCity (SCTY) as Vivint Solar's sales costs per watt did not increase nearly as much. In fact, SolarCity sales costs per watt nearly doubled from Q4 to Q1.
Nevertheless, Vivint Solar's cost situation appears to be far worse than that of SolarCity. While the total cost gap (in favor of SolarCity) between the two companies narrowed in Q1, much of this narrowing came as a result of SolarCity's massively inflated sales costs per watt. In the likely scenario that SolarCity's bookings pick back up, the company sales costs per watt should return to normal levels. This should once again cause a glaring disparity between the two companies' cost structures.
In terms of installation costs per watt, which is more reflective of a residential solar company's operational capabilities, Vivint Solar is still lagging far behind SolarCity. At the end of Q1, Vivint Solar's installation cost per watt stood at $2.39 compared to SolarCity's $1.98. This large difference is made worse by the fact that Vivint Solar appears to be cutting its installation costs at a slower pace than SolarCity. Whereas Vivint Solar's installation cost per watt increased by ~3% YOY, SolarCity's installation cost per watt decreased by ~6% YOY.
Although Vivint Solar's total cost structure of $3.34 per watt (at the end of Q1) is still relatively low compared to the rest of the industry, the company's most important point of comparison is SolarCity given their similar products, sizes and markets. In this respect, Vivint Solar still has much to work on in terms of costs. Moreover, regional installers appear to be making cost gains against larger residential solar companies. This trend will only put more pressure on Vivint Solar to improve its costs.
Note that Vivint Solar's cost structure has largely stagnated over the past year or so. Also, Vivint Solar's Q1 cost structure is $3.34 per watt as opposed to the $3.35 per watt shown on the graph.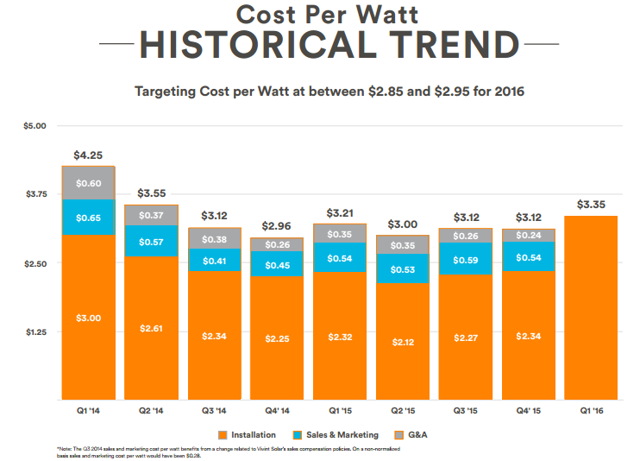 Source: Vivint Solar
Too Concentrated in Residential Solar
Residential solar has undergone a sharp growth downturn over the past few quarters. As such, focusing disproportionately on residential solar may no longer be the optimal strategy for Vivint Solar. A disproportionate focus on residential solar was not a bad thing when Vivint Solar was experiencing annual growth rates in the triple digit percentages. However, times have clearly changed as Vivint Solar is now starting to experience annual growth rates in the low double digit percentages.
Vivint Solar's relative lack of exposure to other solar segments could compound the company's current growth issues. While Vivint Solar has invested in other solar segments such as commercial and industrial, it is still lacking the type of exposure that would keep the company somewhat safe from major volatility in residential solar. Whereas Vivint Solar is the second-largest US residential installer at 11% market share, the company is still relatively unknown on the commercial scene. Given the growth slowdown in residential solar and the growing potential of commercial solar, Vivint Solar may have a hard time growing without a significant presence in commercial solar.
A Shift Towards Loans
Recent industry data seems to indicate that the residential solar lease/PPA model is beginning to plateau in favor of residential solar loans. As Vivint Solar is one of the leaders in the lease/PPA arena, this is clearly not good news for the company. A large and vertically integrated company like Vivint Solar holds more advantages on the lease/PPA front where it can leverage its scale on the financing front.
While Vivint Solar has already included loans in its offerings, it is highly uncertain whether or not these products will gain traction in the long term. Moreover, smaller/regional installers could very well hold an advantage in loan offerings as scale is not as important in the loan market. In fact, many think that smaller/regional installers will eventually have a cost advantage in this arena. This is not surprising as many installation businesses are dominated by local businesses as opposed to large national firms.
Conclusion
Vivint Solar has a tough and long road ahead of it. While an argument can be made that Vivint Solar is undervalued (current market capitalization of $344 million) based on the company's own stated retained value and growth potential, there is also a growing doubt surrounding the validity of the company's retained value assumptions. Moreover, SolarCity would still be a better investment alternative in the residential solar space. Unless Vivint Solar addresses the current problems plaguing the company, investors would be wise to stay away from this company.
Disclosure: I am/we are long SCTY.
I wrote this article myself, and it expresses my own opinions. I am not receiving compensation for it (other than from Seeking Alpha). I have no business relationship with any company whose stock is mentioned in this article.