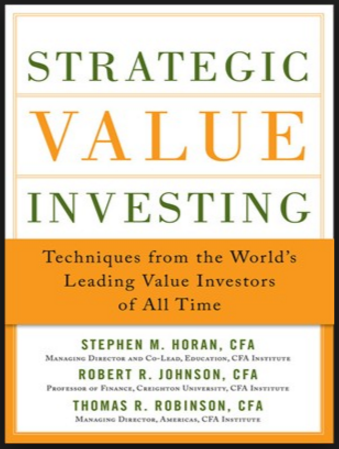 In Strategic Value Investing, Certified Financial Analysts - Stephen Horan, Robert R. Johnson, and Thomas Robinson - partner together to explain security analysis from a value investing perspective to individual investors.
The book is essentially a financial textbook but reads as a how-to guide for aspiring do-it-yourselfers. Anyone looking to gain an understanding of tactical valuation methods used by professional analysts will find Strategic Value Investing to be informative and applicable.
Strategic Value Investing
In section one, a foundation is laid for what value investing is and why it has historically produced better-than-average returns. Psychological barriers to being a value investor are discussed along with a brief explanation on how to value individual companies.
Section two identifies and expands on some of the same valuation models taught in the CFA program: dividend discount models, free cash flow models, and asset-based approaches are among those discussed.
The third and final section highlights investment styles used by some of the most well-known and profitable value investors and provides insights to how readers can choose which styles are right for them.
Detailed Security Analysis
The text focuses on both top-down and bottom-up security analysis. Since all three authors are CFAs, they heavily emphasize the importance of critically evaluating the future prospects of investment opportunities when finding a company's intrinsic value.
Very little is said about mechanical investing with the only mention being in the context of index funds. Although the majority of the book focuses on fundamentals, there is a small section on technical analysis.
The authors' intentions are accurately summed up in the book's conclusion when they say,
"You can improve your performance by not being merely a value investor who buys inexpensive stocks but by being a strategic value investor who seeks to find good companies in industries expected to do well that are selling at discounts to their intrinsic value."
Strategic Value Investing is a worthwhile read for investors wanting to learn more about different security analysis methods.