Long-time Apple (NASDAQ:AAPL) bear and Seeking Alpha contributor Michael Blair is out with another polarizing article titled 'Apple's Greed Stifles Growth While Amazon Forges Ahead', criticizing Apple's alleged focus on short-term profit and lack of innovation. I think it is an interesting piece worth discussing and explaining in more detail as it showcases a misunderstanding of the different business models, product strategies, and underlying valuation of Apple and some of its key competitors in today's technology space. Let's jump right in.
Mr. Blair's view on the matter is clear: "Apple lags its competitors in innovation and has done virtually nothing but tweak its devices for the past two years". He then gives new home automation products from Amazon (NASDAQ:AMZN) and Google (NASDAQ:GOOG) (NASDAQ:GOOGL) as examples of innovation and the next big thing in technology. Needless to say, I look at things differently.
Different products, same goals
Amazon's Echo and Google's Home are a good reflection of the companies' business models focused on selling services. Both represent a logical way to offer an affordable, basic product to provide access to Amazon and Google services for the widest audience possible. The internet giants play to their strengths here (service infrastructure and data collection) while limiting their weaknesses (hardware and design - see Google Glass and Amazon Fire Phone).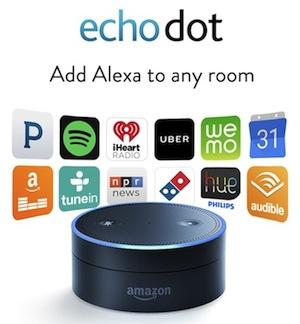 On the other hand, Apple is a product company competing in the premium segment where rich experiences are positioned as the reason to attract customers. In this respect, I look at the existing Apple product portfolio as a better fit for the company's business model and goals. The iPhone, iPad, Apple Watch, Apple TV (and soon Mac if rumors are true) already offer access to a virtual assistant and speakers, while also providing more interface options, utility, and overall value. In fact, I think a product like the Apple Watch is best positioned for handling voice queries and home automation as its microphone and user interface is right on your wrist wherever you are.
Does Apple need to improve Siri and other services? Yes. Are Amazon Echo and Google Home the next big innovation with "a vast potential market" and a showcase for technology leadership? Given the products' limitations and their voice interface, I have my doubts. Either way, Apple, Amazon, and Google follow the same goals here trying to engage their customers within their ecosystems, but given their different business models and different strengths, they position different products to achieve them.
Breadth vs. depth
Mr. Blair then states that "Apple has ignored the compelling need in technology to look ahead and innovate". I disagree. While the company makes a few bets, these are significant, long-term strategic initiatives. Apple Watch and Apple Pay are the clearest examples of this focused product strategy. While both products are currently not material to Apple's revenues (and therefore are easy targets for criticism and dismissal), they target important industries, and their impact can already be felt. Google spent many years unsuccessfully trying to get its mobile payments off the ground, while other companies active in the field today like Samsung didn't even offer any payment solution before Apple Pay. Similarly, the smartwatch category (in terms of material units shipments) was largely insignificant before the Apple Watch, while the Swiss and US watchmakers now suffer the biggest sales declines in almost a decade.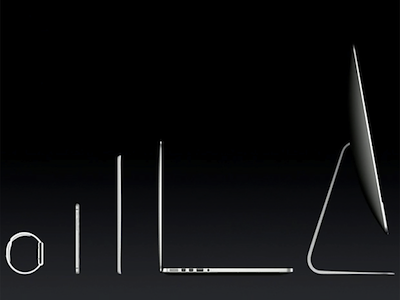 There is a marked difference in terms of strategy and innovation between Apple and companies like Amazon, Google, or Facebook (NASDAQ:FB). Apple's functional organization makes the company focus and pursue depth, while the divisional organizational structure of the likes of Alphabet and Amazon enables a broader and more experimental development approach. While the latter strategy results in many product and service initiatives, few of them ever see the light of day and even fewer become successful and profitable. What is the better strategy? That depends on your definition of innovation and whether you prefer breadth or depth. In terms of profit and cultural impact, Apple's strategy has certainly worked over the last two decades. However, the notion that Apple does not look ahead and innovate is not correct, even more so now that the company is working with Didi Chuxing to redefine transportation.
Valuation: Apples and oranges
Finally, Mr. Blair suggests that Apple's alleged focus on short-term profit and the lack of innovation is reflected in the company's valuation, while innovative products from Amazon and Google power their respective stocks ahead. Both AMZN and GOOG certainly benefit from the positive sentiment surrounding their many initiatives while investors are glad to pay a premium for their recurring service cash flows and growth. On the other hand, no matter how it innovates, AAPL's valuation will always be limited by its hardware business model and its consequence: secretive development (to prevent the Osborne effect), changing technology cycles, and low predictability of future product cash flows.
Investor takeaway
There is no denying the fact that AAPL is currently going through difficult times. The enormous growth (in fact unprecedented for a company of Apple's size) seen in recent years is coming to an end as the smartphone market is showing signs of maturity and so is the most successful and profitable technology product of all time, the iPhone. However, this is not to say that the company has stopped innovating. The company is currently establishing itself in the important wearables and health markets, brings security and convenience to the payments industry, and its rumored electric vehicle is widely considered the worst-kept secret in Silicon Valley. While these are only a few initiatives, they represent big long-term bets on some of the most important industries and Apple's relevance and survival.
Author's Note: If you have enjoyed reading my article and found its content valuable, please take 5 seconds to follow me by clicking the Follow button next to my name at the top of the page.
Disclosure: I/we have no positions in any stocks mentioned, and no plans to initiate any positions within the next 72 hours.
I wrote this article myself, and it expresses my own opinions. I am not receiving compensation for it (other than from Seeking Alpha). I have no business relationship with any company whose stock is mentioned in this article.
Additional disclosure: This is no recommendation to buy or sell securities as that carries with it very high risks. The information contained in this article is for informational purposes only and subject to change at any time. Do your own due diligence and consult with a licensed professional before making any investment decision.