Respected analyst and Seeking Alpha blogger, Chuck Carnevale published "Our 25 Dividend Growth Stocks Are Dirt Cheap" in November. He listed top 25 blue chip dividend growth stocks: (1) available at current valuations that were significantly below their historical norms; (2) remained profitable through the great recession of 2008 and 2009.
This portfolio of companies he said "offers a three-pronged opportunity for above-average future total returns at below-average risk. We expect that each company will benefit in the future from a potential expansion in their PE ratios coupled with future earnings growth and finally followed by dividend increases offering a return kicker." That article ranked these stocks by 5 year estimated total returns ranging from a high of 38.2% down to 10.8%.
Dogs of the Index Metrics Select Ten Top Ten Stocks
Two key metrics determine the yields that rank index or sector dog stocks: (1) stock price; (2) annual dividend. Dividing the annual dividend by the price of the stock declares the percentage yield by which each dog stock is ranked. Investors select portfolios of five or ten stocks in any one index or sector by yield to trade. They await the results from their investments in the lowest priced, highest yielding stocks they selected and pray that the price of every stock they now own climbs higher (having locked in a high yield percentage at purchase).
This Dogs of the Index strategy, popularized by Michael B. O'Higgins in the book "Beating The Dow" (HarperCollins, 1991), reveals how low yielding stocks whose prices increase (and whose dividend yields therefore decrease) can be sold off once each year to sweep gains and reinvest the seed money into higher yielding stocks in the same index.
The Carnevale 25 list here is ranked by yields based on estimated annual dividends to reveal the dogs therein. Numbers after the company names in brackets [] indicate Mr. Carnevale's ranking for each stock by total estimated returns. Here's the list ranked by yield calculated as of February 24.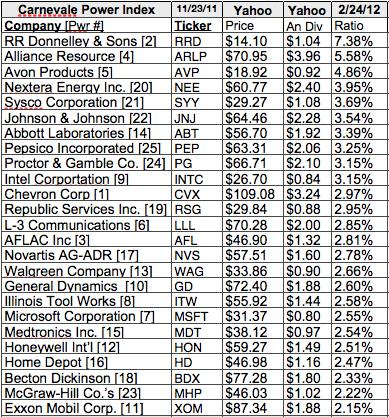 Carnevale's top ten stocks paying the biggest dividends as of February 24 included firms representing six market sectors. The top stock as revealed by Yahoo Finance data, is one of two in the service sector, RR Donnelley & Sons (NASDAQ:RRD). The balance of the top ten include three consumer goods, one technology, one basic material, one utility, and two healthcare firms The full list of 25 stocks has five service, five healthcare, three consumer goods, one financial, three basic materials, five industrial, one utility, one technology and no conglomerate representing the market sectors.
Vertical Moves in Carnevale Index Stocks
Just one firm, RR Donnelly , has stayed at the top of this list by yield for the four months surveyed. Action takes place in the middle of the list.
Color code shows: (Yellow) firms listed in first position at least once between October and December 2011; (Cyan Blue) firms listed in tenth position at least once between October and December 2011; (Magenta) firms listed in fifteenth position at least once between October and December 2011; (Green) firms listed in twenty fifth position at least once between October and December 2011. Duplicates are depicted in color for highest ranking attained.
Bullish vertical moves were made since January 13 by Avon Products (NYSE:AVP) with a 8% price gain; Nextera Energy (NYSE:NEE) with a 2.8% gain coupled with a 9% gain in annual projected dividend; Intel Corp.(NASDAQ:INTC) with a 6.2% price gain; Novartis AG (NYSE:NVS) dropping out of the top ten showing 3% price improvement along with a 20% decrease in annual projected dividend.
Bearish moves for the same period were experienced by Alliance Resource (NASDAQ:ARLP) showing a 9% price decline; Sysco Corp. (NYSE:SYY) with a .0678% decline; Johnson & Johnson (NYSE:JNJ) with a 1.21% decline; Pepsico (NYSE:PEP) declining 3.6% in price within the top ten.
Dividend vs. Price Results
Below is the graph of relative strengths for the top ten Carnevale Power 25 index stocks by yield as of February, 2012. Five months of historic projected annual dividend history from $1000 invested in the ten highest yielding stocks each month and the total single share prices of those ten stocks creates the data points for each month shown in green for price and blue for dividends.
Conclusion: Carnevale Dog Price Runs Away from Dividend Returns
This Carnevale collection of 25 powerful dividend payers displayed choppy action during 2011's unsettled market conditions. Notice the interweaving pattern of dividends from $1k invested in the top ten sinking below aggregate total single share prices in October, November, and December as prices increased. Now in February aggregate single share stock price for the top ten Carnevale dogs exceed the total annual dividend returns from $1k invested in each of those stocks by about $50. This index compares favorably with but with lower yields than the dogs of the Dow.
At the end of each month, a summary concludes this series of articles by showing results of yield and price for these Carnevale Power 25 stocks compared to David Fish's Champions, Contenders, Challengers, and Composite lists.
Disclosure: I am long INTC, JNJ, CVX.
Disclaimer: This article is for informational and educational purposes only and shall not be construed to constitute investment advice. Nothing contained herein shall constitute a solicitation, recommendation or endorsement to buy or sell any security. Prices and returns on equities in this article are listed without consideration of fees, commissions, taxes, penalties, or interest payable due to purchasing, holding or selling same.