As the oil (NYSEARCA:USO) prices rises, rig numbers have started to inch up in many shale plays. Many investors might be wondering what number is needed to maintain production. It might be less than you thought.
Doubling of Completion Rates Required In The Bakken
Using my model developed in this article, I can simulate an uptick in activity. It took 48 rigs to turn production around. After that, the number would vary from month to month, but 46-50 rigs producing 75-80 new wells per month is required to stabilize Bakken production.
However, it is apparent that the rig rate is not going to double overnight. There is also going to be a rise in fracking of drilled uncompleted wells as prices rise, which will reduce the number of drilling rigs required. Even if 50 DUCs are completed per month in the Bakken, it will take till the beginning of 2017 to work through the backlog. Plenty of well supply exists if we start seeing a quick uptick in rigs.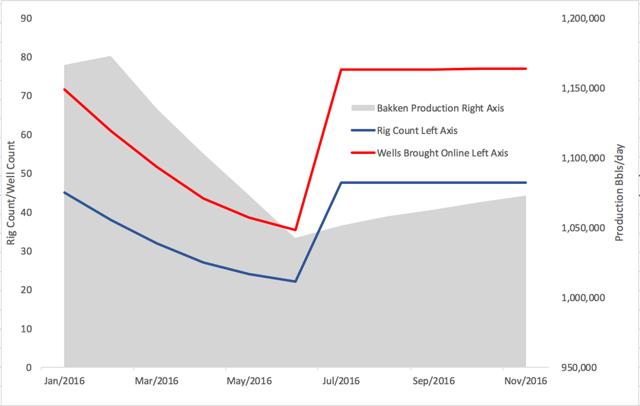 Stemming The Tide
As the rig count has plummeted from well over 1500 rigs to under 400, U.S. production has been on the decline. From the available Bakken data, we would need a doubling of activity from what we saw in the first week of June just to stem the tide of falling production. We have talked about numbers and DUCs. What we need to understand is how many wells can be fracked and completed per month.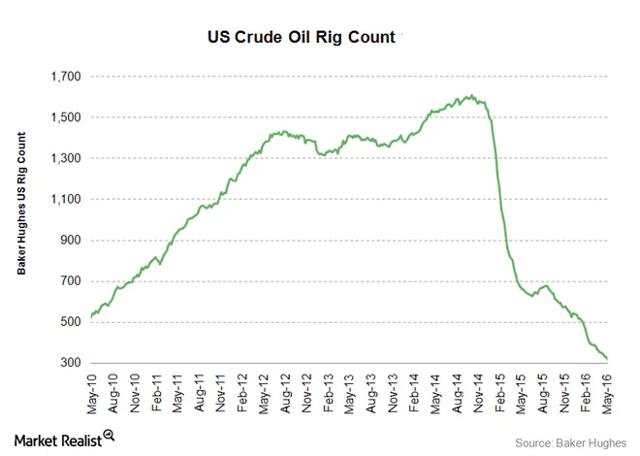 Source: Market Realist
Time to Respond
A recent article from OilPrice.com discussed the shortage of workers faced by the industry. How quickly are people willing to return to work after losing their jobs over the last two years? According to Reuters, there are only eight fracking crews remaining from the previous peak of 45. Pad drilling can partially offset the loss of crews, as more wells have been drilled from the same pad, and contractors save a substantial amount of time in setup and teardown of the fracking spread.
However, assuming the Reuters numbers are correct, we can make a rough estimate. In May, which was when the article was published, drilling and DUC states give us an estimate of 44 wells added to production. So each crew is bringing on-line an average of 5.5 wells per month. For the numbers of wells brought on-line to double, the number of frac crews needs to double. How quickly crews can be brought back to the fray will be what makes the next 9 months of production.
Wrap-Up
The Bakken isn't a perfect analogy for the entire breadth of shale production. However, this gave me some more granular information on what the U.S. shale response is going to look like. Fracking crews are going to be the most important predictor over the next 9-12 months; however, the detailed data available for drilling rigs is not as available for fracking crews. At any rate, it appears that U.S. oil production in the Bakken is going to decline for at least 2-4 more weeks as fracking crews return with higher oil prices.
Afterword: If you found this article interesting and would like future updates, head to the top of the page next to my name and hit "Follow." It is free and allows me to continue to reach a broader audience and keep writing. Thanks for reading.
Disclosure: I/we have no positions in any stocks mentioned, and no plans to initiate any positions within the next 72 hours.
I wrote this article myself, and it expresses my own opinions. I am not receiving compensation for it (other than from Seeking Alpha). I have no business relationship with any company whose stock is mentioned in this article.