The Brazilian banking system and the origins of the crisis
Traditionally Brazilian banking history had been shaped by severe problems in raising taxes among planters and landowners due to the weakness of the Brazilian central state and the extreme economic inequality within Brazilian society.
The answer to the need to fund the state and the lack of enforcing power of the Central Government had been since the times of King Dom Joao I to tax the low and middle classes through the "inflation tax" implemented by Brazilian banks in exchange for part of their profits.
As a first stage - XIX Century - Brazilian lenders were granted power to issue notes backed, partially backed or theoretically backed by several valuable assets, such as gold or more commonly Brazilian public debt.
As could be expected, successive and increasing bank printing rights, grants and charters originated and led to continued hyperinflation across the XIXth century. In the early 1900s private banks lost their ability to issue currency but the state kept financing its chronic deficit printing money. This generated high levels of consumer inflation during the century, from the rule of Getulio Vargas, across the military dictatorships that followed and until the late 1980s.
During this time, inflation was so high that Brazilian banks made more money with the "floating cash" - cheques that had been paid but not debited yet and thus were "floating" for several days while amounts owed were due to the extremely high level of inflation - that with the usual banking Net Interest Margin.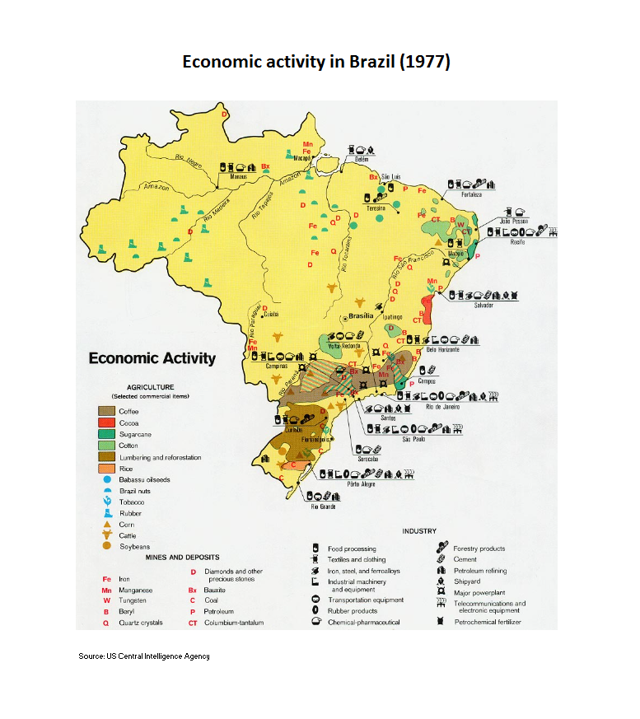 Since 1989 the name of the game has changed: after the fall of the dictatorships, a new bargain was cut between the State and its constituents: wealth was transferred from the rich to the poor through the liquidation of the "inflation tax" and banks were induced to lend to labour intensive companies in order to create jobs and grant loans more loosely to the population in order to improve their quality of life.
At the same time, Brazilian banks would fund the State and lend to the traditional industrial and landowning elites of the country.
The whole system of banking subsidies to well organized civic interest groups and industry "insiders", the duty to fund the government and the lucrative return on equity for banks shareholders was paid for with revenues from commodities exports to China, which were the backbone of the "Brazilian economic miracle" of the 2000s.
The fall in commodities prices around the world started in 2014, driven by the slowdown in China and the extra production capacity that will come to the market during 2016 and 2017, made this particular Brazilian way of banking and the Brazilian economy itself to an important extent, inviable.
A severe economic adjustment is taking place in Brazil, and will likely worsen in the future. One or several interest groups in Brazil will have to adjust to the fall of income from commodities revenues and the relative damage inflicted to national industry by the overvalued real and cheap Chinese imports during a decade.
One thing about the messy Brazilian panorama is clear: whoever pays (industrialist "insiders", landowners, bureaucrats from the State apparatus, middle and low income citizens) the banks are in the middle of the system and will suffer with it.
Brazilian banks and their idiosyncrasies
At the start of 2016 the Brazilian banking system was composed mainly of four big quoted retail banks - Banco Itau, Bradesco, Banco Santander Brazil and Banco do Brazil -one investment bank BTG Pactual and a savings banks - Caixa Economica Federal .
Banco do Brazil is the oldest of these, owned by the Central Government and the largest bank in Brazil and Latin America by assets. Up until 1989 Banco do Brazil fulfilled one key mission: fund the government; since 1989 and together with the change of political orientation of the whole Brazilian economic policy the public bank has adopted a redistribution role, lending on good terms to the socially challenged - and well organized - collectives in Brazil and promoting public and semi-public enterprises intensive in employment creation.
Bradesco (NYSE:BBD) is the third and arguably best managed retail bank in the country. The lender possesses the best branch network in the country and in all likelihood has the best asset quality on its books. It is the classical universal bank, profitable and prudent - for Brazilian standards - managed by CEO Luis Carlos Trabuco.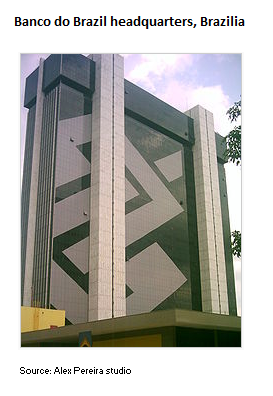 Santander Brazil is the fourth bank and was born from an amalgamation of smaller lenders during the 2000s; as it could be expected after such a traumatic birth, Santander Brazil is profitable but lags behind the rest in terms of returns, costs and branch network distribution.
The artificial subsidy public banks - and particularly Banco do Brazil and Caixa Federal - have given since the 90s to certain social groups, combined with the traditional "inside funding" of big industrial corporations and agribusinesses in the country has distorted the lending market in Brazil and forced other banks to follow suit; this dynamic has weakened significantly the quality of the loan book of Brazilian banks and is likely to be generating - and generate more in the future - serious losses to local lenders.
Furthermore, for several socio economic reasons combined with a lack of real estate register rule of law, Brazilian banks conduct mortgage lending to a limited extent compared with a retail bank balance sheet in a developed country; this phenomenon, common in Latin America, forces Brazilian lenders to focus their loan book on consumer finance, SMEs lending and corporate finance "inside lending", segments notorious for their earnings volatility and high NPLs ratios during financial crises.
Banco Itaú, Bradesco and Santander Brazil are the only three Brazilian retail banks quoted in ADRs at the New York Stock Exchange. This makes them an ideal target for a short position with a midterm horizon for a US investor.
Investing - or shorting - ADRs eliminates the inflation risk - i.e. the Brazilian government falls into the temptation of printing money to sustain a structurally unsustainable situation - as the Real should depreciate in respect to the US dollar and thus compensate for the increase in Brazilian stock prices originated by creeping inflation.
And among Brazilian banks quoted in ADRs, Banco Itaú is the one that will suffer most from non performing assets impairments as the recession becomes deeper AND is liquid enough to discount this dynamic efficiently into the ADR price.
Itau Unibanco
Itau Unibanco (NYSE:ITUB) is one of the largest financial group in Latin America and second bank in Brazil after Banco do Brazil. The bank has circa 90,000 employees, 4,921 branches and 26,145 ATMS. Itau has a global scope with more than 20 offices spread around the key financial centres of the world - New York, London, Hong Kong, Zurich - and a strong presence in non-Brazilian Latin America.
The Brazilian bank implemented an aggressive expansion strategy across the Continent in retail banking - presence in Argentina, Paraguay, Uruguay and Chile through Corpbanca - and investment banking -corporate finance operations in Argentina, Chile, Peru and Colombia -.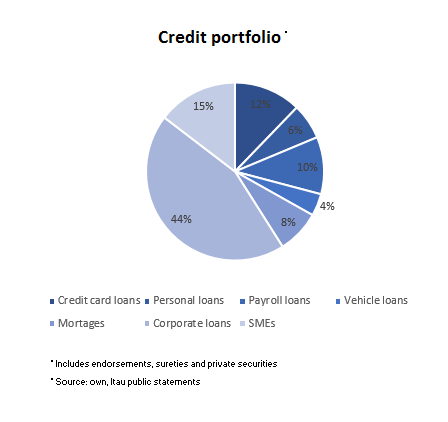 Banco Itaú follows the traditional distribution of a full scale retail bank: commercial banking and consumer credit, wholesale banking, business and SMEs banking, insurance and wealth management activities.
At the start of 2016 Banco Itaú has assets of BRL 1,283bn and loans of BRL 517.5bn. Its Financial Margin with Clients is typical of a developing market at 10.9%.
The loan book of the bank at Q1 2016 has a high level of embedded financial risk and is focused on volatile segments, rather problematic during economic crises: corporate loans (44%), SMEs loans (15%), credit cards (12%) and consumer loans (personal loans + vehicle loans 10%). Payroll advances were 10% of the loan book but due to their short term nature, they are more secure than pure unsecured consumer lending.
The low level of mortgage lending - common among Brazilian banks - combined with the focus on consumer credit, corporate loans in Brazil - mining, agricultural and industrial projects funding among others- and SMEs financing make the loan book of Itaú very fragile indeed.
Taking into account the recession the country is going through significant losses should have arisen. On the contrary, and with an economy falling at 5.4% annualized at Q1 2016 and down 3.8% for the whole 2015, non -performing loans charges have only moderately increased from 5,515 million to 7,231 million or 6.1% to 8.1% total allowance for loan losses / loan portfolio from Q1 2015 to Q1 2016. Slightly increasing NPLs have not even generated a bottom line loss at the Itau P&L.
The result of this high NIM, moderate NPLs level - still - and low costs - efficiency ratio of 43% at Q1 2016 - is an emerging market type return of 23.9% ROE in 2015 and 22.7% ROE in 2016. ROE for retail banking is even more extreme, at 34.2% in Q1 2016.
This state of affairs cannot continue; with historic NPLs levels in developed markets at 10% - 12% of the loan book during a typical crisis, Itaú will have to show soon very significant losses from non performing consumer and corporate loans in Brazil.
This will drive down the stock price.
ADR price evolution
Itaú's ADR stock price is very volatile and has had a behaviour difficult to describe in technical terms from 2012 to 2014 though a skilled or imaginative technician could see a downside formation with significant noise followed by a spike up to $16 per ADR before an epic crash to the $5.3 level during early 2016.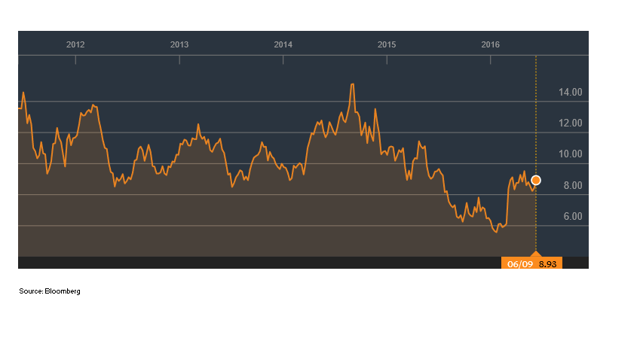 From there the stock price has bounced back to the $8.69 area, where it is right now.
We believe this brutal trend downward initiated in mid 2014 will resume enhanced by deteriorating fundamentals and the appearance of losses at the bottom of the P&L when financial fragility in Itau's loan book is translated into non performing assets.
Thus, a midterm slightly leveraged short position should be very profitable for a fundamental investor.
Disclosure: I/we have no positions in any stocks mentioned, and no plans to initiate any positions within the next 72 hours.
I wrote this article myself, and it expresses my own opinions. I am not receiving compensation for it (other than from Seeking Alpha). I have no business relationship with any company whose stock is mentioned in this article.