During the last days, lots of rumors and information about Nvidia's (NASDAQ:NVDA) consumer strategy have been released on the web. In particular, there are news about the high/enthusiast end and the low end of the desktop consumer market and the high end of the mobile consumer market.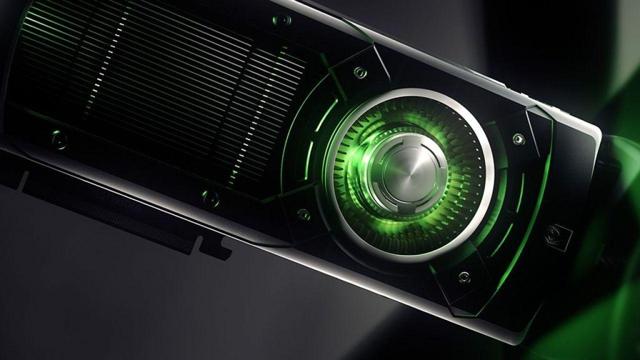 Source: DEVIANTART
It looks like Nvidia, as AMD (NASDAQ:AMD), wants to exploit better the market changes, betting more on the mobile market that is adsorbing the desktop solutions.
While last month there had been a rumor stating that Nvidia would probably release the GTX 1060 (in substitution of the GTX 960) during the following fall, the idea of a market anticipation is becoming more and more real.
Titan/GTX 1080 Ti
Starting from the enthusiast end, there are some leaked specifications (link, link) about the upcoming Titan and GTX 1080 Ti: these video cards are expected to implement the GP102 GPU, which is likely to employ a full FP32 unit series.
The GPU GP102 will probably show 3840 CUDA cores (only FP32 units), providing a very massive computational power. But what has amazed me is that this chip is rumored to meet the GTX 1080 2xSLI performance, roughly 50% more than a single GTX 1080 (average performance). This means that the GP102 must be capable of more than 13 TFLOPS (FP32) of computational power, achievable if it will use the same boost clock of the GTX 1080 (1,733 MHz). This would be really astonishing, but still possible if we consider the lower complexity (lack of FP64 units), the better yields and the process refinement.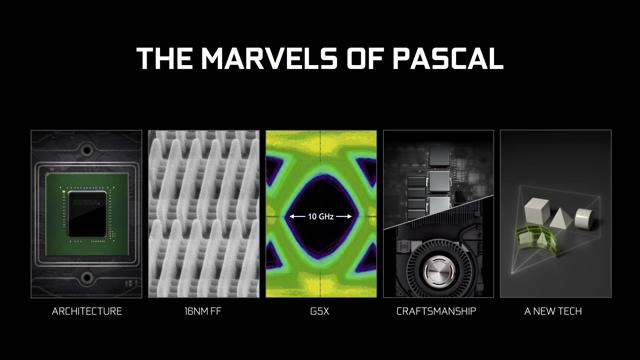 Source: NVIDIA
It is to be seen what kind of memory it will be implemented: the GTX 1080 Ti will probably employ GDDR5X modules (12 Gbps) and a 384 bits memory bus, achieving a bandwidth around 576 GB/s. This video card will also employ a 12 GB of memory and a cut down GP102 chip (with 3584 CUDA cores). On the other hand, the Titan card will probably employ a full GP102 GPU (3840 CUDA cores), 24 GB of memory and HBM 2.0 modules built by Samsung (OTC:SSNLF). Therefore, it would be able to achieve 720 GB/s of bandwidth at least. Consider also that in those applications where color compression is exploited, the recent Nvidia adjustments and improvements raise the effective bandwidth beyond 850 GB/s.
We can conclude that the GTX 1080 Ti and the Titan are going to be real monsters. Therefore, it is very hard to think about the AMD Vega architecture as a serious challenger at these performance levels.
Why Not GP100?
I have been reading about commentators and users who wondered why rumors about Titan/1080 Ti would not mention any GP100 chip. But its use would not be really sensible:
- GP100 probably lacks ROPs (Render Output Unit) and TMUs (Texture Management Unit), meaning that it cannot be used for gaming applications and other ROPs/TMUs intensive applications;
- GP100 has 1792 (1920) FP64 CUDA cores alongside 3584 (3840) FP32 CUDA cores. The FP64 units are practically useless in the desktop environment. Therefore, the FP64 die area size (equivalent to the FP32 area) would be a complete waste of silicon. Avoiding its implementation, Nvidia is able to reduce costs and the inherent circuitry complexity. In addition, the GP102 (32:1 ratio for FP32:FP64) is likely to achieve better yields in comparison to the GP100;
- GP100 uses HBM 2.0 memories. Therefore, it implements the related interposer. If Nvidia has decided to exploit the GDDR5X modules for the GTX 1080 Ti at least (a choice that may be sensible, since 576 GB/s is not so far from the 720 GB/s of the GP100), the interposer must be taken off. At this point, the creation of a GPU without the FP64 CUDA cores becomes cheaper and easier.
GTX 1070 Performance/Watt Monster
The NDA about the GTX 1070 has come to end few days ago and various reviews show that the GTX 1070 is a complete monster and Titan killer: its performance/watt ratio is very high and, even if it is rated at 150W TDP, it consumes roughly like a GTX 960 (considering the average power consumption).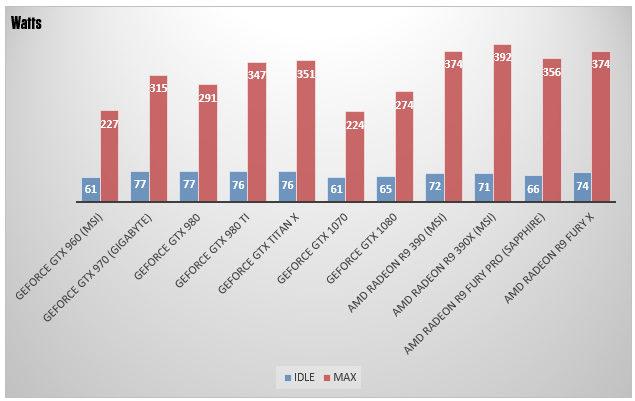 Source: CUBIC
This is remarkable, since its performance per watt ratio is improved by more than +100% compared to the TITAN X (that consumes roughly 225W considering its average power consumption), and it makes me forecast very competitive performance/watt scores for the upcoming GTX 1060 and its Ti version.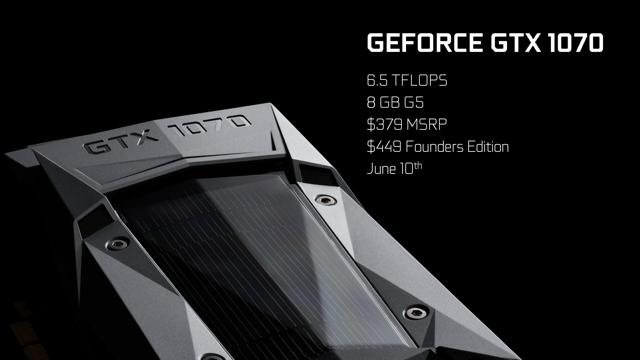 Source: WCCFTECH
It must also be remembered what I had stated in my previous article: Nvidia added new very important features that improve VR, graphics and computational performances and latency (dynamic load balance, pixel/instruction preemption, simultaneous multi-projection), but these features are still not driver supported and/or implemented in actual games (since Pascal has just been released). Therefore, Pascal performance is very likely to consistently improve in a short time.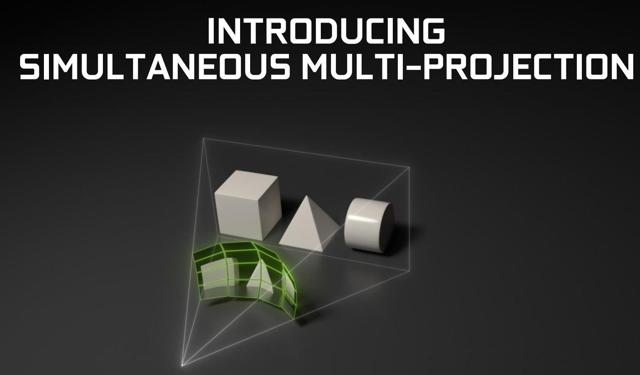 Source: NVIDIA
GTX 1060/Ti
Nvidia's solutions for the mid/low-end market were initially planned for a release during the following fall, but given the recent rumors, Nvidia may be planning to release them right in the following weeks.
The GTX 1060 (GTX 960 successor) is expected to employ the GP106 GPU with 1280 CUDA cores: it would be capable of 3.9 TFLOPS or more with the base clock and around 4.1 TFLOPS with the boost clock. Considering also that this card would be equipped with 256 bit bus and 224 GB/s of bandwidth, it will probably show performance really close to the GTX 980. Inno3D has already confirmed the presence of the GTX 1060, hinting that the market release will be consistently anticipated in comparison to the first rumors. And since AMD will release the RX 480 series at the end of June/early July with a price tag starting from $199 (4GB) or $229 (8GB), it is clear that Nvidia will must place the GTX 1060 at a similar price.
For what concerns the possible GTX 1060 Ti, we are talking about a cut down version of the GP104 GPU (GP104-150) that employs 1536 CUDA cores, achieving a computational power between 4.6 and 5.0 TFLOPS. It will perform between the GTX 980 and the GTX 980 Ti, but it will be offered for a price around $289. This card will be intriguing, since it will fill the gap that was previously present between the GTX 970 and the GTX 960. In addition, first and confirmed rumors about the GP104-400 (GTX 1080) and the GP104-200 (GTX 1070) reported also that the GP104-150 GPU (GTX 1060 Ti) would have been released in the market in the middle of June, but only from AIB producers. Therefore, it makes sense that there will be no show or conference for its release.
It must be underlined that, starting from the GTX 1060, the VR market (at least for FHD resolution) will be accessible even spending only $200: it is a remarkable milestone from Nvidia and AMD, because they will be able to open up the VR market with consequent additional revenues (but with a possible margin reduction).
Mobile GPUs
For what regards the mobile field, Nvidia has decided to try to smash it: it has been reported that Nvidia is going to release the GTX 1080 and 1070 desktop solutions for the mobile market.
The interesting news is that these cards won't be a reduced version of the desktop solutions, but they will be the same GP104-400 and GP104-200 GPUs: this means that the GTX 1080 will employ 2560 CUDA cores while the GTX 1070 will employ 1920 CUDA cores. Obviously, these GPUs will have to reduce their frequencies a little in order to meet 150/125W of TDP, but considering that the power consumption exponentially grows with the frequency, the GTX 1080 will probably deliver 8.5 peak TFLOPS, while the GTX 1070 will deliver something around 6.1 peak TFLOPS.
These values are really astonishing and they will enable the mobile customers to obtain real desktop class laptops. This is a good move from Nvidia, because the PC market is more and more moving towards the laptop and 2-in-1 market: there are a lot of vendors that already offer fast laptop as gaming or workstation solutions: Gigabyte, HP (NYSE:HPE), Asus (OTC:AKCPF), MSI, Aorus, Dell, Acer, Lenovo (OTCPK:LNVGY) and so on.
OEMs are already finalizing their laptops with the new Pascal video cards and they are aiming to release them starting from August. Even those laptops with a GTX 1060M may be able to run VR content without heavy limitations, widening the whole gaming market.
Obviously, the GTX 1080M and 1070M versions will also come to the market, showing a path similar to the GTX 980M and GTX 970M: in particular, the GTX 1080M is expected to show 2048 CUDA cores, a clock around 1,450 MHz and a bandwidth of 256 GB/s. Such a video card would be able to generate something around 5.8/5.9 TFLOPS, but it will probably employ fewer TMUs and ROPs in comparison to the GTX 1070 (desktop version), achieving a performance between the GTX 980 and the GTX 1070, with only 100W of TDP. This depicts a progressive distribution of Nvidia's GPUs for the high end and the enthusiast end of the mobile market: 75W (GTX 1070M), 100W (GTX 1080M), 125W (GTX 1070 desktop clocked down) and 150W (GTX 1080 desktop clocked down).
Takeaway
Lastly, first leaked benchmarks about the GP100 (Tesla P100) have been reviewed on the web: considering that the NVlink is still not fully working, the Tesla P100 results are very promising, and they show how monstrous this new architecture is: if you take a look at the above link, you can see that there are benchmarks where a single Tesla P100 is able to beat even 2 or 4 Titan X or K40.
Nvidia has likely hit the target with Pascal: it has demonstrated that its new architecture is very powerful and power efficient, but most importantly, it becomes difficult to think of AMD Vega as a real contender for the high end of the market. Therefore, Nvidia will exploit the prestige of having the fastest architecture, as it happened with Maxwell.
Pascal has also proved to be very power efficient since its power efficiency has more than doubled if we compare the effective average power consumption of GTX 1070 and the Titan X, and this will have heavy consequences in the mobile market.
Pascal has also introduced new particular and important features that will be fundamental in order to massively improve its performance, and these features are still not driver/third software implemented.
Even if AMD has released the RX 480 at a very competitive price, Nvidia is very likely to release a similar performing card with half power consumption. This architectural behavior will obviously widen the gap in the mobile market, favoring Nvidia. The mobile market is becoming more and more important, month by month, and Nvidia is going to play it smart.
In my next article, I will show why AMD will have issues with its Polaris and Vega architectures, and that is why Nvidia is very likely in a safe position in order to maintain its lead in the discrete consumer graphic market. As for the Tesla cards, Nvidia will have to face only Intel (NASDAQ:INTC) Knights Landing for the following months, meaning that it will have freedom to attack the deep learning market, massively improving its revenues and profits quarter after quarter.
Considering the recent stock price spike and my first Nvidia advice, it is convenient to hold or sell the stock if you still own it, making a very consistent profit from October values. If you want to enter additional or new positions, it is preferable to wait for a probable price retracement around the $40 per share.
Disclosure: I/we have no positions in any stocks mentioned, and no plans to initiate any positions within the next 72 hours.
I wrote this article myself, and it expresses my own opinions. I am not receiving compensation for it (other than from Seeking Alpha). I have no business relationship with any company whose stock is mentioned in this article.
Additional disclosure: The author does not guarantee the performance of any investments and potential investors should always do their own due diligence before making any investment decisions. Although the author believes that the information presented here is correct to the best of his knowledge, no warranties are made and potential investors should always conduct their own independent research before making any investment decisions. Investing carries risk of loss and is not suitable for all individuals.