Bank Of America (NYSE:BAC) shareholders have watched the value of their shares significantly decline over the first six months of 2016, and many pundits are now predicting for the U.S. to enter into a recession in the near future so things may not be getting better anytime soon.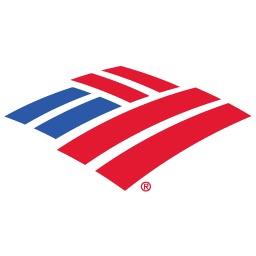 Furthermore, not only is the share price down on a YTD basis but BAC shares have also greatly underperformed both its peers - JPMorgan (NYSE:JPM), Wells Fargo (NYSE:WFC), and Citigroup (NYSE:C) - and the broader market, S&P 500, by a wide margin.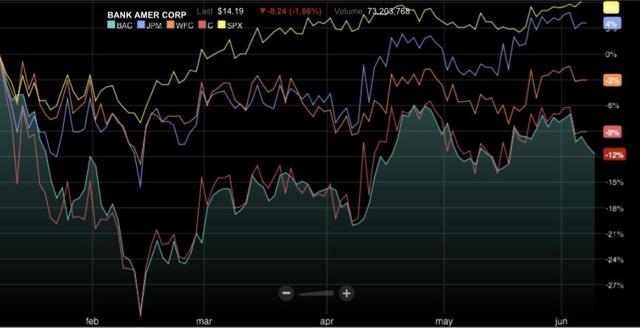 (Source: Nasdaq.com)
On the other hand, BAC reported mixed Q1 2016 results, inline EPS but a slight revenue miss, but more recently management provided a slightly bullish outlook for the second quarter of 2016. So, what does all of this mean for investors? The answer depends on your investment time horizon, but, in my opinion, investors that are able to hold onto shares for at least the next two years will be richly rewarded for playing the waiting game.
The Disconnects
The disconnect between the bank's increasing earnings but declining share price is a topic that I have discussed several times over the last year. To provide more insight on this topic, I utilized the Five-year Summary of Selected Financial Data from the 2015 10-k to create the two tables below.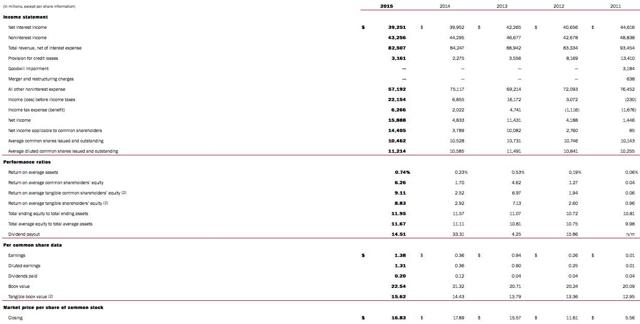 This first table shows BAC's reported earnings from 2011 through 2015, but I also included the 2016 and 2017 earnings estimates from Yahoo Finance! to begin to think about future periods.
| | | | | | | | |
| --- | --- | --- | --- | --- | --- | --- | --- |
| | 2017* | 2016* | 2015 | 2014 | 2013 | 2012 | 2011 |
| Adjusted EPS | 1.58 | $1.31 | $1.31 | $0.36 | $0.94 | $0.26 | $0.01 |
| % Chg | 21% | 0% | 264% | (62)% | 262% | 2500% | |
*Earnings Estimates (likely to change in the future)
The earnings trend is indeed heading in the right direction, as the 2015 adjusted EPS was significantly higher than the 2014 and 2013 figures. Additionally, the positive trend is expected to continue through 2017. Yes, there is a possibility that the earnings estimates for 2016 and 2017 are ratcheted down over the next two or three quarters, especially if the operating environment becomes more challenging, but the bank is still capable of creating shareholder value even with earnings staying status quo (i.e. cutting expenses and improving efficiency ratio --see the article linked above for more information on expense management).
I created the next table to highlight the disconnect between BAC's increasing book and tangible book values but declining valuations received by the market (price-to-book and price-to-tangible book).
| | | | | | | | |
| --- | --- | --- | --- | --- | --- | --- | --- |
| | Q1'16* | 2015 | 2014 | 2013 | 2012 | 2011 | |
| Book Value | $23.12 | $22.54 | $21.32 | $20.71 | $20.24 | $20.09 | Avg |
| % Chg | 3% | 6% | 3% | 2% | 1% | | 3% |
| | | | | | | | |
| Tangible Book Value | $16.17 | $15.62 | $14.43 | $13.79 | $13.36 | $12.95 | |
| % Chg | 4% | 8% | 5% | 3% | 3% | | 5% |
| | | | | | | | |
| Stock Price | $13.52 | $16.83 | $17.89 | $15.57 | $11.61 | $5.56 | |
| | | | | | | | Avg (ex 2011)** |
| P/BV | 0.58 | 0.75 | 0.84 | 0.75 | 0.57 | 0.28 | 0.70 |
| | | | | | | | |
| P/TBV | 0.84 | 1.08 | 1.24 | 1.13 | 0.87 | 0.43 | 1.03 |
*Q1 2016 figures obtained from Earnings Presentation.
**The 2011 valuations were excluded due to the fact that they were outliers compared to the other years.
As shown, BAC's book and tangible book values have steadily increased over the last five years. It is encouraging to see that BAC has not only been able to materially increase earnings since 2011 but the bank has also consistently reported increases to its internal valuations. However, these two positive trends have not translated into BAC getting a market valuation that is inline with its peers, as the bank has averaged a price-to-book and price-to-tangible book of 0.70 and 1.03, respectively. Both of these figures are well-below what the bank's peers are receiving, with the exception of Citigroup, but this analysis has already been widely covered on SA so I will not go into further detail within this article. At the end of the day, BAC is attractively valued when compared to peers.
It used to make sense that BAC traded significantly below peers when the bank was shelling out billions of dollars for legal fines and settlements related to the Financial Crisis but now I struggle to find a clear-cut reason for the disconnect between the bank's improving earnings picture but declining market multiple. The bank's fundamentals are not great, specifically the ROA, but they are not bad enough to warrant this cheap of a valuation. BAC will likely have a depressed valuation until investor sentiment greatly improves, which takes time so playing the waiting game may the best course of action.
The Waiting Game
There is a quote that I often come back to when analyzing a company that has reported improving earnings/fundamentals but the positive trends have not yet impacted the stock price.
"If earnings continue to rise, the stock price is destined to go up" - Peter Lynch, "Learn To Earn"
The tables above show the impressive earnings growth over the last few years, and management is still fully committed to cutting costs and streamlining operations which will only help with future profitability.
It is never easy to just sit back and watch your investments decrease in value, but in today's environment long-term BAC investors should simply play the waiting game and get the big prize in two-to-three years from now. Of course, this all hinges on your investment time horizon. However, it is important to remember that trying to time the market is a fools game. My money is where my mouth is, as I have an overweight position in BAC (and BAC A warrants) in my R.I.P. portfolio, and more importantly, I have no plans to reduce my position.
Risks
The risk-reward is highly skewed in favor of BAC currently being a great long-term investment if you look out two-to-three years, but there are significant risks that could greatly impact my long-term investment thesis. A major risk is the ever-changing regulatory environment for the big banks, which is a topic that is well-covered on SA by IP Banking Research. At some point, the regulatory hurdles for BAC, or any of the other large U.S. banks for that matter, have the potential to eventually be too steep to hurdle so management may be forced to drastically change the make-up of the bank (i.e. sell or spin-off key assets). It's too hard to predict if shareholders will win in this scenario, but the risk is not enough to make me want to sell my shares.
Bottom Line
There are many moving pieces in today's environment and the BAC share price may indeed go lower before it goes higher, but the longer term view looks extremely positive for shareholders. There is no need to rush out tomorrow to buy BAC shares, but, remember, a slight change in investor sentiment has the potential to materially move the share price higher.
In addition, the Comprehensive Capital Analysis and Review ("CCAR") results are due this month and these results could turn out to be a positive catalyst, because BAC has the room to return a lot of capital to shareholders via stock buybacks and a dividend increase.
This article is a high-level overview of Bank Of America and the great progress that the bank has made since 2011. This is important to consider because when you take a step back and look at the bank's positive earnings trend the future prospects appear promising, especially when you consider that we will be in a rising rate environment at some point in the next year or two. Therefore, layering into a BAC position is a great idea for new investors looking for a banking play to hold onto for years.
If you found this article to be informative and would like to hear more about this company, or any other company that I analyze, please consider hitting the "Follow" button above.
Disclaimer: This article is not a recommendation to buy or sell any stock mentioned. These are only my personal opinions. Every investor must do his/her own due diligence before making any investment decision.
Disclosure: I am/we are long BAC, C.
I wrote this article myself, and it expresses my own opinions. I am not receiving compensation for it (other than from Seeking Alpha). I have no business relationship with any company whose stock is mentioned in this article.