What The Gig Economy Says About The Broader Economy
We recently wrote about Uber (UBER) and how the gig economy, as evidenced by Uber, is becoming increasingly reliant on "sub-prime" labor and venture capital to maintain a strategy founded on the pursuit of market share over profit.
However, we see two problems with Uber's strategy. First, the money invested in Uber and the broader gig economy is largely unproductive from a long-term growth perspective as "gig" companies are using investor money for pricing subsidies and user growth instead of profit generation and value creation. The lack of profits will increasingly become a problem as many gig companies remain unable to deploy their parachute due to headwinds in the IPO market.
Secondly, the broader gig economy is one of the driving forces behind an unsustainable US employment picture in which employment growth is fueled by low wage job creation made possible by gig companies and their venture capital subsidized pricing strategies.
While this unsustainable employment picture is helping to fuel investor exuberance and encourage more VC dollars into the gig economy, it should worry Uber and its gig economy cohorts because if the employment picture worsens it may trigger a pull back in equity markets and an overall tightening of investment and credit due to risk-off mentality taking root. Should this happen much of the cheap, abundant capital they relied on for growth may be significantly reduced potentially forcing IPOs below private valuations or sales at inopportune times.
The gig economy continues to play a central role in the following major trends we are seeing in the US labor market.
A slowing rate of job creation as evidenced by the May 2016 jobs report in which the US economy added only 38,000 jobs falling well short of the expected addition of 162,000 jobs.
Stagnant wage growth
Decreasing number of average hours worked
Increasing role that independent contractors, as many gig economy workers are classified, are playing in employment growth.
The Uber Economy: Low Unemployment and Low-Wages
Uber was launched in March 2009. As a historical marker we view this as the start of the "Gig Economy", which we will define as app based services that seek to undercut traditional services in pricing while simultaneously delivering a more convenient platform through which to consume the service.
Since 2009, the US economy added approximately 11.5+ million jobs. While it is difficult to quantify the role the gig economy played in this job growth, analysts estimate the gig economy has been responsible for adding 3-4 million workers to the economy. While the gig economy may not be the only driving force in US labor markets, it may play a larger roll than previously thought.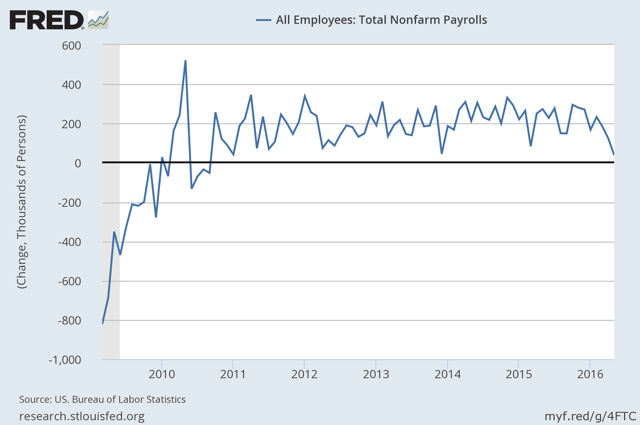 Gig companies are undercutting existing pricing structures mostly by paying workers less. They do this by classifying workers as independent contractors or contingent workers, which for these workers means no benefits and often unreliable amounts of work. This often results in working fewer total hours than desired or more hours for a lower hourly rate.
We are seeing these trends of lower average weekly hours worked and stagnant wage growth play out in the broader jobs market (see below graphs). Wages are barely growing and hours worked are falling.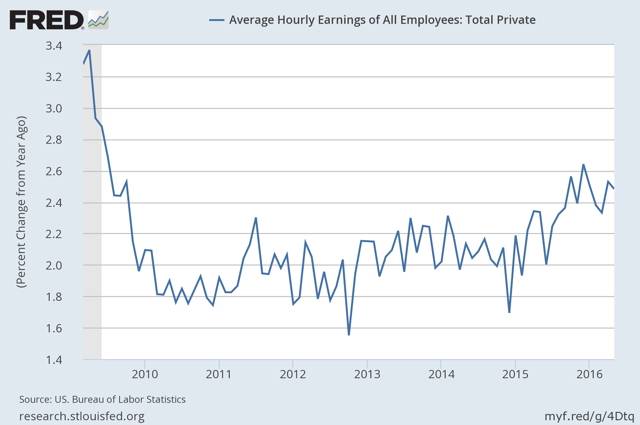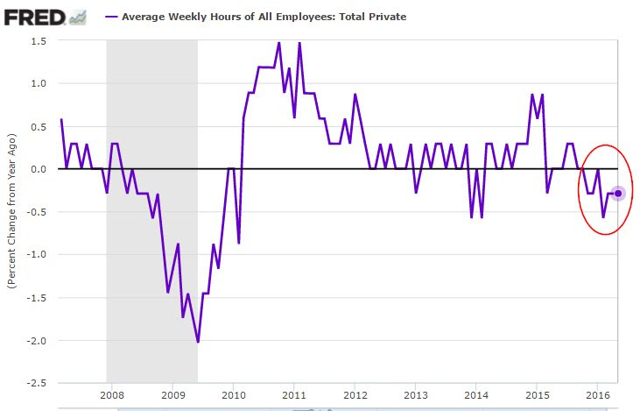 With the headline unemployment rate at 4.7% percent we would expect the rate of wage growth to be increasing and the average number of hours worked to also increase. However, that is not the case. Some of the low headline unemployment rate is also attributable to a high rate of people exiting the work force effectively removing them from unemployment data.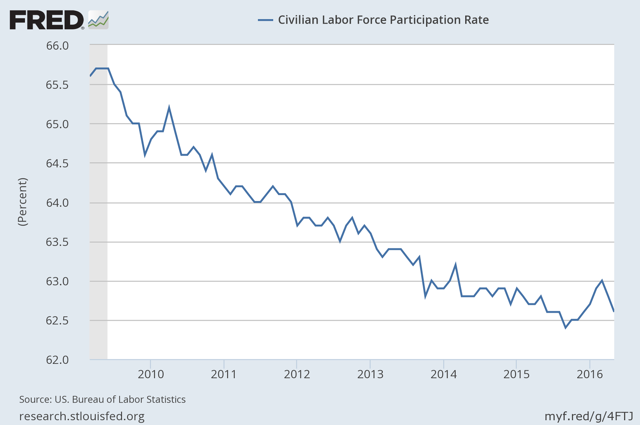 Is This Sustainable? Look At The May Jobs Report
The gig economy's business model is sustainable as long as interest rates remain low and gig companies are able to attract money from investors. We are fairly confident that interest rates will remain low at least through June 2016, but this does not necessarily mean gig companies will be able to attract capital.
There is increasingly negative sentiment in Silicon Valley toward unicorn start-ups , many of which are gig companies. Overall in 2016, there has been an increase in down-rounds, a paucity in IPO offerings, and high profile management changes and staff reductions at companies such as WeWork. We covered this trend in greater depth in a previous article.
Notably, Marc Andreessen, who had previously been bullish on tech start-ups, had this to say:
It has become absolutely conventional wisdom in Silicon Valley that the way to succeed is to price your product as low as possible and then, under the theory that if it's low-priced everybody can buy it, and that's how you get to volume. And we just see over and over and over again people failing with that … They don't charge enough for their product to be able to afford the sales and marketing required to actually get anybody to buy it.
The reason why the May 2016 jobs report matters is that the market is ready and willing to vacate support for many tech unicorns, including gig companies. Should the jobs data continue to disappoint throughout the summer, we expect to see lower than forecast GDP growth and a reduction in consumer spending. The irony is that consumer spending growth has been predicated on credit expansion due to low wage growth and less hours worked, a economic ailment caused in part by the gig economy.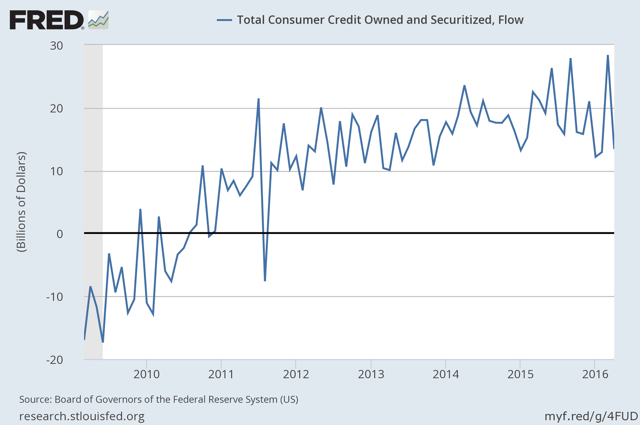 These three forces (poor jobs data, weakening consumer spending, GDP growth contraction) may combine in a way that catalyzes markets to go lower resulting in a risk-off mentality and tightening of liquidity for the investment dependent gig economy. With no IPO parachute available, these gig companies will be forced to navigate their way toward profitability. With gig workers already taxed they will have to turn to their market share (customers) for help.
The gig economy, which built its success by accumulating cheap investment dollars and beggaring gig workers, may be brought down by the very gig workers whose "sub-prime" employment could no longer support consumer spending growth foundational for the expansion of the consumer driven US economy.
Disclosure: I/we have no positions in any stocks mentioned, and no plans to initiate any positions within the next 72 hours.
I wrote this article myself, and it expresses my own opinions. I am not receiving compensation for it (other than from Seeking Alpha). I have no business relationship with any company whose stock is mentioned in this article.
Additional disclosure: This article is for informational purposes only.