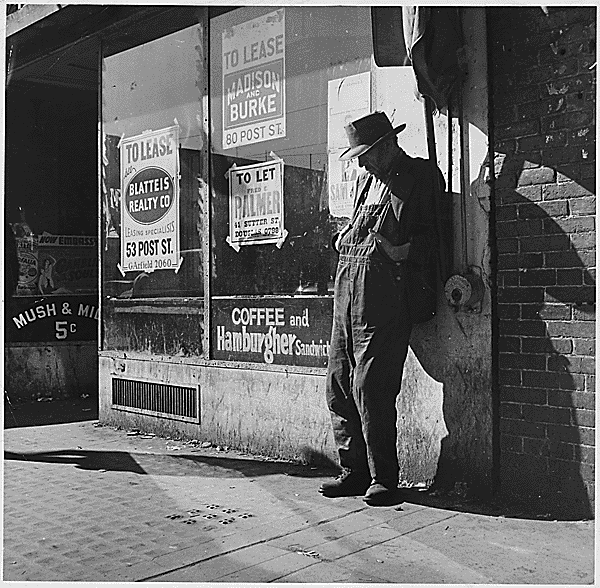 I can't for the life of me imagine what it was like living through the Great Depression. The pictures are harrowing and the personal anecdotes are heartbreaking. It permanently formed biases, dashed outlooks, changed behaviors and orchestrated events that remain impactful many decades into the future.
Of course, there are those who would suggest that if the wrong person gets elected in November, Great Depression 2 would likely start in earnest on January 21, 2017. To others, that's not quite enough to do it, as presidents are merely the people who wave while riding the parade floats. What will eventually cause the real Great Depression is the Federal Reserve and other central bankers manipulating their currencies into oblivion, leaving the only chance for survival with those who have bought some gold and a gun.
Barring apocalyptic scenarios, there are many reasonable people who have together made a compelling case that a) the stock market is overvalued on a GAAP earnings basis; b) earnings gains in a large part have been manufactured rather than organic, as companies have spent billions buying back their own shares; c) the bull market has gray fur; d) we are overdue for a correction of some kind.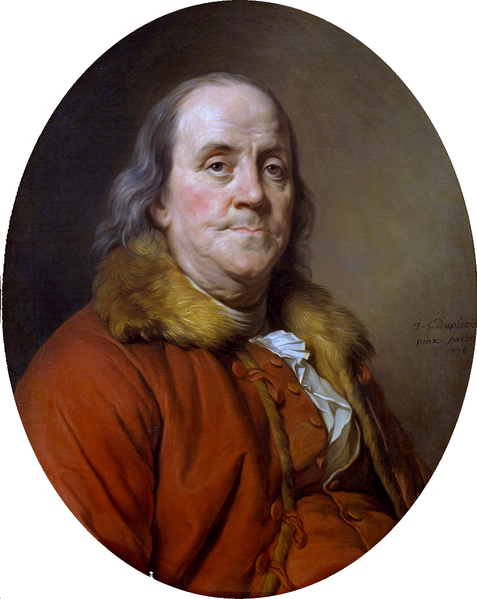 By failing to prepare, you are preparing to fail. - Benjamin Franklin
How exactly this all plays out I have no idea. Truth be told, these days I am more likely to be an ostrich than Chicken Little. But what I do know is that if something like this is in the cards, to date I have had little to no sense of urgency in preparing my portfolio for it.
In preparation for a bear market, recession or correction, logic would dictate that assets need to be trimmed from the exterior to focus on positions inherent to the consumer and economy. Namely, in recessions, people do not stop buying baby shampoo or toothpaste. But they'll likely no longer outsource the yardwork (Scotts Miracle-Gro (NYSE:SMG)).
Here is what my portfolio looked like at quarter's end: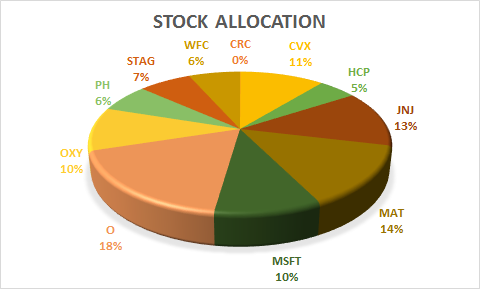 There is not a lot here that is impervious to recession. And even though I pared a little from Realty Income (NYSE:O) to open a position in Ford (NYSE:F), that is obviously not recession-proof, either.
It is this desire to prepare as best I can for whatever bear market, recession or correction may come that specifically had the plight of Mattel (NASDAQ:MAT) in my crosshairs.
The Waiting Game
Mattel was one of my longest-tenured positions. I bought it in July of 2014, and when I transitioned to Dividend Growth Investing in the second quarter of 2015, I kept it because it was on "the list" (even though it has since been deleted). I previously opined that since there were promising new products and a great chance of a long-term turnaround, I had no problem being paid 5% to wait for that probably years-long turnaround to happen.
However, since they are still in the middle of this turnaround, things continue to look quite ugly. Though I am of the weakening belief that the loss of the Disney Princess franchise to Hasbro (NASDAQ:HAS) will be of less consequence than has been estimated, the goal for Mattel in 2016 is to have earnings equal 2015, before returning to growth in 2017. However, the jury is still out on whether they can accomplish this.
No matter my bullish sentiment for Mattel longer-term, I can't deny that the dividend coverage is a bit tenuous. On a strictly EPS basis, since the fourth quarter of 2013 each share has generated $3.43 in earnings while paying out $3.80 in dividends. And although my personal ideal scenario is for dividends to encompass no more than 75% of generated free cash flow, Mattel's dividends have outpaced this number the past three years - 111% in 2013, 82% in 2014 and 107% in 2015. It does not require a great power of deductive reasoning to suggest this is a trend that cannot continue.
Given this, I can perfectly understand those who say that the most prudent thing for Mattel to do would be to cut its dividend. In my view, the share price would suffer tremendously. However, the savings could be plowed into some sorely-needed research & development. It may be true that Mattel's product line only needs minor tweaking. But in the event this is not the case, a dividend cut would allow for an "all-hands-on-deck" approach to play catch-up to its peers.
In a few years, I have little to no doubt that the turnaround at Mattel will be further down the road if not complete. However, bringing my initial point into play, in the event of a recession, whatever progress has been made to date at Mattel almost instantly goes out the window. For instance, in the face of unemployment, it is amazingly simple to rationalize buying less Barbie, Hot Wheels or Thomas and Friends.
As a result, for me to take a flier on Mattel would make perfect sense as an ancillary and speculative portion of an already diversified portfolio. But with it being my second largest position and inhabiting 14% of a portfolio that is admittedly "not there yet," the prospect of continuing to hold it made less and less sense.
After the run-up, it would seem that Mattel's fair value is pretty close to if not under where it's trading. At a cursory glance, Morningstar's FV estimate at $28, S&P Capital IQ's is at $31.70, and it currently trades at roughly 23x estimated 2016 earnings - at roughly the same multiple as Hasbro but decidedly less deservedly so.
And so given all this, I have ultimately decided to exit Mattel with a roughly 12% gain in order to get more defensive. Its replacement is inextricably linked to the bank accounts of over 4 million citizens in the Southeast.
I Need Ute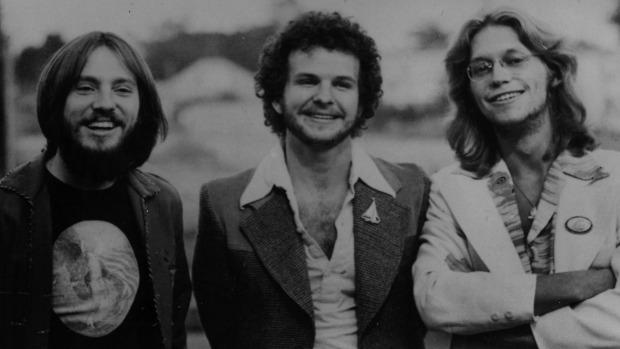 Despite the run-up in utilities this year, I decided that purchasing a utility needed to be next in the cards. While it is true that once interest rates rise, a lot of luster will be missing from the utility sector, in my view there is quite a while before this becomes an issue. And I think it was the famed investor Franz Kafka who once said, "[b]etter to have and not need, than to need and not have." For me the question hasn't been whether or not I need a utility in my portfolio, but which one should I buy?
Duke Energy (NYSE:DUK) is the utility company local to me. However, the trifecta of coal ash spills, preponderance of contaminated groundwater and "lying to regulators" and I personally am not investigating any further. It doesn't speak well to my rapidly emerging goal of "Investments with Integrity."
Dominion (NYSE:D) is the next most obvious choice. Even though the dividend growth rate is really attractive, payout ratio since 2012, while decreasing, is higher than I am personally comfortable with.
Even thought the idea of double-digit dividend increases until 2019 at Oklahoma Gas & Electric (NYSE:OGE) is certainly intriguing, the downtrend of revenues since 2011 is a little worrisome.
I eventually narrowed my choices down to Wisconsin Energy Corporation (NYSE:WEC) and Southern Company (NYSE:SO), and as I put them side by side, a clear choice emerged. Although WEC by virtue of dividend growth rate (Most Recent, 1yr, 3yr, 5yr and 10yr of 8.2%, 11.7%, 13.2%, 16.9% and 14.8%) is a clear winner over Southern Company (3.23%, 3.4%, 3.5%, 3.6% and 3.9%), I personally like that Southern has largely been more efficient in their operations than WEC: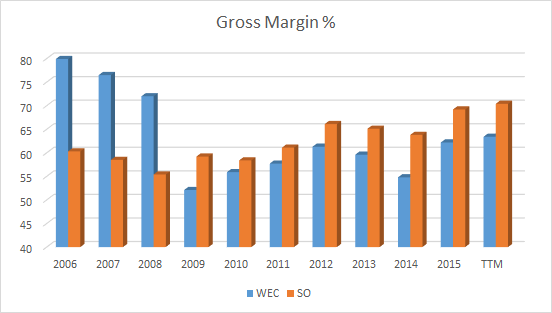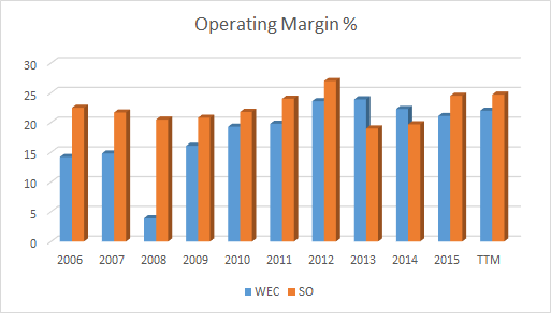 Southern Company is the only utility in the U.S. currently chasing an "all of the above" energy policy, with a veritable buffet of nuclear, natural gas, wind, gasified coal, biomass and solar, including the largest voluntary solar portfolio in the U.S.
Coal has fallen to 25% of their energy mix as of Q1 '16.
The merger with AGL Resources (NYSE:GAS) will result in operations in 17 states and will double Southern's customer base to 9 million with a projected regulated rate base of around $50 million.
Southern is one of only two utility companies that have received a top-three ranking in Fortune Magazine's "Most Admired Companies" list for the past seven years.
And speaking of defense, Southern Company has either paid out as much or more in dividends every single quarter since 1948 - a streak that coincides very neatly with the invention of Velcro.
Southern Company at my purchase price is not horrendous in the way of its 5-year historical valuation: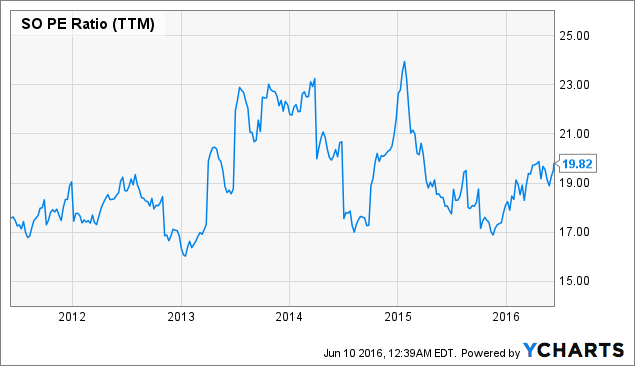 SO P/E Ratio (TTM) data by YCharts
However, when this is broadened to decades, it admittedly looks rather ugly: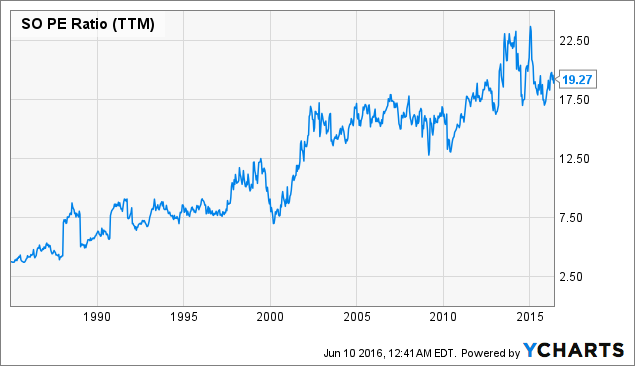 SO P/E Ratio (TTM) data by YCharts
I added this position with the expectation that it will be a core holding in my retirement portfolio for decades to come. If the P/E ratio that was normal in the 80s and 90s becomes normal again, I fully anticipate averaging down to not only lower my cost basis but buy more income going forward.
Also, since Mattel had a double weighting in my portfolio, I ended up using only half of the proceeds of the sell to buy my position in Southern Company. The other half will be used to wait for another opportunity to present itself, though I fully anticipate having it spent by the end of Q2.
Summary
Mattel will eventually reward the patient investor. However, since my portfolio is not fully diversified and is not adequately defensive, it is less than prudent to wait around for this turnaround to complete. Ultimately, trading a 14% position in Mattel for a 7% position in Southern Company and a 7% position in cash is in my opinion a pretty good move in anticipation of whatever unforeseen macro events may occur.
Disclosure: I am not a professional investor, and as such, the companies and/or positions mentioned and any associated analyses are related to my own personal experience and expertise, and is not intended to be a recommendation to buy or sell. As everyone has their own risk tolerance, goals and needs, it is important that you perform your own due diligence.
Disclosure: I am/we are long SO.
I wrote this article myself, and it expresses my own opinions. I am not receiving compensation for it (other than from Seeking Alpha). I have no business relationship with any company whose stock is mentioned in this article.